Get Ready To Explore The Xunantunich Mayan Ruins With Tour Guide, Bruno
Xunantunich is an outstanding archaeological example of the rich Mayan culture and history of Belize. On this Belize Mayan Ruin tour, you will explore and climb one of the country's most popular Mayan temples.
Here's what you can expect on this tour as told by Coco Plum Island Resort's very own tour guide, Bruno.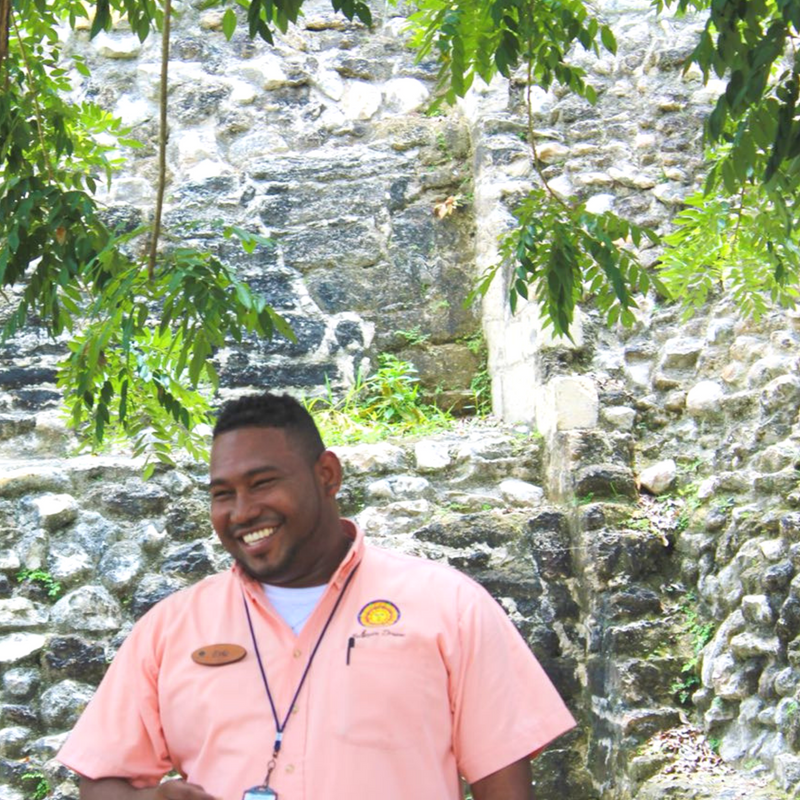 How does the tour usually begin?
Guests will wake up to a beautiful sunrise and blissful breakfast at Coco Plum Island. This tour requires a bit of a head start as the boat departs the island at 7:30am for the mainland and is a 2 ½ hour drive. The journey through our country is surely part of the adventure as you travel from the southern coast to the western border. As we drive west along the most scenic highway in Belize, Hummingbird Highway, I encourage all visitors to take in the small villages and smiling faces along the winding hills and lush greenery of the highway, enclosed by the majestic Mayan Mountains.
Are there any special spots you like to point out during this scenic drive?
Of course! I wouldn't be an amazing tour guide if I didn't show off a few of my favorite local spots. Besides major tourist attractions like the Inland Blue Hole and various river systems, I also like to highlight spots that are a bit off the beaten path, such as a fresh ice cream shop and the Magnetic Mountain. I try my best to keep our guests entertained throughout the ride! History buffs will also enjoy learning about the colonization of Belize as we drive on narrow bridges built by the British settlers in 1905. These were originally train tracks and are now actually still a part of the Belize highway system.
Wow, Magnetic Mountain … sounds mysterious. Can you tell us a little bit more about this?
It is something you have to see to believe! I'll just say that there is a certain part of the Hummingbird Highway that has majestic views as well as hidden mysteries. Imagine stopping your car at the bottom of this magnetic hill, only to slowly begin to being pulled up back the hill. Dare us to turn the engine off and you'll see the magnetic force for yourself!
It almost doesn't sound believable. You've made this drive sound so much fun! What can we expect when we get closer to our final destination?
We will arrive in the Cayo district, which is the district closet to the Guatemalan border. Here, you'll see the Spanish and Mayan influence of the Belize culture. There will be opportunities to shop and walk around after the tour.
To get to the archaeological site of Xunantunich, we will travel on a small hand-cranked ferry across the Mopan River that flows through both Guatemala and Belize popular for kayaking, tubing, and swimming. From there we'll begin a drive uphill as the excavated center of Xunantunich sits high atop a limestone ridge almost 600 feet above sea level.
And so it begins … What does Xunantunich mean and what is the significance of the ancient Mayan archaeological site?
As we walk through the site, we will see several mounds, plazas and a large selection of classic stelae. The entire archaeological site, named Xunantunich, literally means Maiden of the Rock. This name derives from the original discovery of the site. Legend has it that many years ago a local villager discovered the ruin after crossing the Mopan River while hunting. He saw a beautiful maiden clothed in traditional Mayan wear standing atop a tall mound. Immediately intrigued by her, he mustered up the courage to approach her. I don't know if I would have been as brave as he! As he drew close, she disappeared. Today, many refer to the Stone Maiden as a spirit that resides in this ancient Mayan site.
However, it was not until the 1800's that Xunantunich was officially explored by the British. Since the 1990's, there have been continuous excavations and restorations by the Government of Belize in conjunction with the University of California. More recently in 2016, archaeologists uncovered the largest tomb to be discovered in Belize complete with skeletal remains of what is thought to be a Mayan royal.
Historically speaking, the Mayan represent a fundamental part of Belize's modern-day culture. Xunantunich is believed to have been a strategic Mayan site throughout Central America primarily due to its location near a flowing river, hidden by the dense rainforest.
What is the most well known structure on Xunantunich?
El Castillo is the most popular pyramid that comes to mind when one thinks of Xunantunich. Standing approximately 130 feet high, it really is a sight to behold. What's great about it is that it is one of the few Mayan sites where visitors can still climb to the top of the primary pyramid. Be ready to explore different rooms and friezes as you explore this site first hand. The hike is truly worth it as you are rewarded with expansive views stretching as far as Guatemala.
What else can visitors expect on this tour?
Expect to be wowed! You'll be transported into another realm. I try my best to showcase a realistic and authentic picture of ancient Maya life throughout the tour. Come prepared to walk in sturdy hiking shoes or tennis shoes, bring bug spray & sunscreen, and of course, your camera for that epic selfie! At the end of the tour, we will head to Benny's Kitchen – a favorite local spot. I recommend ordering the pibil which is traditional Belize slow roasted pork.
Awesome, we are ready to have the adventure of a lifetime!
Luckily for you, the Xunnatunich Mayan Ruin Tour is included in several Belize all inclusive packages at Coco Plum Island Resort. Read more to discover all of the Belize adventure tours we offer.
Related Articles:
Warm Regards,
Coco Plum Bloggers
Call or email our Reservations office today!
1-800-763-7360