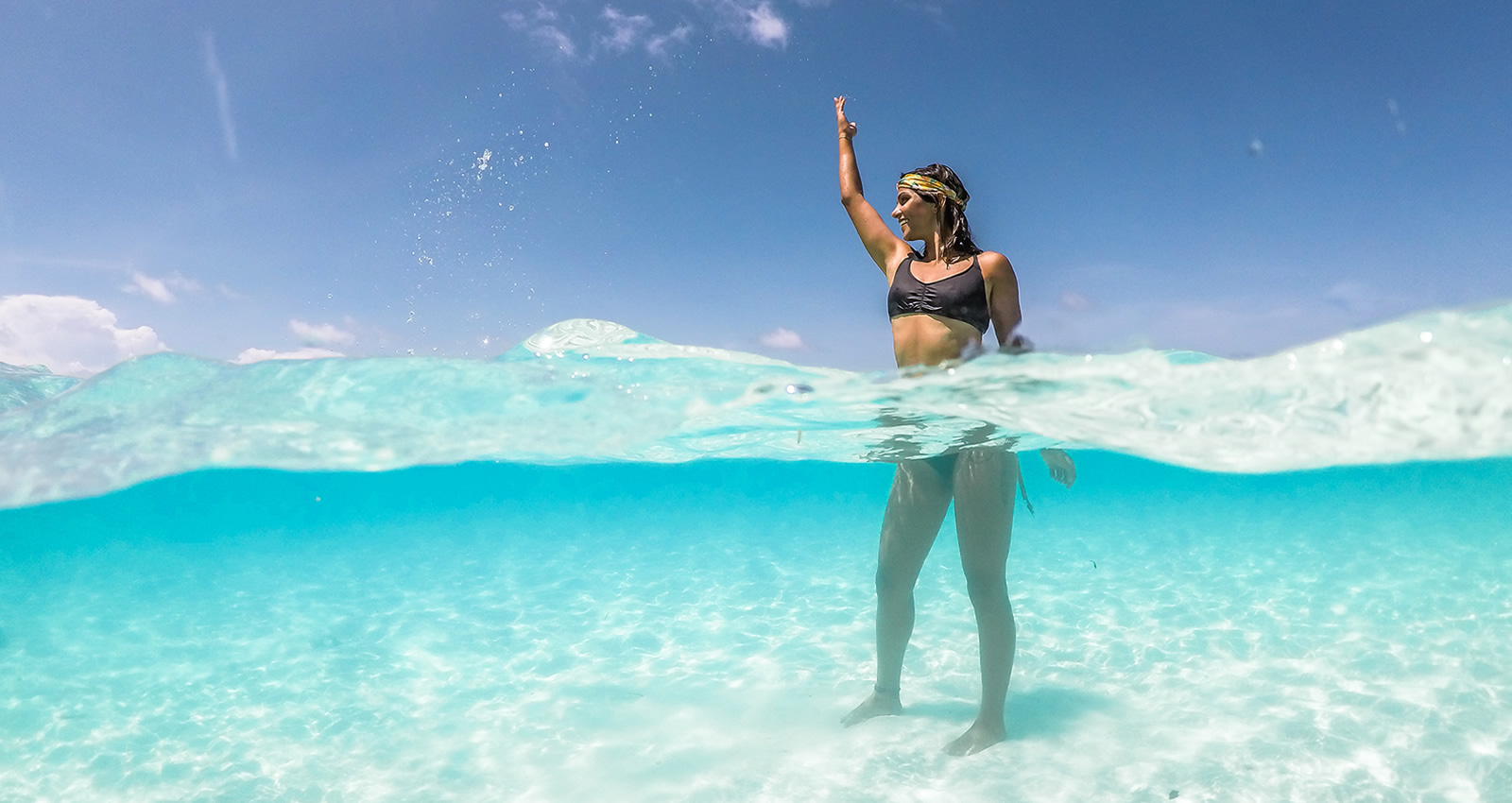 Why Belize?
Why Travel to Belize
Taking a vacation in Belize has many benefits and lots of opportunity for adventure. It's home to a wealth of natural wonders offering unrivaled diving, untouched coral patches, dense jungle, and even an underground Mayan world rich with history. Whether this is your first time traveling to Belize or a return trip, you will unquestionably agree that Belize provides many gifts to vacationers from around the world. From its lush tropical rainforest to the second largest barrier reef in the world, Belize is every traveler's dream come true. Is it any wonder then why Belize is often referred to as "Mother Nature's Best Kept Secret"?
+
But what makes Belize unique is quite simple: its people. As a small nation with a little over 350,000 residents, Belize is a melting pot of various cultures. With its British colonial ties, Carib settlers, Central American neighbors, and more recent immigrants from around the world, you will surely meet friendly locals with interesting stories. Although most cultures have their own native tongue, English is the official language of Belize, making it easy for tourists to navigate and form a connection with the locals.
Where is Belize?
Belize is geographically part of Central America and is bordered by the Caribbean Sea to the east, making Belize a country that recognized as both a Caribbean and Central America nation. Belize actually has the same landmass as the state of Massachusetts, but with a population of only about 375,000 residents. Belize is rich with different ethnic groups such as Maya, Mestizo, Creole, Garifuna, Mennonite, Chinese, East Indian, and Lebanese all of which harmoniously co-exist by bringing distinct parts of their culture to Belize whether that be in the form of language, art, music, or food. When traveling to Belize, we encourage travelers to keep and open mind and seek out as many locals as possible. Belizeans are regarded as some of the friendliest people in the world and are more than happy to share parts of their culture and history with tourists.
How do I get to Belize?
It takes about two hours to fly to Belize from major U.S. cities such as Houston, Dallas, and Miami. All International flights to Belize land at the only International Airport in Belize, the Phillip S. W. Goldson International Airport (BZE). You will need to book your international flight to Belize City directly through the airline or through a travelagent of your choice. For information on airlines flying into Belize or additional information about entry requirements, please see our Getting Here page.
What can I do in Belize?
Belize has wonderful things to offer such as the second largest barrier reef in the world, white sandy beaches, clear blue water, a pristine tropical jungle and warm and friendly people. Once a British colony, Belize gained independence in 1981. Culturally and environmentally diverse, Belize offers a vast array of adventure tours both on land or at sea. At Coco Plum Island Resort, we welcome nature lovers, adrenaline junkies, and history buffs alike, as our Belize adventure tours are the perfect addition to your vacation.
Do you need a passport for Belize?
Visitors traveling to Belize require a valid passport and in some instances, an entry visa. U.S., British, and Canadian citizens do not require entry visas. Visas are required by citizens of: China, Cuba, South Africa, Taiwan, India, and Libya. To be on the safe side, it's best to check with your travel advisor. Your passport should be valid for six months past your date of departure from Belize. Travelers are permitted to stay in Belize for 30 days. Extensions for longer stays can be processed through the Immigration Office in Belize City for a fee.
What currency is used in Belize?
U.S. currency is accepted in most locations, so there generally is not a need to exchange physical currency. The exchange rate can be confusing in many areas of the world, but this is not the case in Belize. There is a locked currency exchange rate of approximately $2 Belize dollars for every $1 U.S. dollar. Keep in mind that tours and hotel accommodations are listed in U.S. currency rates while local shops and restaurants are usually listed in Belize currency rates. Traveler's checks are accepted, and there are numerous ATM machines located across the country for you to access cash. Like Coco Plum Island Resort, most companies in Belize will not be held responsible for any currency rate of exchange variances applied by banks or for any international processing fees that may be charged by your credit card company.
What language is spoken in Belize?
English is the official language of Belize, although a number of dialects are spoken among the country's 350,000 citizens, including the main dialect spoken countrywide, Kriol. This is the result of Belize's rich and multicultural heritage. However, you won't have any problems conversing with locals and getting around as mostly everyone speaks English.
What's the weather like in Belize?
Unlike most other parts of the world, Belize only has two seasons – wet and dry. The "dry" season is the peak season for visitors who come looking to escape a bleak and dreary Northern winter. The dry season begins in late November/early December and ends in May. Within our dry season, however, there are three months that are especially the warmest and driest of them all: March, April, and May. That means these months are prime months for all aquatic activities like kayaking, paddle boarding, swimming, diving, snorkeling, fishing and so much more!
The holiday season in Belize means warm weather with a few "cold fronts" – temperatures ranging between a cool 70 – 80 degrees, delicious Christmas dinner complete with black fruitcake and rum popo, and time well spent with family & friends. With its diverse cultures and ethnic groups, Belize has a wide variety of Christmas celebrations.
In the Southern part of Belize, specifically in Dangriga Town, locals gather around the streets to witness the Jankunu or "John Canoe" dancing accompanied with Garifuna drumming. This colorful masquerade dance is actually a warrior dance where the dancers (all male) are outfitted in pink masks & head wraps, white clothing, and shells that are placed below the knee that shake with each movement. The Jankunu dance is a historical representation of the Garifuna resistance to British slavery.
March truly starts off the dry season by inviting strong cool breezes and especially warm sunny days. These pristine conditions are ideal for taking a sunset cruise along the Caribbean Sea or enjoying the complimentary use of our hobie cats as the wind guides your sails. With so much wind, Belizeans also break out their kite building skills, as they create colorful creations that cruise the open blue skies.
April brings clearer skies and warmer days making it the best month for diving and snorkeling fanatics alike. For divers, the greatest adventure of all is diving with whalesharks; these majestic creatures can be seen around the full moons of April and May. Belizeans also get ready to celebrate one of the biggest holidays in Belize, Easter, where traditions remain strong and the fun continues.
What's the best time to go to Belize?
The best time to vacation in Belize is during the dry season months of December - May. During this period, the weather is a bit cooler, with a steady and refreshing breeze on most days. The temperature is approximately 70 - 80 degrees Fahrenheit with water temperatures ranging in the mid-80's.
When is the rainy season in Belize?
The rainy season, June to mid November, brings short bursts of rain usually in the early mornings and late nights, creating cooler temperatures that Belizeans wait for all year. In addition, this time of the year usually means lower hotel rates throughout Belize. The start of our "low" season towards the end of May and June marks the time of the year where many tropical foods come into season such as mango, conch, and lobster. Don't forget to join us at for annual Lobster Festival where guests can spend the day hunting for lobster in the Caribbean Sea and return to a feast of lobster delicacies, live music, and fun & games all at no extra cost!
"One of the best features of the island is how well the cabana's are all laid out. All have a terrific view of the ocean, some are steps from the water and others are staggered back. All are spaced far apart and give you plenty of privacy from neighboring cabanas."
"Step right out the door to a truly peaceful and spectacular view of paradise."