For travelers whose ongoing missions in life are to spend as much of it in the company of Mother Nature's aquatic realms, there is no destination in the Western Hemisphere that comes close to the magnificence of the Belize Barrier Reef. Astronauts can spot it from outer space.
One interesting fact about the Belize Barrier Reef is that experts have recognized an official birthday for it. While a nationwide event celebrated this occasion, your goal can be to get close enough to touch the surface and imagine how it originated around 10,000 years ago.
This impressive chunk of coral provides a home base for an estimated 500 fish species, each of which shares the territory with hundreds of invertebrates and marine mammals. Even the coral that makes up the geological structure of the reef consists of 70 hard and 36 soft types and according to folks who keep records on the reef, only around 10% of the reef has been studied to date!
Would you like to explore this wonderland?
There are all sorts of aquatic escapades awaiting veteran divers, snorkelers, and folks who just want to get close to the reef via boat, but for a truly authentic stay, why not sojourn on an island that offers you a vacation experience that can't come close to a stay on a mainland Belize property? Coco Plum offers the ideal getaway for many reasons, not the least of which include:
The island is small, private, and blissfully quiet since this is an adult-only property.
You'll occupy one of just 18 colorful oceanfront cabanas just steps from the Caribbean Sea.
At 16 acres and rimmed by beaches hosting waves kissing the shore, there is no more tranquil destination.
Curated all-inclusive packages deliver excellence. Take a peek here: Belize all inclusive vacations. You can leave your wallet in your luggage for the duration of your stay.
Time at the reef will send your appetite into overdrive, so prepare your palate for meals that are guaranteed to make you an official member of the Clean Plate Club, and dare we mention the fact that local alcoholic beverages are also included with packages?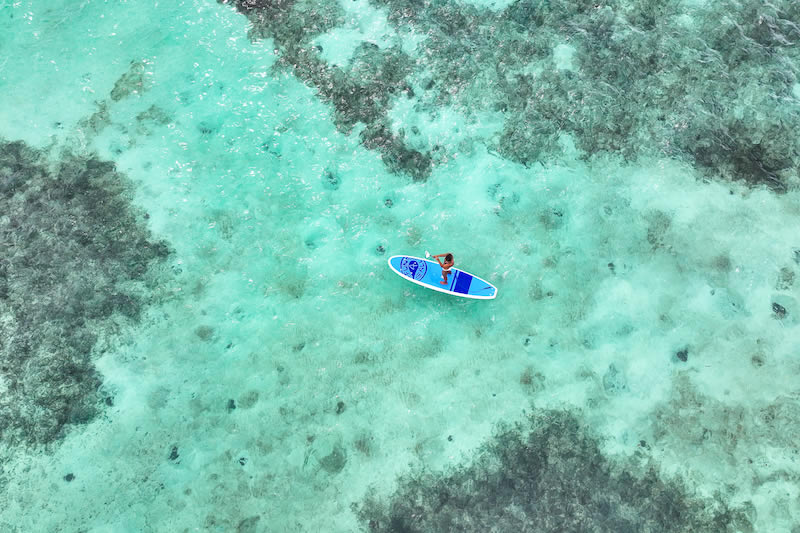 It's the ultimate visit to paradise
Not only is Coco Plum located near the reef, but you get to kiss crowds goodbye as the resort serves as your private domain. The ratio of staff to guests is impressive so everything you need and want – including the availability of services at the Serenity over-water spa where the menu includes couples massages – is at your fingertips.
There's even a breezy, open-air Yoga deck reserved just for contemplative moments that give you an opportunity to ponder your good fortune amid Mother Nature's remarkable scenery. Come for the reef. Stay for the intimate vacation experience you dream about. One warning: There's a frequent stay rewards program you're going to want to look into before you depart that can make leaving a bit easier. You'll want to return. This parting gift gives you more incentive to do just that!