What is it about a private island that brings to mind the ultimate in intimacy, privacy, and romance? Scientists say that the phenomenon results from being physically cut off from the rest of the world where every day is filled with stress and responsibility related to jobs, families and keeping up with expectations.
Take a boat to a private island, disembark at the dock and watch that nautical connection sail into the distance, leaving you and the love of your life standing on a dock in a quiet, lush paradise. It's true that being surrounded by turquoise waters is the equivalent of meditating because just the view is enough to make one feel peaceful.
Perhaps the best example of an island that has everything a couple needs to revitalize and celebrate their love and passion is Coco Plum Island Resort, just off the coast of Belize. You check into a beautifully-furnished cabana or treat yourselves to an overwater villa and settle into a state of bliss, knowing that you're on island time. That means you don't need to check your watch during your stay if you don't want to.
Coco Plum Island Resort All Inclusive Packages Redefine Romantic Vacationing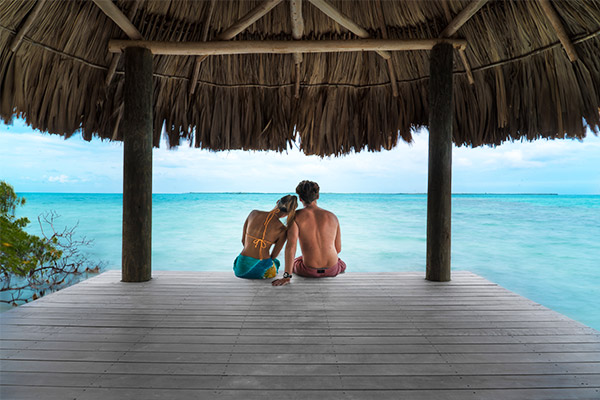 Coco Plum Resort's all inclusive packages are particularly popular with couples in need of a discreet getaway that won't require them to make decisions beyond what to choose from the resort's restaurant menu! The aptly-named Romance package, for example, includes everything for a picture-perfect getaway in addition to luxe digs: gourmet dining, transfers to and from the island, adventure tours and local alcoholic beverages.
Choose Belize For Your Romantic All Inclusive Vacation
Just by choosing Belize, your mind and body benefit. Airlines shuttle to and from Belize in just a few hours. You can save money by staying at Coco Plum Island during the summer when rates are low but service remains of the highest quality. The long list of activities available to couples is impressive: swim, snorkel the barrier reef, explore rainforests, caves, ruins or rivers one day and spend the next day in your quarters, renewing your passion for each other.
Island paradise was redefined when the Coco Plum private island resort was established and dedicated to giving couples a unique place to go that's as far from civilization as it gets. Whether you've got a specific reason to choose this private island (a wedding, honeymoon or anniversary) or your reason is as simple as falling in love all over again, Coco Plum Island will do amazing things for your mind, your body and most of all, your relationship.
Start Planning Your Romantic Getaway Vacation
Contact the Reservation Team today for a personalized rate quote.
1-800-763-7360