How popular are island honeymoons? So popular, Dubai is constructing a heart-shaped honeymoon island off the coast to satisfy the cravings of newlyweds seeking post-wedding escapes that isolate them from the world. Located on the man-made Dubai island is to be a 5-star, adults-only resort where amenities are bountiful.
Belize tourism authorities are having a laugh at this expensive and enormous undertaking because the nation doesn't have to build private islands; there are already 450 of them off the Belize coast. But the one that gets the most enthusiastic guests is Coco Plum Island Resort, where luxury abounds and amenities are stellar.
Named the most romantic private island for honeymooners in the Western Hemisphere by too many travel authorities to list here, Coco Plum gets rave reviews and referrals from guests who honeymooned on the island. So many of them are glowing, the staff is embarrassed by this wealth of accolades. Every heartfelt word is true.
Coco Plum Has Everything You'd Expect In A Dream Honeymoon Destination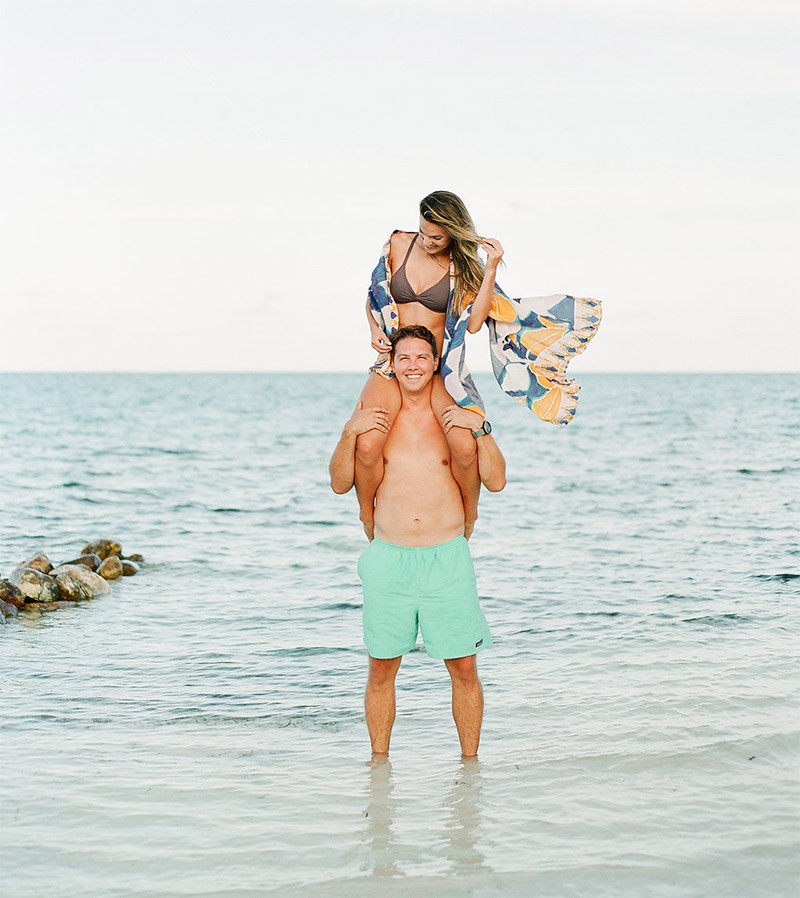 What will you find if you honeymoon on this lush Belize island? Romance, intimacy, and all of the trappings of paradise, plus this bonus: Belize is just a couple of hours by plane from the U.S. southern coast. Worried flights have been impacted by pandemic restrictions? Relax. American and United airlines resumed their regular Belize runs starting on October 1, 2020, and other carriers are scheduled to follow them over the next few months. By the time you want to honeymoon, you'll have your pick of flights.
What factors are driving honeymoon bookings in the year ahead? Couples browsing the Coco Plum website read about health and safety measures that have been implemented that so impressed the Belize tourism authorities, the resort was granted Gold Standard Certification that elevates Coco Plum above and beyond many other Belize resorts. Social distancing, low contact registration, and health and hygiene protocols that exceed world health-protective standards were all put into place for the health and safety of guests.
Coco Plum: Belize's Most Romantic Private Island Resort
While you're interested in staying healthy, it's not the main reason you are drawn to this island in the sun! This posh resort was designed for romantics — all romantics! Some couples want to stay sequestered in luxurious digs where intimacy is prioritized to such a degree, many honeymooners don't see a soul aside from staff bringing gourmet meals to their hideaways.
The resort's all-inclusive honeymoon package (one price covers everything you could possibly want) is the most stress-free and money-saving option imaginable. Snuggle into your private cabana. Take meals anywhere you like. Toast each other with unlimited local beverages and boat transfers to and from the mainland on your arrival and departure days begins and ends your heavenly Coco Plum honeymoon experience.
For adventure-seeking newlyweds, Coco Plum never disappoints. Coco Plum's honeymoon package gives you access to kayaks, snorkel gear, stand up paddleboards, and a small Hobie Cat — all at no charge — plus tours that show off Belize's most exciting places and activities. Read about tours, figure out how long you can both get away, and then book your stay accordingly.
You won't want to leave, which is why so many couples honeymooning in Belize come back repeatedly (once you're married, anniversary trips are critical for keeping romance alive). You wouldn't be the first couple to return to Coco Plum year-after-year. As soon as you arrive on the island, you'll understand why!
1-800-763-7360