Even journalists writing for the Harvard Business Review are reporting on a trend that has become so pervasive, even stressed-out people admit that they can't bear to leave home without their electronic devices. Makes no sense, right? But one of the best ways to learn to disconnect is by leaving home and taking your device along.
But you're hesitant. You worry you're not capable of leaving behind your electronic lifeline. That's why you need to put into practice "a combination of planning, tech tricks, and self-discipline," notes Alexandra Samuel, author of that Harvard post.
She's not alone. From doctors and therapists to journalists and sages, there's much to be gained by disconnecting and it gets easier if you adopt these tips from a vantage point that's as far from stress as it gets: Coco Plum Island Resort, a private tropical island off the Belize coast where you can put into practice these recommendations.
Make a complete work break, leaving in-works projects in the capable hands of others.
Delete your social media apps for the trip's duration. Reinstall once you return.
Notify the people of your vacation unavailability (boss, friends, and relatives).
Set up an out-of-office reply with a specific return date.
Leave your work laptop behind in a desk drawer.
Promise to post updates to the social media account once you return.
Set up a vacation Email address and post occasionally during your time away.
Disable work-related notifications; uninstall apps you use for work.
Set time limits for talking with folks back home by using your phone's settings menu.
Work on your propensity to monitor your device perpetually by leaving it behind for short periods of time.
Gradually increase your "away time" from your device. This action alone is liberating!
How your Belize island vacation can help with your disconnection master plan
Coco Plum Island Resort is a sublime destination. Guests begin to decompress before they step off the boat bringing them to the island where pristine beaches dotted with palm trees and rimmed by turquoise waters hint at the experience awaiting every relaxation seeker.
Built to host just 42 guests, this adults-only resort features strategically placed oceanfront cabanas that guarantee privacy. Further, Coco Plum's onsite gourmet restaurant, spa, and stringent COVID health and hygiene protocols all contribute to an idyllic, relaxing escape where guests enjoy amenities that include the swimming pool plus complimentary use of kayaks, stand-up paddleboards, and a Hobie Cat.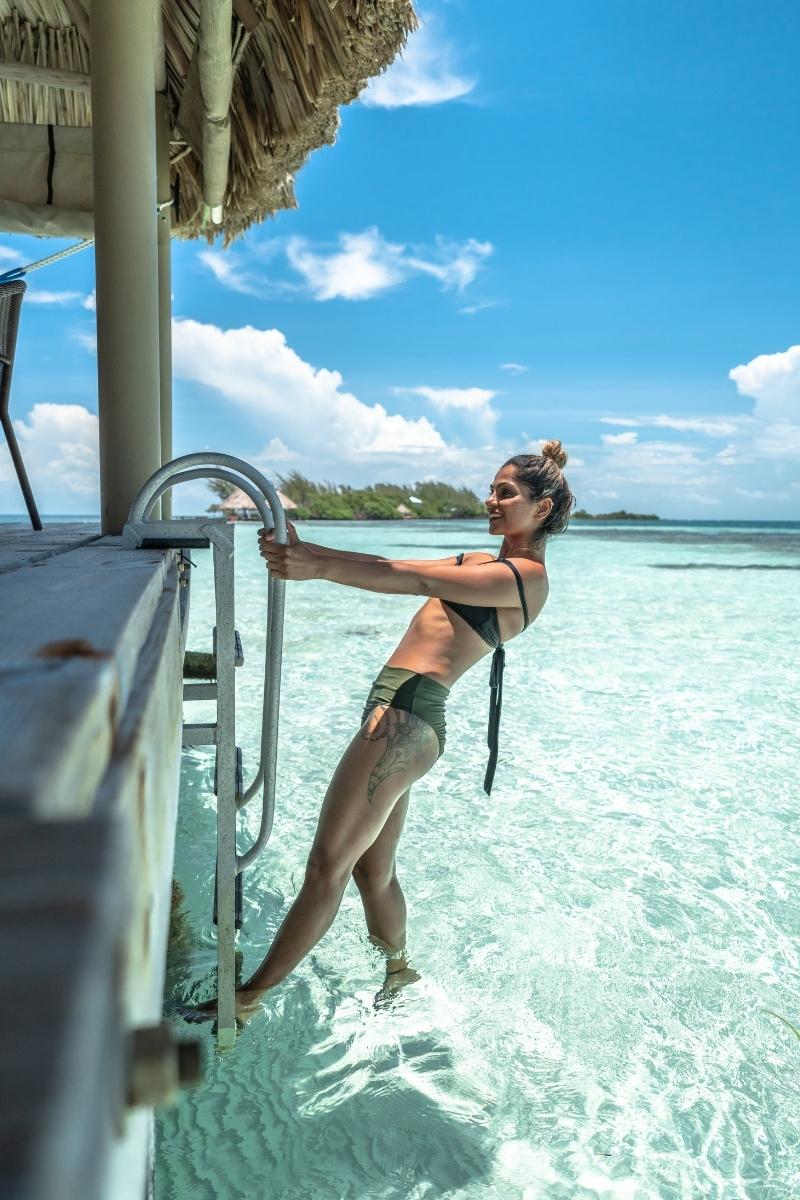 Venture forth while leaving your device back at your cabana
Leave the island to fish, sail, scuba dive, snorkel and explore the mainland where cultural and historic sites are everywhere visitors turn. Best of all, take advantage of the convenience and simplicity of Belize all inclusive vacation package pricing to save money and customize your vacation.
Having made a commitment to disconnect during your stay, you will look back at this getaway as the most relaxing and rehabilitative in memory. If you're serious about unplugging, no place surpasses Coco Plum Island Resort where guests say they're much too engaged to pay attention to their devices while others insist that their sojourn helped change their behaviors for good. That could happen to you too!
1-800-763-7360