Come to Belize's snorkel epicenter where island living includes diving, dining and more!
Whether you fell in love with the idea of snorkeling so long ago, the 1953 Oscar-nominated cult classic "Beneath the 12-Mile Reef" was playing at theaters—or you've just been watching documentaries that describe the thrill, you want to know how it feels to jump into Caribbean waters for the first time—or maybe the 10th.
It looks easy. It's not. But don't let the fear of failure stop you from making plans to go diving. The secret is preparation and expert instruction, so you know what to do before you arrive in Belize where scuba diving isn't so much an activity as it is a passion.
Why Belize? Because the water is unspoiled. You can get to this tropical paradise in a few hours from North America and everyone speaks English. Browse this video to see what awaits when you jump in and quickly become enchanted with everything you see:
https://www.youtube.com/watch?v=m4UkKQebb1M?rel=0
How to approach your first dive
With confidence, especially if you book accommodations at Coco Plum Island Resort where luxe lodgings are just the start of the island experience. PADI dive courses can be arranged in advance that address your level of expertise.
Learn basics if you're really new, get your open water certification if you're not and book additional training if you're so advanced, you like to compare yourself to Jacques Cousteau. Gear? It's provided by trainers, so you don't have to search for resources.
Before you hit the water, you'll be grilled by instructors who want to be sure you know how to position your mask so it doesn't fog up, maneuver your snorkel and get your fins to fit correctly. Test your prowess in shallow water before you explore Belize's greatest treasure: the barrier reef.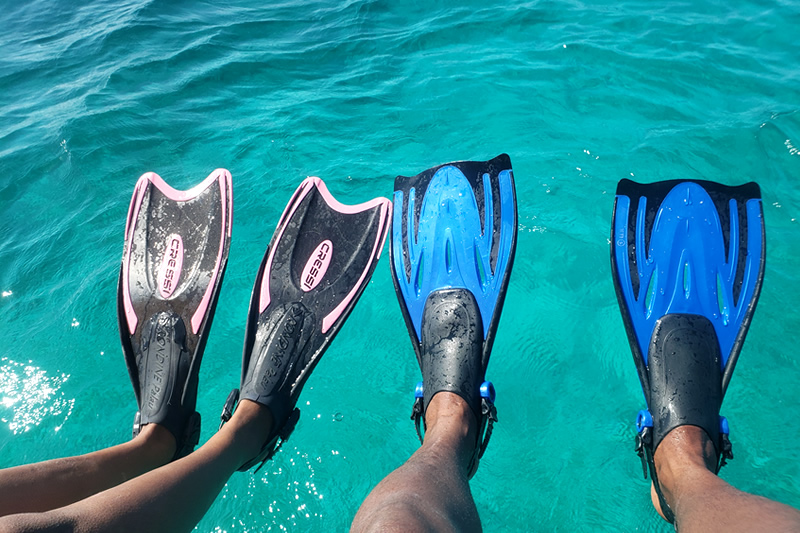 What's the secret to a successful dive?
All the training in the world won't substitute for staying relaxed and learning to read ocean conditions so you stay safe, breath deeply and conserve your energy properly. Only when you're ready will you get on a resort boat with an experienced crew and head out into ocean waters.
When you're not applying your scuba skills, there's lots more to do at Coco Plum: Kayak the Belize shoreline, take boat tours to nearby patch reefs, visit mangrove habitats to see endangered species, snorkel around the island and you can even visit Maya ruins if you are interested in undertaking a tour that's on land rather than in the water.
Why not just fly to Belize and sort out all of your lodgings, gear rental, diving instructors and boat on your own? Because you're smart. By taking advantage of Coco Plum Island's comprehensive packages, your only job will be showing up.
From your own private cabana to all meals at the resort, transfers to and from the island on your arrival and departure, as well discounted pricing when you book a Belize all inclusive package rather than individual services, you're going to save a fortune. Perhaps enough to come back in the near future, once your confidence is as deep as the ocean you have come to love.