Is it really "all inclusive"?
To answer the million dollar question: Yes, it really is all included.
Laid back luxury at its finest, picture yourself on a secluded stretch of white sandy beach completely surrounded by the aquamarine and turquoise hues of the Caribbean Sea. Hop on a quick two or three hour flight from many major cities in the US to experience this adults only, awarding winning resort. Coco Plum Island Resort is located on a 16-acre private island perfectly situated approximately eight miles off the coast of Southern Belize. And yes, this little private island oasis is an all inclusive resort. What do we mean by all inclusive? Oceanfront accommodations, water sports activities, fresh cuisine, and unlimited local alcoholic beverages are standard with every stay.* Because you can never have too much of a good thing … right?
Coco Plum Island Resort offers several vacation packages to suit your needs. Are you an avid diver interested in diving the Belize Barrier Reef? We've got an all inclusive dive package for that! Traveling to Belize to experience some of the best fishing in the world? You can do that with us too! Just want to relax and unwind without worrying about a care in the world? Our Just Chillin' package is your best bet. Take a look at our all inclusive packages and let us know what kind of experience interests you!
Belize All Inclusive Honeymoon/Romance Package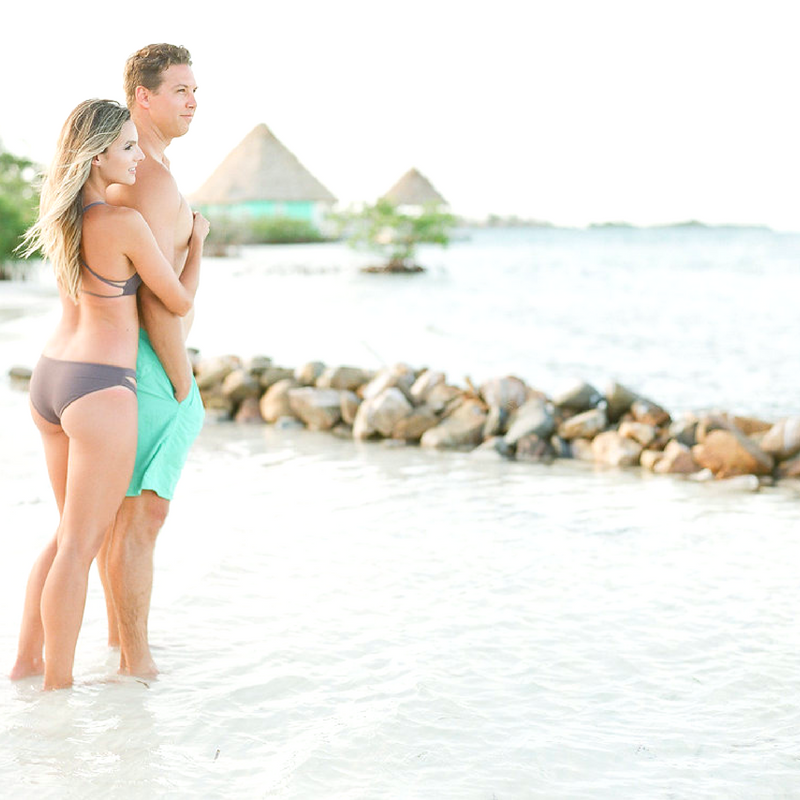 Coco Plum Island Resort was chosen by TripAdvisor as the #1 Hotel for Romance in Belize for two years in a row. Yes, that's right. We are officially the Most Romantic Hotel in Belize! So you can surely trust us when we say that there is no place more romantic than this little slice of heaven on earth. At our adults only resort, couples celebrating a romantic honeymoon or special occasion will be blown away by our All Inclusive Romance Packages. Formerly known as the Lovers' Getaway, standout features of this package include a romantic candlelight dinner served on our overwater docks. Couples savor a fresh surf and turf dinner with a complimentary bottle of wine. Want to go on an inland tour and a snorkeling trip? No problem, the package price includes tours too!
You may be wondering: What's the difference between the Honeymoon Package and the Romance/Lovers' Getaway Package? Well, the package inclusions are identical, but we didn't want anyone feeling left out, so we created the Romance/Lovers' Getaway package for those couples who are not honeymooning, but who want to enjoy a romantic couples vacation nonetheless.
Belize All Inclusive Destination Wedding
Dreaming of a completely unique beach wedding? Look no farther. Coco Plum Island Resort is the perfect Belize all inclusive wedding destination. Whether it be an intimate elopement, a small celebration with family and friends, or a large group, Coco Plum Island's private island setting makes for a truly distinctive wedding location. Recite your vows on the secluded South Beach on your very own private peninsula, or tie the knot on the overwater docks as the sun sets on the horizon. We know planning a destination wedding can seem like a tedious task, but at Coco Plum Island there is no need to worry as all the details are handled by a wedding coordinator, provided by us. Belize follows traditional British Common Law, so your marriage will be legal anywhere in the world and we will handle all the paperwork. Please refer to Belize Wedding Requirements for more information. Kindly note that for the wedding couple to qualify for our wedding package; a minimum of a seven nights stay is required. Wedding guests are required to book a minimum of a four night stay. The stay is not included in the Wedding package price.
Belize All Inclusive Adventure Package
A remote piece of paradise sounds idyllic, but are you worried that you might get bored on a private island? Well, no need to! Created for those craving adventure, our All Inclusive Package is jam packed with thrilling tours. You'll have the opportunity to experience both Belize's beautiful, pristine sea life as well as its unspoiled jungles, caves, and rivers. Whether you choose to do everything or do nothing at all — you'll be able to experience the best parts of Belize!
Belize All Inclusive Inland & Island Package
Experience the Best of Belize by combining your Coco Plum Island vacation with a stay at our sister resort, Belizean Dreams. This Belize jungle & beach package includes everything from local transportation, meals, unlimited alcoholic beverages and accommodations to adventure tours. The Inland & Island package is one of the most unique in Belize as it includes a vacation at two of Belize's premier resorts: Coco Plum Island and Belizean Dreams. Both resorts have been recognized for superior service as locally owned and managed sister properties. We recommend spending the first half of your trip on the mainland at Belizean Dreams. This spot is the perfect hub from which to enjoy jungle tours such as hiking to the top of the Mayflower Waterfall or Cave Tubing & Zip-Lining in the jungle. End your tour of Belize at Coco Plum Island simply relaxing in plush oceanfront cabanas and lounging seaside.
Belize All Inclusive Just Chillin' Package
Nothing says rest & relaxation like our All Inclusive Just Chillin' Package. There's no need to wait in long lines or wake up early to reserve a spot on a crowded beach, instead Coco Plum Island provides a uniquely intimate setting to unplug and unwind. Spend your days basking under the Caribbean sunlight in hammocks, thatch-roofed palapas, and beach beds made for the perfect afternoon siesta. With our Just Chillin' package, the hardest decision you'll have to make is which unlimited all inclusive beverage to order next. Don't want to miss the chance to experience a Belize Adventure Tour or two? We've got you covered. All tours can be added to this package with a la carte pricing. Just let the Reservation Team know which tours you are interested in adding and we'll take care of the rest.
Belize All Inclusive Fishing Package
Belize is an angler's paradise and with our All Inclusive Fishing Package there's no shortage of opportunities to test your luck in the Caribbean Sea. Fly fishing in Belize has remained a best-kept secret until recently. Travelers appreciate Belize's extensive flats with shallow waters and white sandy bottom, perfect for playing catch and release with the elusive permit, bonefish, and tarpons. Luckily for you, we're located in close proximity to many of the best fly fishing flats in Belize. Skilled guides will whisk you minutes from the resort to these fishing grounds. Most of the fishing is done from the bow of the boat, but there are many flat areas that can be waded through as well. Take your time, test your patience, and be at one with the Caribbean Sea as you test your luck for the Grand Slam which makes for a one of a kind experience! The fishing package includes guided fishing tours every day of your trip along with all transfers, oceanfront accommodations, unlimited local beverages, and meals.
Belize All Inclusive Diving Package
Belize is home to the second largest Barrier Reef in the world, as well as three of the four atolls in the Caribbean. Imagine gliding along the reef's edge with nearby turtles, manta rays, and even friendly nurse sharks. There before your eyes you will find a magical underwater world, nature's aquarium filled with diverse marine life. Belize's magnificent Southern Barrier Reef is over 170 miles long, stretching from north to south and running nearly parallel to the coast. With over 400 species of fish, at least 70 species of hard coral, and a variety of large sponges and gorgonians, divers travel from all over the world to experience diving in Belize. We are located a quick 10-minute boat ride from the beautiful Southern Barrier Reef. Our All Inclusive Dive Package includes daily two-tank dive trips.
Belize Private Island Rental Package
Don't limit yourself to booking hotel rooms for a group vacation, your family & friends can rent the entire island. Whether you would like to host a fabulous destination wedding, family reunion or even a laid-back corporate event rental, the Private Island Rental Package will meet all your needs. Enjoy a week in paradise in which everything is taken care of: daily meals including breakfast, lunch & dinner, unlimited local drinks, accommodations, local Belize airfare to and from the Belize City airport, adventure tours and best of all: an entire Caribbean Island all to yourselves! This package features three types of cabanas, our standard cabanas, our suite style cabanas and our premium suite style cabanas and is ideal for a small group of at least 32 persons.
Ready to unplug, unwind and reconnect on a beautiful private island without a care in the world? Then Coco Plum Island is the place for you. Leave the planning to us, simply send us your dates of travel and we'll take care of arranging your transportation to the island from Belize City as well as all of your activities and excursions. We invite you to enjoy a break from the hustle and bustle of daily life while our team provides expertly executed personalized service.
Contact our Reservation Team today, we're here to help!
*Due to health concerns, unlimited local alcoholic beverages are not included in the Dive Package.
Warm Regards,
Coco Plum Bloggers
Call or email our Reservations office today!
1-800-763-7360