Below is a guest blog post by Ady of Verbal Gold Blog.
It doesn't get any better than staying on a private island off the coast of Belize. Coco Plum Island Resort Belize is an all inclusive beach resort for adults seeking a romantic private island getaway. Our stay was truly the most relaxing vacation of our life. Coco Plum is known as the honeymoon hotspot and I can see how the vibe there would make the perfect honeymoon, anniversary, birthday, or getaway for the absolute best vacation with the love of your life!
I was really impressed with the welcome we received as soon as we stepped off the boat. We were greeted with a cocktail and shown to our room as we were given more information on the island. Everyone was so friendly and welcoming. I'm not sure what other resort you can go to and be on a first name basis with the staff. They were incredible at making you feel right at home. Coco Plum is paradise. I'm thinking of making it an annual thing.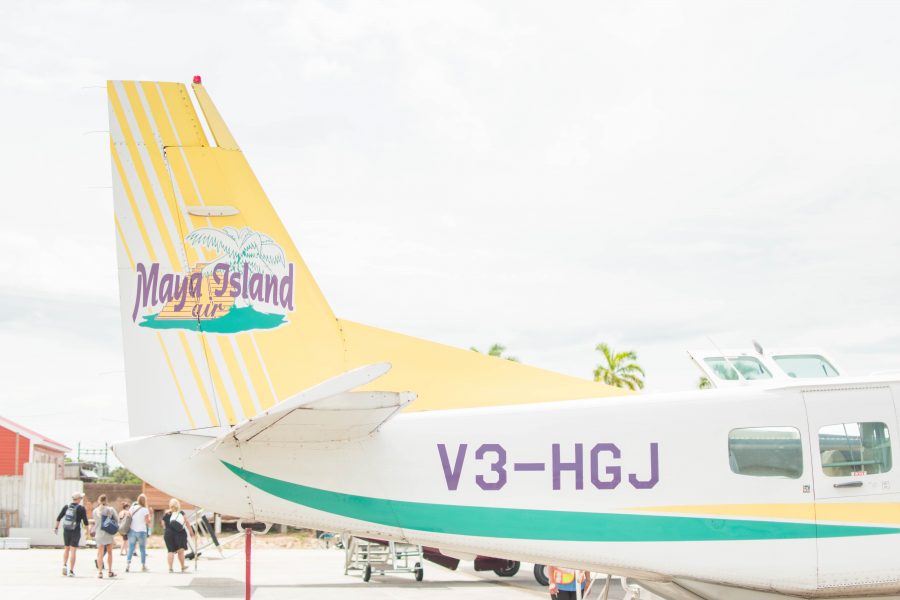 Transportation
Coco Plum Cay is a little island nestled 8 miles off the coast of a small town 80 miles south of Belize City named Dangriga. Belize City is only a two hour flight from several major U.S. cities such as Miami, Houston, or Dallas. It was only a 3 hour flight from Atlanta and is the closest over-water bungalow vacation.
Once you get to Belize City you get to hop on a puddle jumper to Dangriga which is a 15 minute flight. From there you'll be picked up in an air conditioned van that will take you to a boat. Driving through Dangriga was pretty interesting. I love seeing how people live in different parts of the world. Once you're on the boat, it's a 20 minute ride to Coco Plum Cay. Don't worry, your luggage is taken care of, carried, and stored under the boat by the staff. It gets delivered straight to your cabana once you arrive.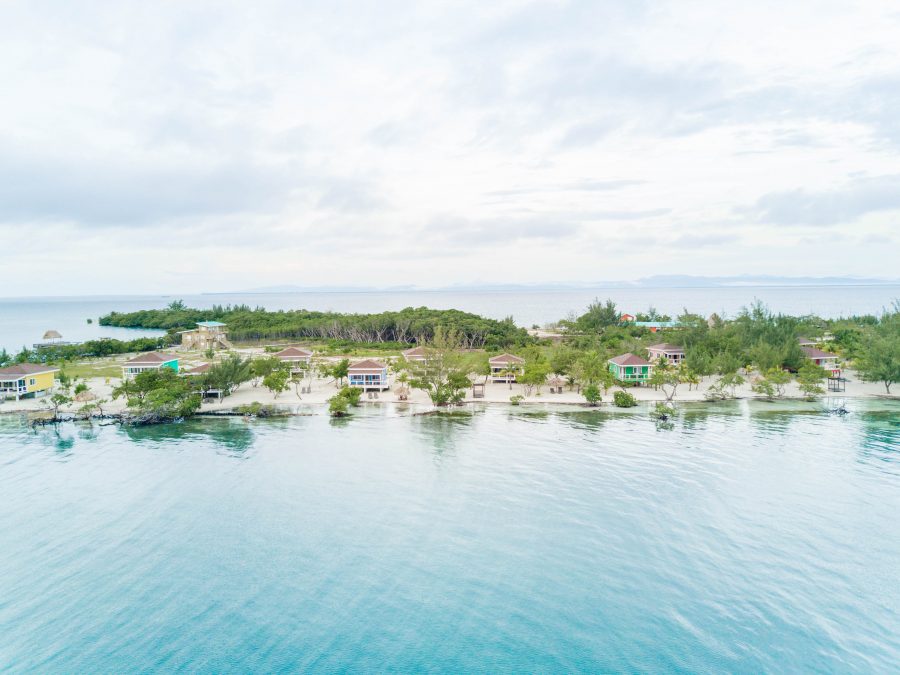 Resort + Rooms
There are a limited number of comfortably appointed ocean front cabanas so it's never over crowded. In fact, I really felt like I owned the entire island because everyone was off doing their own thing. I'm a huge fan of the "adults only" island because that's how I like to enjoy my vacations… kid free. There are 18 cabanas, including 1 two story three bedroom over water villa that's perfect for a girls trip or 3 couples. The overwater villa includes your own private entrance, sunning porch, and an array of other exclusive amenities.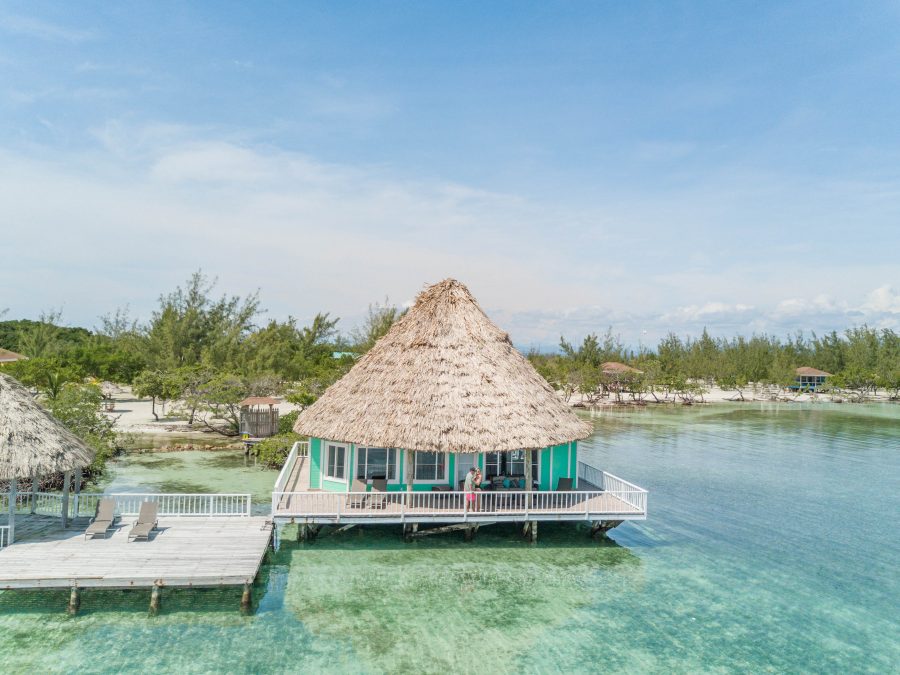 The beach cabanas are all painted a variety of happy colors ranging from pink to yellow to blue and nestled along the private island right at the edge of the water, steps from your own private porch. Perfect for early morning cups of coffee overlooking the water or resting in the colorful hammock. Obviously I'd go for the pink one! There are 3 different types of cabanas that range from standard to premium with the only difference being the amount of space in the room. Quite frankly, you're on a private island in your own private room so they're all pretty great options. The interior in most is white and bright with exposed wood beams and high ceilings. Most of the premium cabanas sit at the end of the island so you have more privacy. There is a volleyball net and a private dock at the end of the island as well as multiple lounging areas and daybeds.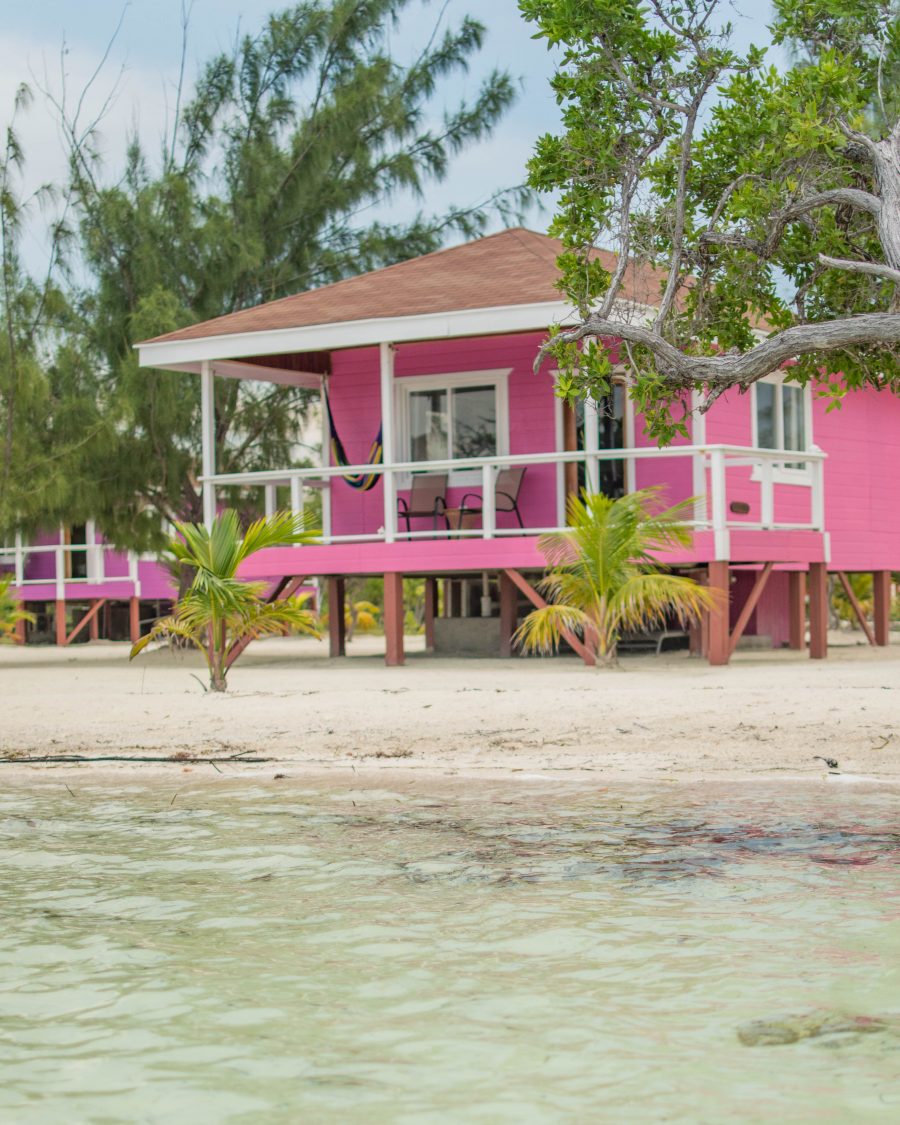 Our room had complimentary water bottles with purified crystal springs gallons of drinking water so you could refill and stay hydrated during your stay. No other place I've been to has offered that and I thought it was a major plus. Such a nice touch when resorts pay attention to the little details like that. All rooms have air conditioning, a major plus, ample counter space in the bathroom, and ocean views. All things I look for before I book a beach vacation.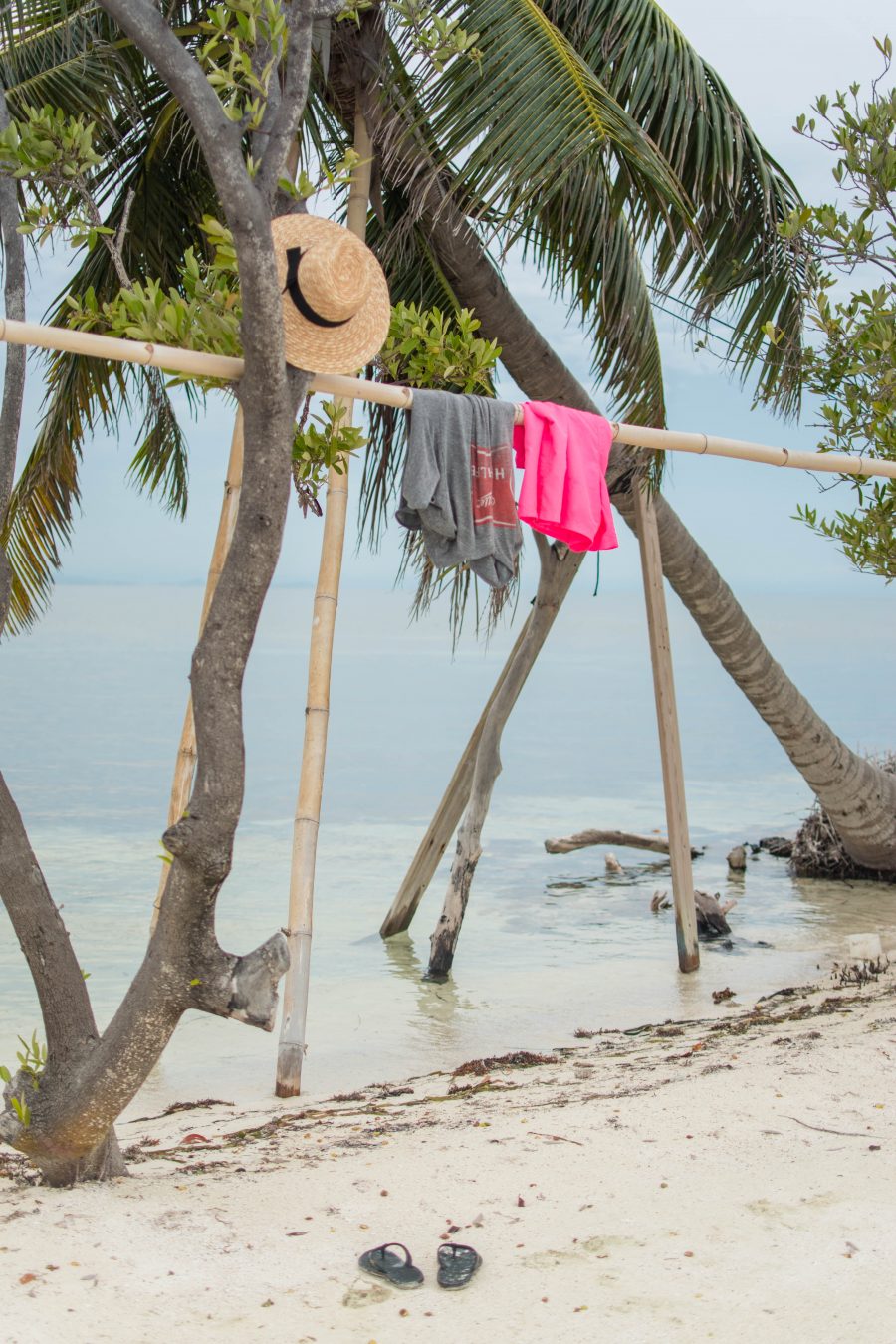 There are quite a few areas to hang out and relax on the private island. You will find multiple lounging areas over the water or under a thatched roof umbrella along the beach. There's even a private beach at the very end of the island that is hidden by mangroves. There's a bamboo pole for hanging your clothes and well…you get the idea.
The 16 acre island is lush filled with mangroves, palm trees, and tropical flowers. The island is covered with perfectly manicured sand raked daily, so shoes are optional. At night, the island is well lit so you can find your way to dinner and the bar but the light isn't obvious and doesn't take away from the island feel. You almost don't even notice it. You'll find conch shells everywhere you look as most are used for decoration around the island.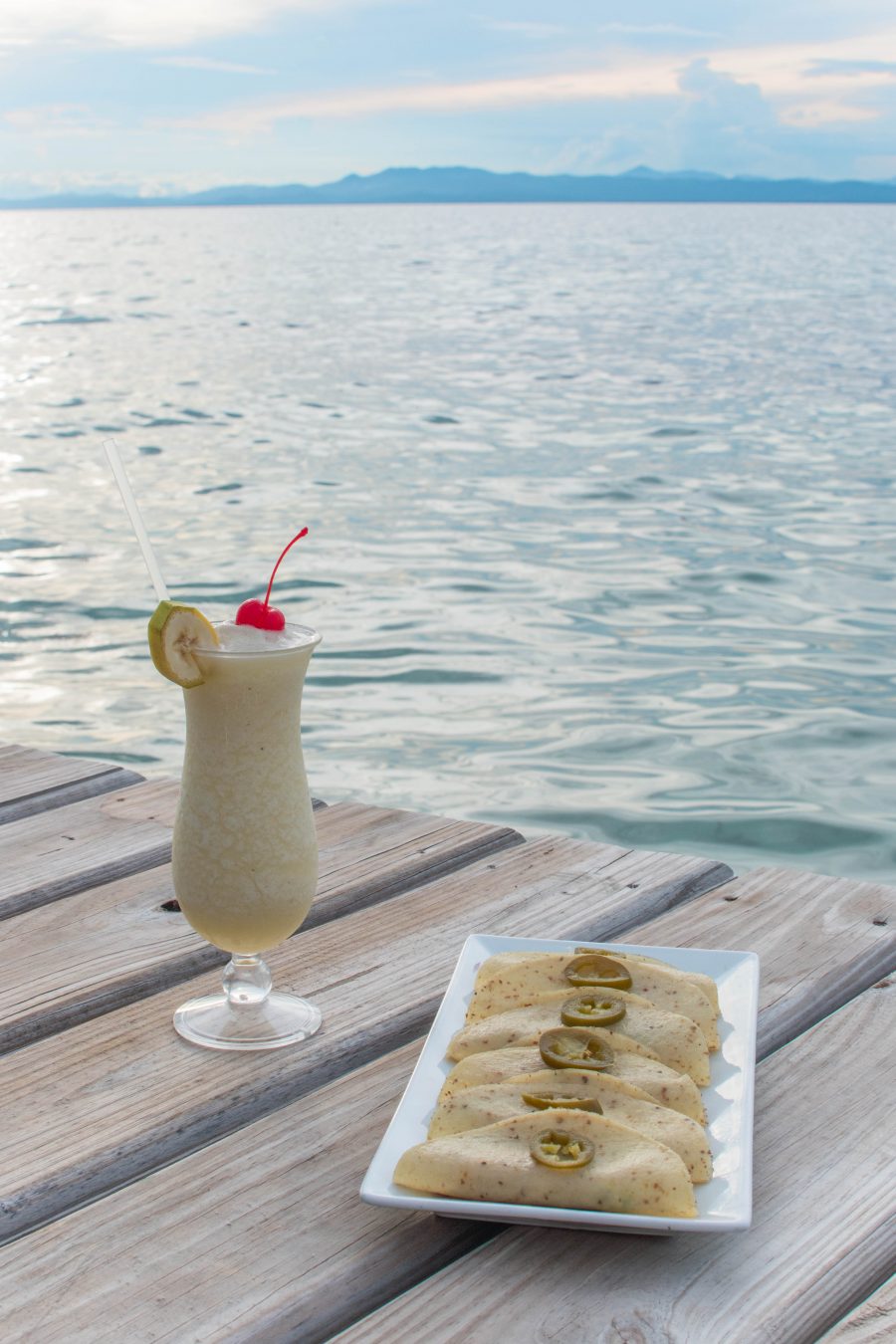 Food + Drink
The resort is all inclusive. There are multiple packages but regardless all of your food and drinks are covered. Yes, even local alcoholic ones and mixed drinks. Now before you turn your nose up at the thought of an all inclusive resort and you start thinking about buffets let me stop you right there because this was the farthest thing from that image ever.
Think white table cloths, 5 star dining, 3 course meals made from all naturally sources local organic island delicacies (with wide eyes slowly shuts gaping mouth). You don't even get a menu. The breakfast lunch and dinner meal is written on the board daily. They are extremely accommodating to your meal preferences, allergies, and dietary restrictions. For example, we had burgers for lunch one day but they were offering fish, beef, or chicken and since I don't eat meat I went with the fish burger. Belize it or not (see what I did there lol) it was the best and even better than a real burger. I didn't eat anything I didn't like while I was there and for an only child who is an extremely picky eater that's major.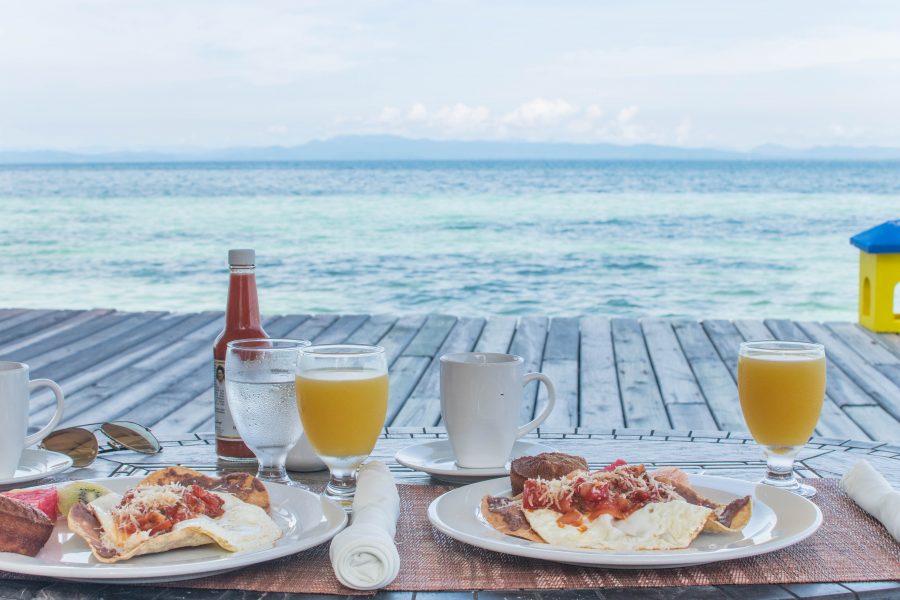 There is a dining hall where guests can eat along the water outside or take in the ocean views from an air conditioned dining room. There's also a bar which is everyone's favorite place to hang out during the day. You can hear the waves crashing underneath you while you sip the most incredible island drinks at the open air bar with some of your newest but now closest friends. For happy hour every day you're served "bar snacks." They are like appetizers and the perfect amount of food to hold you over until dinner, which is from 6:30-8:30.
Coco Plum is in the Top 10 most romantic destinations in the world according to Trip Advisor and they did not disappoint. One night they surprised us wth a private romantic dinner on the dock with candles and flower petals. I can see why they were named the 2017 Travelers Choice. We had baked lobster and I swear it was the best thing I've ever eaten. Mrs. Jude, the chef on the island, can cook y'all!
My husband went fishing while we were there and brought back his catch for dinner. Mrs. Jude let us in the kitchen and showed us how to prepare and cook it island style (where you eat allllll the parts). We made fried red snapper, fried trigger fish, and blackened barracuda and it was delicious! Probably one of the coolest experiences!! Then we got to share it with everyone on the island. Seeing all the guests and staff enjoying your catch and just smiling and happy was such a treat.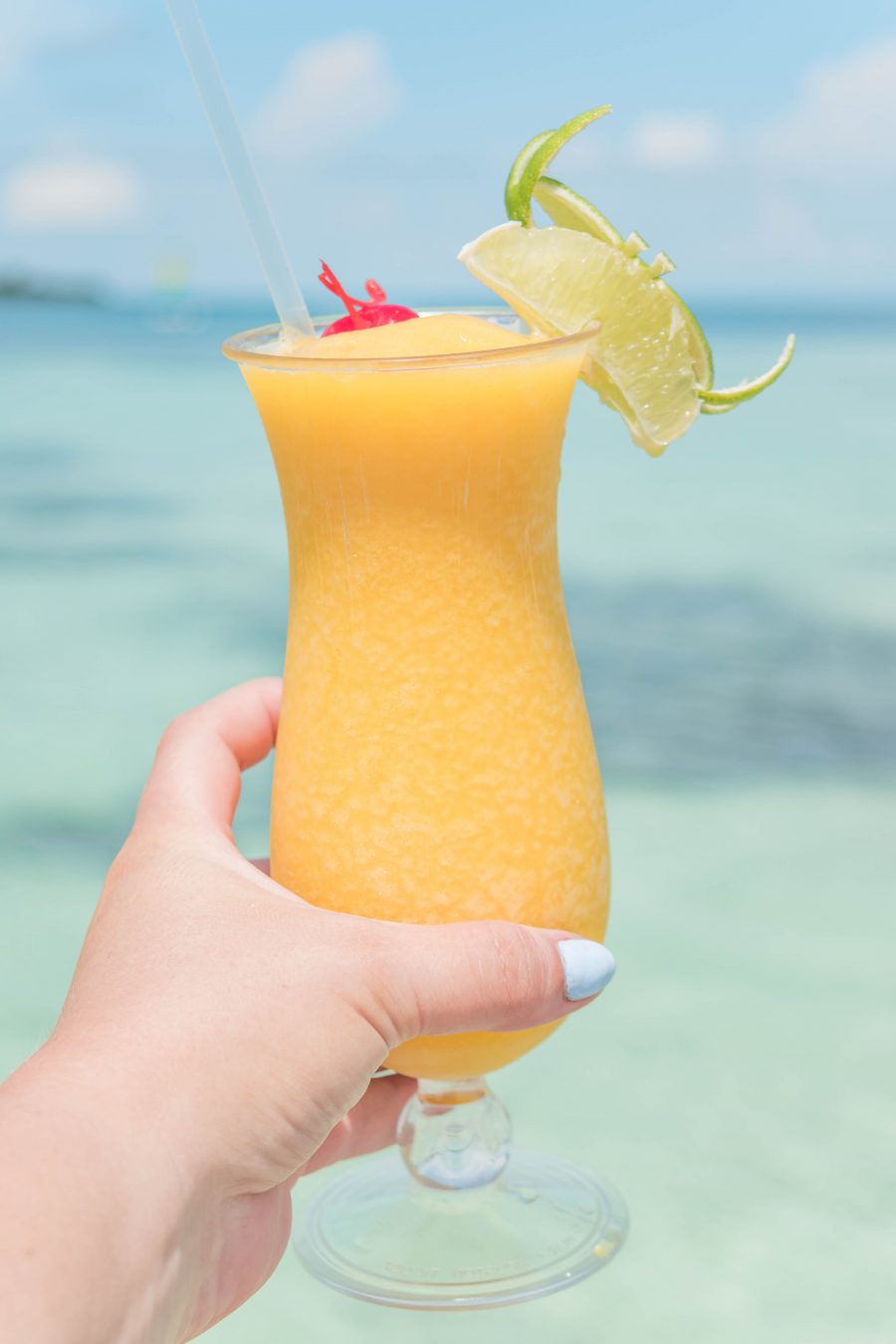 Now onto the drinks! Normally with all inclusive you get watered down sugary crappy drinks with bottom shelf alcohol that begs you for an upcharge to upgrade your drinks, but not here! The drink menu was insane. I don't think I even made it through the entire list…but I tried. The fresh picture perfect cocktails couldn't have been better. There was something for everyone on the menu but I stuck to the frozen rum drinks and tried one in every flavor! Mmmmm delish! Pretty sure I had one in my hand at all times. Don't forget to try the local beer, Belikin. I loved it!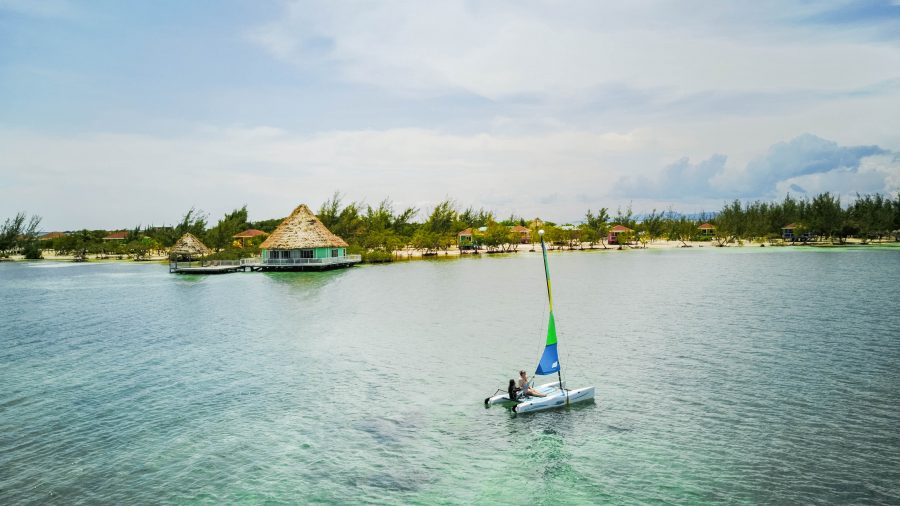 Activities
There are so many activities on Coco Plum that you'll run out of days before you get to do everything. Try not to squeeze everything in your stay or you'll end up tired and drained. Save some things for your trip back! Remember, it's a vacation so spend the majority of your time relaxing and take it all in. Yes, they do have wifi but disconnect and enjoy everything the island has to offer.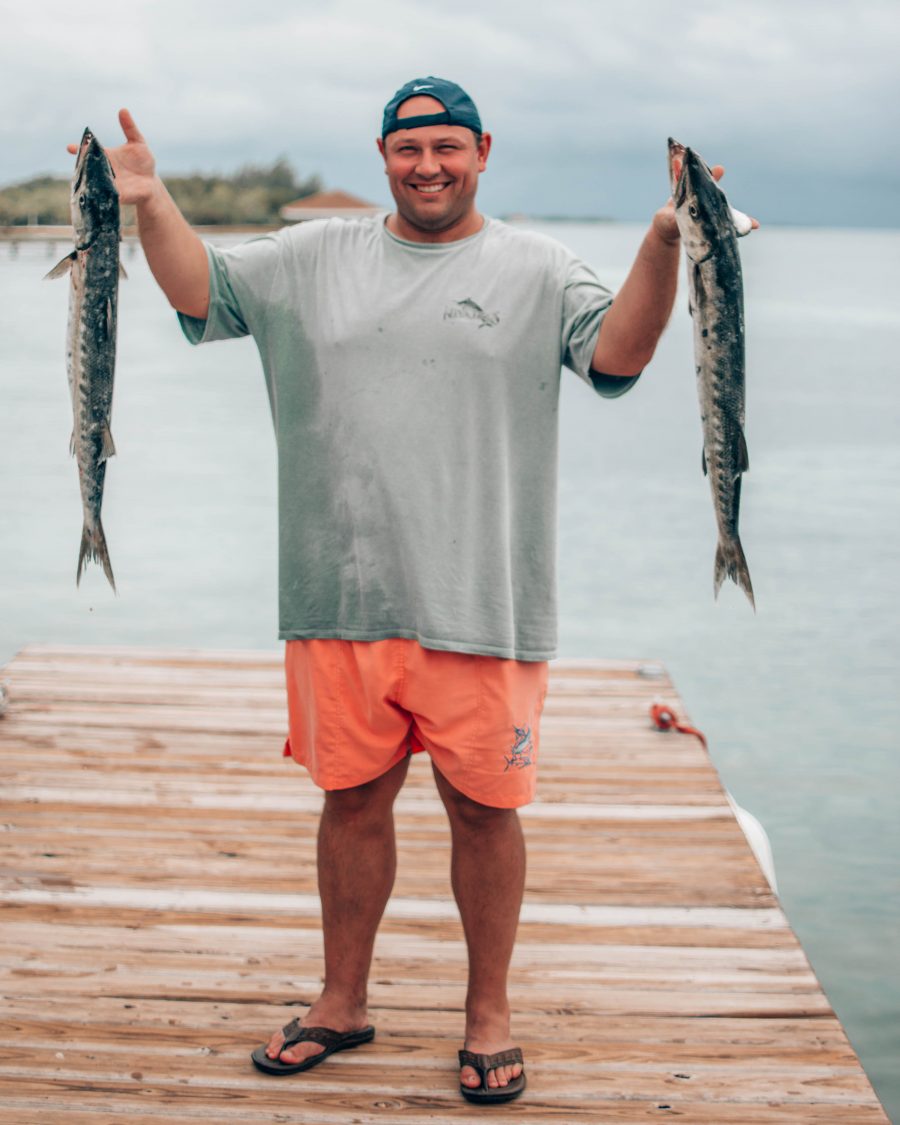 Coco Plum offers an array of tours you can do on your stay. They offer mainland tours or local water activities you can enjoy. Choose from zip lining, cave tubing, snorkeling, fishing, charter a boat, scuba diving, sunset cruise, Belize zoo, or explore the Mayan Ruins of Xunantunich "Maiden of the Rock." We were only there for 4 days so we chose to keep it close to home and go snorkeling at the reef. Mike also went fishing in the morning one day and really enjoyed that!
There are also a ton of water activities you can do on your own that are complimentary. Most places will charge you to rent paddle boards so I love that everything at Coco Plum was free to use at any time! We paddle boarded one day (I only fell once), took a kayak out, hopped on the hobby cat for a sailing lesson, and snorkeled just steps from our villa. There are also fun games to play scattered around the island. There is a volleyball court, ping pong table, corn hole, and ladder ball toss. There are board games, cards, and even a library of books that you can read. The amenities are crazy. I swear they thought of everything!
Need more encouragement too book? Check out 28 Photos To Inspire You To Visit Coco Plum Island Resort Belize by Verbal Gold Blog!
Thanks Ady, it was a pleasure hosting you both from Verbal Gold Blog!
Warm Regards,
Coco Plum Bloggers
Call or email our Reservations office today!
1-800-763-7360