If you've been holding your breath waiting for a Covid vaccine, time to do a happy dance because it's almost here. You can start making those long-delayed travel plans. Thanks to enhanced airline scheduling, Belize is quickly becoming the easiest destination to reach and just in time for winter!
Belize has been opening up like a flower for several months now, which is why airlines are resuming their schedules more quickly than originally planned. The trend started when American and United Airlines both instituted flights right after the Belize Tourism Board announced a return to business as usual as of October 1, 2020.
Other carriers are lining up to join these two. If you've been eager to escape your metaphorical cage and Belize is the only destination that satisfies your vacation desires, here's news you may be waiting for that is related to your favorite airline.
What did you miss if you stopped watching airline schedules during the month of December? Plenty! Dallas, Minneapolis, Denver, Chicago, and Newark all began bringing sun worshipers to Belize on December 19th courtesy of Sun Country and United. What's coming down the pike? Plenty, so mark your calendar now.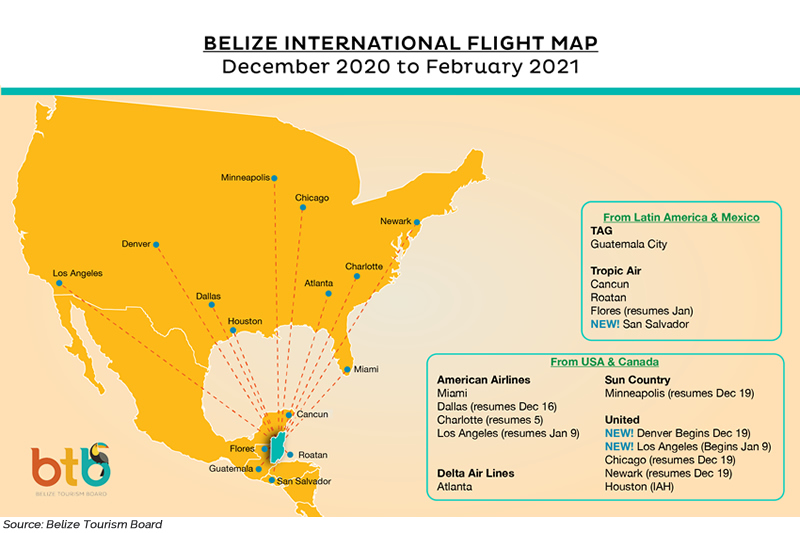 Belize International Flight Map
In American Airlines news, the Charlotte NC to Belize run resumes on January 5, 2021, just in time to avoid January blizzards. Los Angeles will follow suit just 4 days later on January 9, 2021, so grab those sunglasses and start packing for a fun winter escape. Not one to let Americans grab all of the notoriety, Los Angeles to Belize service also launches on January 9, 2021, via United Airlines, so travelers are getting lots of choices.
By February, it's likely all Latin American flights will be in the air. TAG Air, originating in Guatemala City with service between Belize and Cancun and Roatan, is preparing to resume routes in early 2021. Tropic Air flights originating in Flores are expected to return in January, so there's a good chance Tropic Air could get a drop on its competitors once its schedule is set.
You don't have any time to lose if you've targeted a particular airline for your Belize journey, so get your affairs in order so your seat doesn't go to someone else simply because you've failed to prepare properly. Consider these your marching orders so there are no glitches when you're ready to travel:
Visit our website for updated directions on Covid requirements you'll have to prove before entering the country. Next, take advantage of irresistible travel deals at Belize's premier island destination: the incomparable Coco Plum Island Resort where all inclusive packages deliver on value and make vacations effortless.
This adults-only haven has everything you dream of including lots of blissful quiet, hammock time, and whispers of soft breezes. This atmosphere is likely to be particularly restive if the airline flight you so eagerly waited for happens to seat you in front of a restless kid during your short journey to Belize!
1-800-763-7360