Congratulations are in order for Coco Plum's very own Robert and Jude who tied the knot over Easter weekend on April 4th, 2015.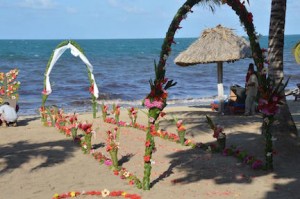 It was truly a romantic ceremony in Hopkins on the beach of our sister resort, Belizean Dreams. The beach front ceremony was small and quaint with some of Robert and Jude's closest family and friends, including their daughters. The best man was Emilio Z., owner of Coco Plum and Belizean Dreams who has known Robert and Jude for years. The maid of honor was Arlene Castillo.
Much like many of you who have honeymooned or celebrated romantic getaways at Coco Plum, Robert and Jude began their relationship and fell in love at Coco Plum Island Resort. Robert, who grew up on a nearby island called Tobacco Caye is a master of all things related to the Caribbean Sea. About ten years ago, Emilio met Robert and hired him as a Head Captain which was the beginning of a great friendship. Since then, Robert has witnessed the earliest stages of development at Coco Plum and is so proud of its continued success! Eventually, Jude was hired as a Cook and became apart of the Coco Plum family. Jude's bright smile, contagious laugh, and mouthwatering dishes make her very hard not to love. This was especially true for Robert who worked hard to gain her admiration over the years! On April 4th, 2015 it was all worth it!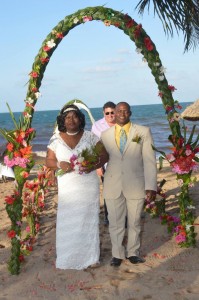 We wish Robert and Jude many years of continued love, health, and happiness on this magical piece of paradise! Congratulations!!!
Much love from the entire Coco Plum family.