Bees adore coco plum trees and it's the reason this type of shrub covers landscapes in the Caribbean. Those bees are particularly busy on a little private island off the coast of Dangriga, Belize where both the birds and the bees are debated daily by romantics seeking sanctuary from the hustle and bustle of today's crazy world.
At Coco Plum Island Resort, couples find the ultimate escape the moment they arrive as they spot the natural glory that covers every inch of this tiny island. Located among palm trees and coco plums is a mini-village beloved by travelers, so whatever vision couples have for a romantic hiatus, it's possible to create that and more, no matter how short their stay.
What's your definition of a hideaway?
Whether it's a luxury 3-bedroom, over water villa that is literally situated where ocean meets shore or a cozy, private cabana for two, located mere steps from the Caribbean, the number of amenities that come with Coco Plum Resort accommodations are plentiful.
Because the island is designed for privacy, lodgings are staggered along the shoreline among small palm trees, no cabana obstructs the view of another. Guests must head for the restaurant and bar if they want to interact with other people.
What can you do after you've decompressed and re-acquainted yourself with the love of your life? How about setting off on adventures planned just for couples eager to see as many of Belize's treasures as possible? You can take diving classes and then put those skills to work.
Mainland adventure tours are fun and if the idea of roaming ancient Maya ruins piques your interest, choices abound. Couples who arrive at the resort say that they're so well taken care of by resort staff, they rediscover their joie de vivre, which is why so many couples return to the island repeatedly.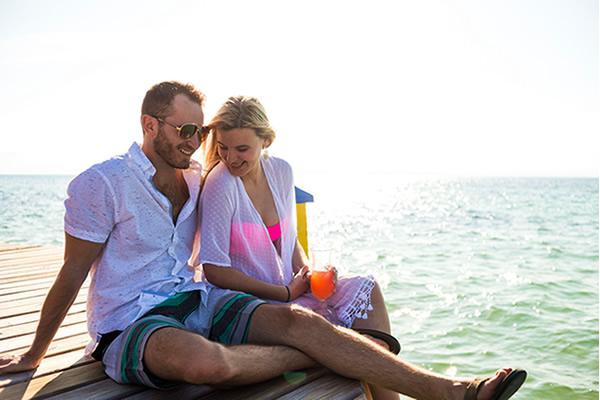 Get married on a private island? Yes, you can
If the idea of renting the entire island is beginning to dawn on you for your next family reunion or celebration, you won't be the first to entertain that thought. Stage your wedding at Coco Plum and house all of your guests on the island.
Plan group activities everyone can enjoy, from your ceremony and the reception of your dreams to fishing, snorkeling and exploring the wonders, cuisine and cultural splendor of Belize.
Whether getting hitched is in your future or you're still weighing your options, the sheer variety of experiences couples enjoy at Coco Plum Resort is unlimited, which means that even a long weekend can restore your equilibrium and remind you that not everything revolves around making money and building a career.
Getting back to basics on an island? All it takes is contacting the Coco Plum team to book your stay. And if you happen to run into any of the bees on the island who are hard at work pollinating trees, consider them a great reminder of how life was meant to be lived!