Fewer North Americans are following the news and mental health professionals are advising patients to do just that. According to the International Journal of Behavioural Medicine, there's evidence proving that "…watching the news on television triggers persisting negative psychological feelings…," impacting sleep and triggering fear, worry, and anxiety.
If you count yourself among this growing population, you need a place that's away from the 24/7 news cycle so you can relax. No destination fits this description better than Belize. No long airline flights and no worries about making your wishes known because everyone speaks English. And when it comes to sheer pleasure, Belize's Coco Plum Island Resort is the quintessential happy place.
No ordinary oasis
Belize's laid-back vibe is felt by visitors as soon as they step off their short flights at Belize's international airport and hop a plane to Dangriga Airport where Coco Plum staffers transport guests to the docks via a short boat ride to this happy place. Breathe deeply! You've escaped the noise, pressures, and more.
Settle into your Oceanfront cabana. Due to the island's size and a limited number of guests, you'll experience unprecedented privacy as you adjust to a leisurely pace that replaces the endless tasks that weigh you down back home. It won't take long to feel the precious gift of disconnection that island guests call "priceless."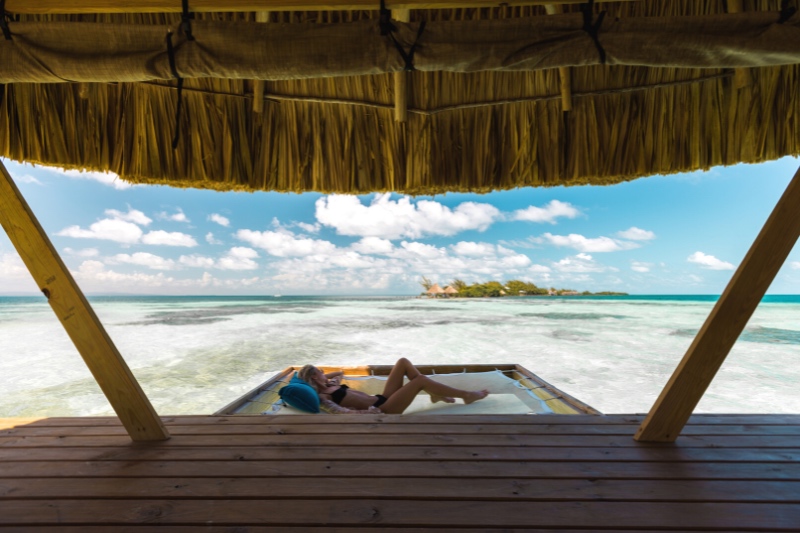 No news is good news!
Whether your travel style includes trying every activity under the sun or you've got your eye on a hammock that serves as a cocoon while you dig into the book you've brought along, design your own itinerary by choosing a Belize all inclusive package that suits your interests even before you leave home. As you can see, that short flight from Dangriga to the docks is included in the price, so you'll be in the care of staff from that point on.
For folks who have no interest in venturing off the island, there are lots to do: Roam the beach, try out a standup paddle board, swim in the Coco Plum pool, paddle a kayak around the island's periphery, pilot a Hobie Cat Wave, snorkel, scuba dive and fish. Wander the region via tours that come with your package if staying active is the way you relax best. You can always add more tours if time allows.
Unexpected pleasures that could surprise you
Because you're staying in paradise, at least one visit to the Serenity Spa makes the ideal add-on service and when it comes to dining, the meals you enjoy as part of your all-inclusive package are culinary masterpieces, as you'll agree when you check out these Belize vacation photos.
Best of all, you'll be fully disconnected from the news and stress that surrounded you. Discover–for perhaps the first time–how it feels to be carefree, clear-minded, and blissful in a happy place dedicated to your peace of mind. It's up to you whether you intend to return to your news-watching schedule once you get home, but if you've committed to cutting back, your time on Coco Plum is the ideal way to get started!