What benefits are derived by having something to look forward to? The list is long and includes weddings, new babies, graduations, and one occasion that doesn't require a dramatic lifestyle change: 2022 vacation planning. Some global destinations are already receiving more interest than usual: Island vacations are trending – especially in May 2022 when rates drop and winter crowds have dissipated.
You could spend a fortune and suffer jet lag by looking into Maui, Tahiti, or Fiji trips – or you could enjoy an identical experience close to home that won't require you to liquidate your stock portfolio. Coco Plum Island Resort, off the coast of Belize, is already generating travel buzz and if you act in a timely manner, you could snag a reservation before your choice of vacation dates are all snapped up.
Reasons to choose Coco Plum Island Resort
In addition to proximity (no long, tedious airline flights) and exclusivity, Coco Plum gives guests access to all Belize attractions minus jet lag, and translation apps aren't needed since all Belizeans speak English. Awards? In 2021 alone, Tripadvisor Travelers named the island its #1 hotel for romance and #1 small hotel in Central America honors.
This 16-acre adults-only paradise is just 9 miles off Belize's coastline but it's a million miles away from the din of society; the ultimate sanctuary of privacy and solitude. There are only 18 private oceanfront cabanas with oceanfront views on Coco Plum and enough space between each lodging to make every guest feel alone on the island. Further, you'll discover no shortage of opportunities to try every sport on your most favorites list: fishing, Hobie Cat sailing, snorkeling, and scuba diving, to name a few.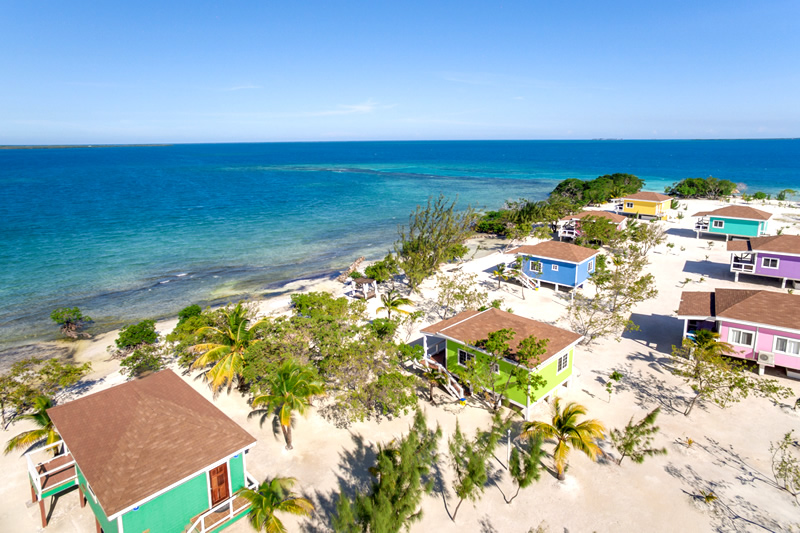 Unwrap an all inclusive Belize vacation package to find Nirvana
Perhaps the reason a 2022 island vacation sounds fabulous is that you're sick and tired of making decisions related to both your personal and private lives. That stops at the ocean's edge thanks to carefully curated Belize packages that meet your vacation style and offer plenty of options. You wouldn't be the first resort guest to be drawn to more than one!
Choose a Belize all inclusive vacation package that delivers on all the aquatic action you can handle or just hang out and take advantage of island amenities that include the pool, complimentary kayaks, paddleboards, and a catamaran. Paddle to nearby islands and the Belize Barrier Reef. Indulge yourself at the Serenity Spa where the service menu promises rejuvenation and pampering and don't be surprised if you find yourself wanting to spend more time than usual sequestered in your digs. They're just that beautifully appointed.
Because so few guests can sojourn on the island at the same time, bookings for stays in Spring 2022 are already filling Coco Plum's reservation log so if your 2021 New Year's Eve wish is to spend more of 2022 on the relaxation that leads to better health, longevity, and peace of mind, you know what to do. Start by scrolling through Coco Plum web pages for inspiration and grab your spot in the sun before someone else beats you to it!
1-800-763-7360