Veteran travelers know that the ideal way to spend time abroad is to "change it up" every day. And the further away one goes, the more opportunities come along that add spice, variety, and fun to the most mundane itinerary. What does "change it up" mean? When there is a wealth of things to see, do, taste, and hear, visitors owe it to themselves to sample a variety of options since that's where the biggest surprises are often found.
Consider an opportunity to spend your next getaway on a Belize island known for its impeccable service, privacy, all inclusive packages, and world-class amenities. Would you be tempted to stick around for the entirety of your visit, or would you be curious about towns located on the mainland that are just across the water?
If you're like most, you want to see it all, and you'll have that chance by staying on Coco Plum Island where the Coco Plum Island Resort offers you not only an idyllic respite but the chance to discover Dangriga, known for its charm and cultural trappings associated with Garifuna society. It's a pairing that turns an ordinary vacation into an extraordinary one.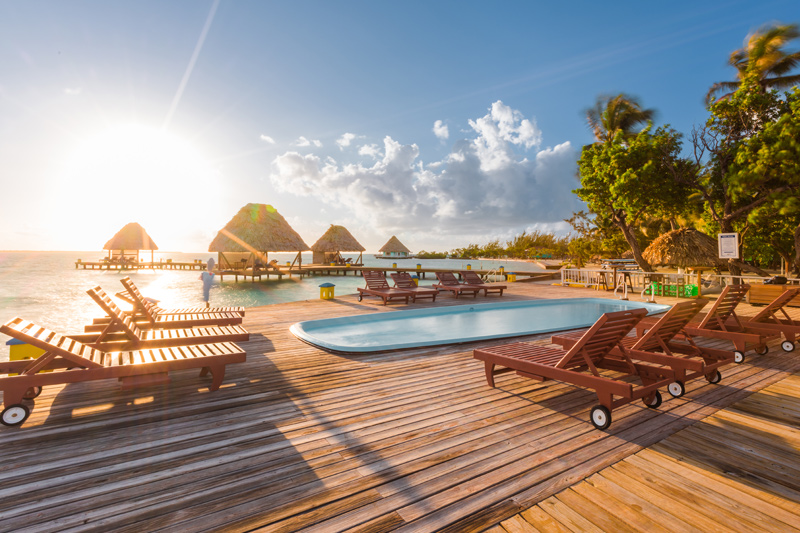 What to do in Dangriga
Founded in 1802, this small, colorful town not only offers visitors urban delights. Here are but a few of the things to put on your "must-see" list, whether your visit to Belize is short or extended:
•Visit the Pen Cayetano Studio Gallery — an homage to the area's talented Garifuna population. Feast on art—from paintings and murals to thread art—and learn about the drumming that introduces you to Punta Rock.
•Tour the Maya Center Maya Museum, an interactive experience that is fun, educational, and awash in fascinating revelations. Hands-on chocolate making, tortilla making, coffee making, and dance training are just a few of this center's activities.
•Marie Sharp's legendary products are an integral part of Belize cookery so why not tour her factory to marvel at the number of product lines she markets? You'll find it impossible to leave without a gift shop stop.
•Find more treasures at the Garinagu Crafts and Art Gallery where history and antiquities converge. Browse souvenirs, local wines, and hand-made pieces reflecting both Garifuna and Maya history. See the Gulisi Garifuna Museum before you leave Dangriga, too.
What to do on the island
Having celebrated the news that everything about your stay is included within the resort's all-inclusive snorkel package, further customize your visit with add-ons and a la carte tours to achieve the itinerary of your dreams in addition to time spent in Dangriga.
Visit the website to contact island staff to make arrangements for your next holiday and before you leave the site, whet your appetite by browsing the photo gallery offering visitors a pictorial overview of an island experience that has no equal. Explore Dangriga. Relax on the island. Discover how "changing it up" can deliver the vacation experience of a lifetime!
1-800-763-7360