According to Almanac.com writer Margaret Boyles, "vacation is a state of mind, a psychological place to let go of the humdrum, discover something startlingly new or astonishingly old." In fact, the word vacation comes from the obscure Latin word "vacare," which means empty and free.
You don't have to know a word of Latin to know that nothing compares to the freedom of vacation and if it's taken on a pristine island in the Caribbean like Coco Plum Island Resort off the Belize coastline your goal of achieving tranquility and bliss is virtually guaranteed!
Coco Plum: Exclusive. Private. And intimate.
Can one remote, 16-acre slice of land surrounded by Caribbean waters be all things to all guests? The answer is yes if you're desperate to find peace of mind amid worrying news that seems to pop up by the hour. Don't stick around and allow this troubling cacophony to drive you mad when an adults-only refuge awaits you that's just a few hours south by plane from southern U.S. hubs.
Belize is an English-speaking nation, and the currency exchange rate is exceedingly simple. Best of all Coco Plum hosts very few guests within the confines of just 18 beachfront cabanas so if you've ever wanted to feel like the only person on the planet, this is your destination. Further, Belize all inclusive packages are pre-paid so you can roam around in a swimsuit that has no pockets.
What therapy treatments can you expect during your island stay?
The sort of options that no high-price shrink can deliver and there's no extra charge for these services delivered by Mother Nature herself:
Sea air banishes insomnia, so body and mind are restored. The air is pumped full of oxygen because it's driven by winds and the negative ions found in ocean air boost serotonin (your body's happiness hormone).
You don't even have to get your feet wet to elevate your mood. Fears seem trivial amid endless blue sky and ocean, moods improve, and the sounds of waves work better than medications. Your heart rate drops, too.
Jump into the surf to remedy skin ailments. Saltwater packed with minerals has both curative and anti-inflammatory impacts on the skin, so if you suffer from dermatitis or psoriasis no natural healing method beats salty seawater.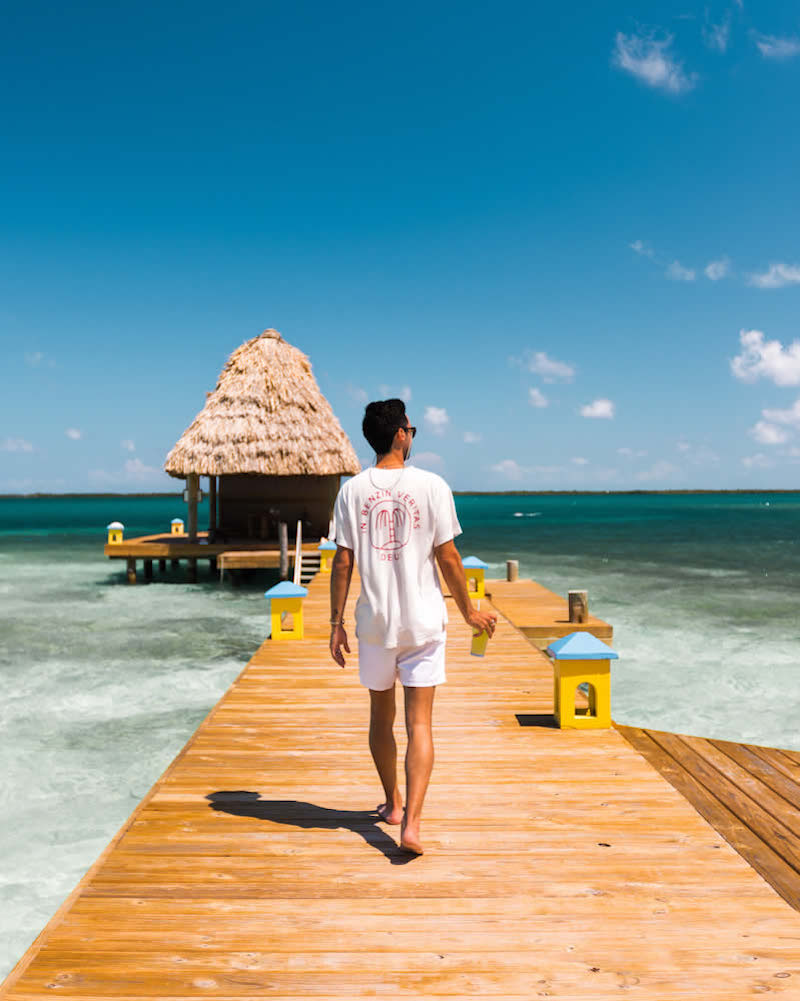 Beyond Mother Nature's contributions
Charming oceanfront cabanas have been artfully placed on the island so nobody knows what you're up to! Each one is filled with touches to make you feel right at home. The resort's chef is a culinary whiz with quite the repertoire and personal service is exquisite.
Work out any remaining stress by indulging in onsite amenities: The swimming pool, complimentary Hobie Cat Wave, kayaks, and stand-up paddle boards plus fishing, snorkeling, diving, and sailing tours. Don't miss the Serenity Spa where rejuvenating treatments are priceless.
There's more – but you get the point. You're stressed. An island (with no kids in sight!) awaits. You've just got to get there so start searching for flights right after you check with Coco Plum staff, so you don't risk getting further stressed if you find that the dates you prefer are all taken!
1-800-763-7360