Sick of slaving over Thanksgiving dinner? You need a Belize break more than most!
At Thanksgiving, North Americans remember with gratitude the brave pilgrims landing on U.S. shores. But for many reasons, this year-end holiday can turn into a massive headache. Dinners become productions that take days to clean up. Commuting to family dinners can get hairy when weather turns cold. So when will you find the time and energy to list everything for which you are grateful?
Perhaps it's time you considered leaving the weather and those stressors behind to enjoying a traditional Thanksgiving dinner. How about weather that's about 30-degrees warmer than temperatures you left back home? Here's the best part of this celebration: you can get all of the traditional Thanksgiving dishes you love in Belize.
An island vacation you won't forget
At Coco Plum Island Resort, the tradition of Thanksgiving is celebrated so that guests enjoy all of the festivities and none of the work. This small tropical island, off the coast of Dangriga Town, Belize, welcomes North Americans with open arms. One of the ways island staff shows its affection is by preparing special meals for guests who need a tropical getaway but hate to miss Thanksgiving and traditions they love.
Because November weather in Belize is idyllic and the island is laid back, you can pack a minimal amount of clothing for your island getaway. Check into a picturesque ocean-front cabana that is so close to the water, waves lull you to sleep at night — revel in the intimacy of your private enclave close to the water's edge.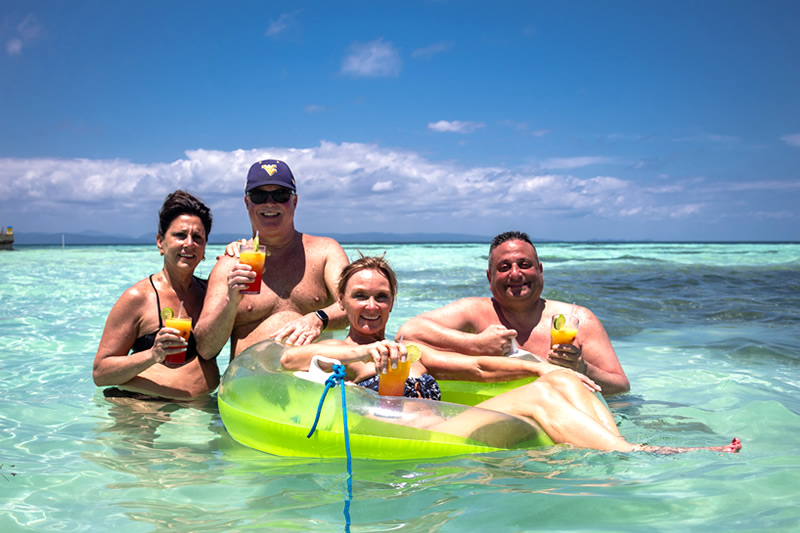 How to have the best Belize Thanksgiving ever
1. Contact Coco Plum Island Resort immediately to reserve accommodations now, before everything has been booked.
2. Consider a Belize all inclusive package to save money and take advantage of all meals, tours and transfers.
3. Use your favorite aggregator to book the short flight to Belize. Let the Coco Plum team coordinate your in country from Belize City to Dangriga Town.
4. Inform family that you're taking a well-deserved Thanksgiving break to spend the holiday on a beach.
5. Don't pack much. If it can't be done wearing shorts, it's probably not worth doing.
6. Enjoy a delicious Thanksgiving dinner on the island prepared by staff.
What to expect after breaking the news to family members
Some of them will be envious. Others may ask, "Can we come too?" Your answer, of course, is to give them information about Coco Plum Island Resort and remind them of the importance of booking immediately. If you really want to show the family big love, did you know that you could book the entire island?
There's nothing selfish about getting away for a Thanksgiving holiday, by the way. You take care of your family 24/7 and there's an excellent chance you could face the Christmas rush and associated demands with a grin on your face rather than a perpetual furrowed brow. That's what happens when travelers get away from November weather and eat turkey on island time!
1-800-763-7360