The secret to summer vacation success on the Caribbean rim is simple: Make plans to visit in June, July, or August to take advantage of the lowest rates possible. Is it too early to start searching for the ideal holiday as winter creeps across North America? Just the opposite. All three months offer travelers unique experiences if they choose Belize. Come in June, for example, to mark these occasions:
-World Environment Day on the 5th
-Go Fishing Day on the 18th
-International Surfing Day on the 21st
-Swim a Lap Day on the 24th
-Sunglasses Day on the 27th
It doesn't matter what time of the month you arrive if you want to engage in the best Belize has to offer since June draws visitors from around the world who are eager to dive with the pristine marine reserve, Glover's Reef. For those who prefer dining to diving, the Lobster fest in June is eagerly awaited by an international audience of gourmets who love the idea of binging on this delicacy non-stop. Water sports? Engage in all of them!
For those who can't make June – July and August won't disappoint
Frequent Belize guests like to refer to this nation as endless summer because they get more bang for their buck during summer months when crowds have disappeared, and visitors enjoy longer vacations because their funds stretch further. For 2022, make plans now for an extraordinary experience you may have assumed was out of your league …
… A summer stay at Coco Plum Island Resort where bookings are already gathering steam. This small oasis of tropical splendor off the Belize coast hosts just a handful of guests, which is why it's almost impossible to get reservations during winter months when people with unlimited budgets come to stay on the island.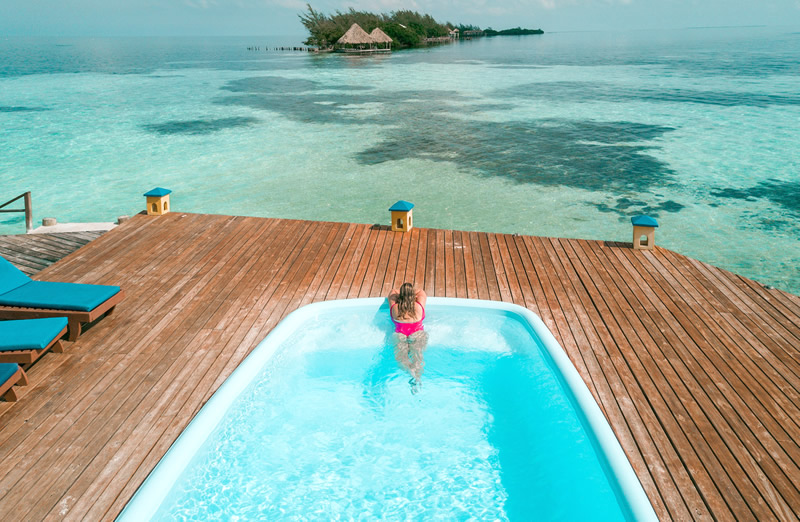 Fish. Sail. Swim laps in Coco Plum's swimming pool. Fill your days with every adventure and since Belize all inclusive packages cover every aspect of an island stay – from beautiful digs and gourmet meals to tour options and lavish amenities – customizing your itinerary is easy and fun.
This is your chance to have it all!
Temperature averages between June and August on the island are consistent: 77-degrees F by night and 89-degrees F by day. Proximity to the equator and Caribbean breezes offer weather that is likely to be more comfortable than it would be back home!
Lower rates. More availability. Full access to everything this lush island has to offer, including full moons, opportunities to eat lobster, ocean sporting fun, and the most amount of tranquility you're likely to find anywhere on Earth. If you want to see how it feels to be pampered on a tropical island where guests are treated to unprecedented privacy and intimacy, summer is your chance to do just that.
Coco Plum Island is the summer 2022 vacation you thought wasn't attainable for myriad reasons, but now that you know it is, why not find out how the rich and famous vacation? A world of excitement on and off the island awaits summer guests and if you can think of one reason you can't be one of them, please let us know! And if you find that Coco Plum is all booked up, check out her Sister Resort: Manta Island Resort located on Glover's Reef.
1-800-763-7360