Despite amazing gains made by science in terms of producing COVID-19 vaccines, not everybody is ready to return to their former lifestyles, even if they have received the Moderna or Pfizer inoculations. But just because these folks are reticent about emerging from their cocoons, that doesn't mean they're not eager to get away.
Does this describe you? Are you still timid about vacationing because you're not much of a risk-taker? We have your solution. There's a private island off the coast of Belize that offers you every international health authority protection. To entice reluctant travelers, Coco Plum Island Resort staffers want you to know that not only will be you be secure on the island where sun, surf, and safety await your arrival but the plane ride to Belize is so short, you can start relaxing the moment you lift off.
4 reasons to book a vacation on the island
1. This island paradise is lush and compact. There is only room for 42 guests thus privacy, intimacy, and social distancing is a way of life. At just 16-acres, the resort's 18 private oceanfront cabanas are spread out so artfully, you could stay secluded for the entirety of your stay since everything from meals and spa services can be brought to you. Since Coco Plum is an adults-only property, you won't be disturbed by kids either.
2. Coco Plum's Covid-19 health and hygiene protocols are so thorough, the resort was granted Gold Status by the Belize Tourism Bureau for complying with mandates that are noticeable the moment visitors arrive on the island. Social distancing, temperature checks, small tour groups, and enhanced housekeeping practices combine to deliver the utmost in safety and care.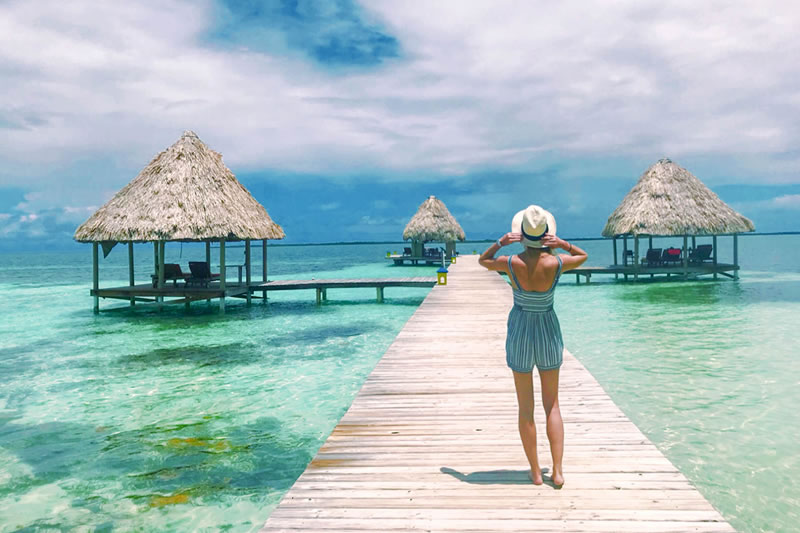 3. An island holiday that delivers on the solitude you crave. Consider a Coco Plum Island Resort package that covers everything you need and want so you rarely have to interact with others. Included are luxe lodgings, meals, water sport activities, transport to and from the island, and other amenities. Choose your Belize all inclusive package from this broad menu of options.
4. Reward yourself for having gone outside your comfort zone after spending the year feeling timid and fearful by treating yourself to a longer stay than you might otherwise have dismissed. Take advantage of these Belize vacation deals. From a single discount to graduated rate reductions that come with additional nights on the island, you won't find better rates for your 2021 island getaway, and these deals remain in effect between June 1st and December 18th.
We call it social distancing by design. You'll call it heaven on earth – an experience worth the wait on a lush island off the Belize coast that's surrounded by the Caribbean Sea and a million miles away from the worries you've lived with for the past year. There is no better way to make your post-virus debut than by visiting this safe, luxurious island, but keep this in mind: With just 18 cabanas on site, check your calendar now to secure your reservation so you are assured of getting your first choice of dates!
1-800-763-7360