North Americans are rarely shy about admitting that they love a good deal. For folks living on tight budgets, discounts offer ways to enjoy things that household incomes may not cover. For the financially comfortable, deals and specials increase spending power, and people in this category insist that taking advantage of specials is the reason they're well off!
No matter which category you fall into, there's an excellent chance that a just-announced promotion curated for romantics by Belize's Coco Plum Island Resort will get your attention. You've got plenty of time to plan your getaway, because you two can vacation any time between July and December 2023, as long as you meet the booking deadline. An opportunity to save save money and enjoy an experience that only a private, adults-only island can deliver? It doesn't get any better.
Why is this special unique?
Spending time on a private tropical island offers couples unprecedented intimacy and privacy, and because this deal begins with the popular All-Inclusive Snorkel Package, couples get their fill of aquatic fun during the minimum 4-night sojourn.
Here's where the value comes in: Once you agree to book the snorkel package, you get the complimentary Honeymoon & Romance add-on free! The sweet extras couples enjoy include wine and treats upon arrival, a private, candlelight dinner with wine, and nightly turn-down service that gets every night off to a fabulous start. This combination of perks is designed with romance in mind!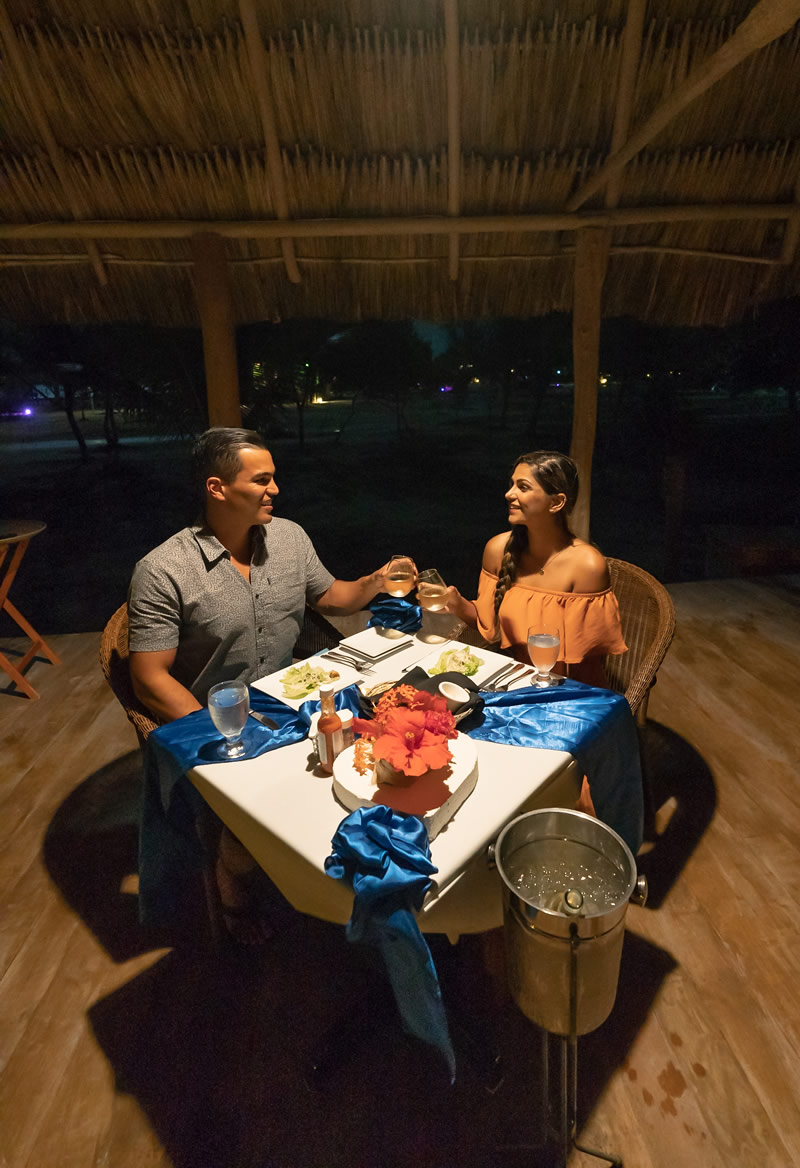 6 Easy steps to claiming this romantic escape
 Understand that this special can't be combined with other offers and requires direct booking.
Visit the resort website and use the code WEBROMANCE or INTROMANCE (if internally booked) to claim this deal.
Meet the registration deadline on this specials page.
Understand that only one credit per reservation is awarded to bookings that are NEW.
All booked dates will be verified upon arrival and a billing adjustment will reflect the discount.
Have a backup date. The resort is small, and this combo is generous. Your preferred first date could be sold out.
Are you on the cusp of a new era in your life?
Coco Plum is the quintessential resort for romantics because the island not only offers unprecedented privacy and few guests, but it's hosted lots of marriage proposals from guests who demand the perfect atmosphere. Further, every detail of your Belize vacation is overseen by staff dedicated to making sure you feel like the only couple on the island.
For these reasons and more, not only do couples in new relationships find nirvana on the island, but it's also a popular place to rediscover each other amid an atmosphere of pure pleasure. If you don't have a romantic reason to take advantage of this deal, why not make one up? We won't ask, and you don't have to tell!
1-800-763-7360