Glover's Reef Atoll is one of the three atolls of the Belize Barrier Reef system, the second largest barrier reef in the world after the Great Barrier Reef in Australia. Located off the coast of Belize, the entire reef system measures 185 miles long and is known for its vibrant corals and exotic marine life communities.
Glover's Reef Atoll measures 20 miles long by 7 miles wide and can be found 40 miles offshore of the mainland in southern Belize. The atoll is believed to be the most vibrant and colorful marine environment in the Caribbean Sea.

The atoll was named after John Glover, a marauding pirate who, with his brother, used the location as a base to raid Spanish merchants who traveled in the area in the 1750s. Today, the folklore surrounding the Glover brothers is shared by local guides with travelers when they visit the atoll.
In 1993, the Glover's Marine Reserve was established as a national protected area, and in 1996, UNESCO designated Glover's Reef as an official part of seven areas that comprise the Belize Barrier Reef System. The atoll serves as the outermost boundary line of the Belize Barrier Reef and the only way to reach this pristine paradise is by boat.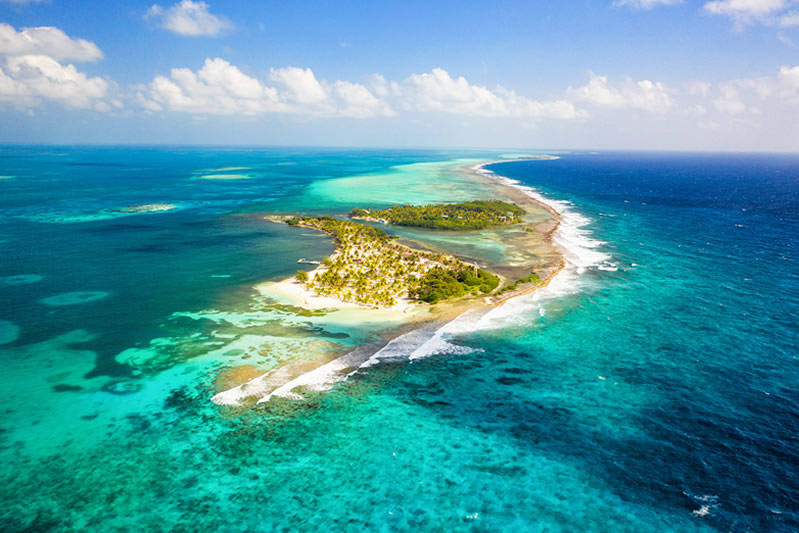 What makes Glover's Reef Atoll stand out is the amazing diversity of marine life that abounds in the area. The atoll features a deep lagoon and over 800 coral patch reefs. However, the reef is partially submerged, and six sandy cayes or small islands are perch on the reef's crest. Stringent conservation laws protect the corals and wildlife at Glover's Reef, effectively preserving this fragile ecosystem for years to come.

Visitors flock to Glover's Reef Atoll to snorkel, paddleboard, kayak, sail, and scuba dive in this underwater wonder. No matter how you decide to explore this atoll, you're sure to spot not only beautiful rainbow-colored coral formations, but also exciting ocean dwellers such as stingrays, barracudas, sharks, and turtles, to name just a few.

For the best experience of Glover's Reef Atoll, be sure to stay at Coco Plum, an award-winning Belize island resort. Coco Plum is located just a few miles from Glover's Reef and offers an unBelizeable snorkeling tour to this stunning attraction. Or at Coco Plum's sister property, Manta Island Resort, which is located right on the reef! The Glover's Reef snorkeling tour includes a visit to Manta Island.

Other popular barrier reef tours offered by Coco Plum include diving the gigantic Blue Hole and unique fishing tours in Belize's rich waters which are home to more than 500 species of fish.
Contact Coco Plum Island Resort today to learn more about exploring the barrier reef on your Belize vacation. Coco Plum also offers Belize all-inclusive packages that include tours to ancient Maya cities and sacred caves on the mainland.