Is it possible to enjoy too much of a good thing? Not if you have had the pleasure of being a guest at Coco Plum Island Resort in Belize where repeat visitors are the norm rather than the exception. We're not kidding. Georgia residents Bonnie and Sam Ellerbee bring their sensibilities, southern accents, and eagerness to their favorite vacation spot on such a regular basis, they've returned 15 times.
Staff at Coco Plum appointed the Ellerbees unofficial resort mayors and recently named a new boat in the resort fleet after this charming couple. They return the love by keeping photos of their Coco Plum Island family on their 'fridge so they don't get lonely for staff when they return home in-between vacations. Come July, they'll rent the entire island for a family vacation.
Home away from home
It's easy to understand why the Ellerbees can't get enough of Coco Plum. Their first visit was so amazing, they were in tears when they had to leave. Since then, "each trip has been different," says Sam, so despite more than two dozen stays, there's always something new awaiting them when they visit. "It's become a family tradition," adds Bonnie who says that their kids now come to Belize after agreeing that they would rather spend family time at Coco Plum now than collect inheritance money down the road!
Every day a surprise
Having coffee and watching the sun rise never grows old for this active couple who love to swim, snorkel, kayak and indulge their taste for Belize's cultural scene and the abundance of wildlife. They've frolicked with manatees and can't say enough about the delicious gourmet meals they enjoy at Coco Plum Island. But it's the family atmosphere that makes all the difference, say Sam and Bonnie, who add, "We even keep photos of the resort staff's kids on our refrigerator."
The Ellerbees are not alone
The list of Coco Plum Island returnees keeps growing due to the resort's laid-back vibe, friendly mix of guests, luxury accommodations and availability of tours and attractions. From travel magazine readers to the recommendations of friends, Belize and the resort keep collecting frequent visitors from around the world, each of whom is eager to experience a small piece of heaven where every guest feels like the only one on the island.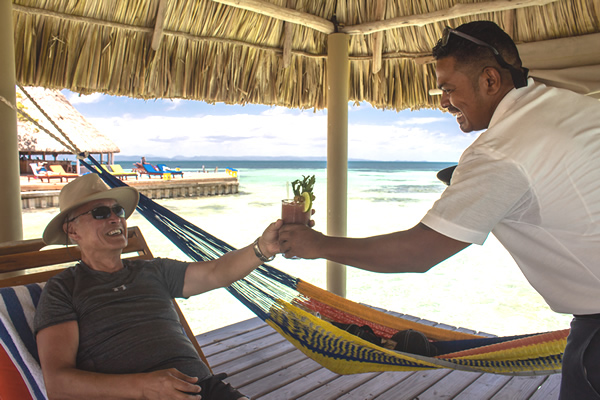 Experience Coco Plum Island for yourself
Describing the ambiance, warmth and luxury of Coco Plum—even from the perspective of frequent visitors—can't substitute for arriving at this tropical paradise and finding out that other people's glowing reviews barely touch the surface. The Ellerbees book return visits just weeks after they return from Coco Plum because they learned their lesson the hard way: Wait too long and this corner of heaven is going to be sold out.
But, we'll let the Ellerbees do the talking so you know they're not joking when they recommend early booking. Find out for yourself how return visits turn people into friends who learn to love Belize by taking the time necessary to explore this friendly country. As for the Ellerbees, they're packing for a 16th visit at the moment and wondering how many Coco Plum Belize vacations they can squeeze into their 2020 calendar!