What do couples in search of the perfect honeymoon do? Pick a destination, of course, maybe even a private island. Costa Rica is so yesterday. Mexico's getting expensive. But Belize has everything honeymooners desire and more!
The decision about where to honeymoon can make for interesting debates. Savvy couples spending a fortune on wedding day festivities want a spectacular honeymoon generating vivid memories, but they don't want their bank accounts cleaned out. Given that goal, you may think a private island in the Caribbean is out of your reach—but it's not.
Belize has become Central America's honeymoon mecca
Small, English-speaking and lush, Belize often comes as a surprise to couples seeking honeymoon spots that offer privacy, intimacy and at times, adventure. Belize is just a few hours by plane from North America, so exhausted couples find refuge within hours of their departure—some joke that they're still shaking celebratory rice out of their clothing!
Why Belize? Because airfare is doable, dollars stretch like they're made of rubber, warm weather is on the nation's menu year-round and the variety of things to do is unlimited. Couples can snorkel with sharks at the Belize Great Barrier Reef, dive the world-renowned Great Blue Hole and roam small towns and villages to experience Belize's cultural heritage and cuisine. Everything couples crave in a honeymoon awaits.
But, you two just want to cuddle!
Spending time alone is a priority for honeymooning couples and where better to find it than on a private island where romance, intimacy, and enchantment await? Coco Plum Island Resort has it all. Enjoy the charm of a storybook getaway plus every modern amenity under the sun.
Speaking of sun, this island's beaches are pristine and beautiful. Beach honeymoons remain "the most popular type of getaway for newlyweds," say U.S. News and World Report surveys, and "best honeymoon destinations of 2020 are all centric to islands," add editors compiling this information. Stay at Coco Plum Island Resort and you're surrounded by beach.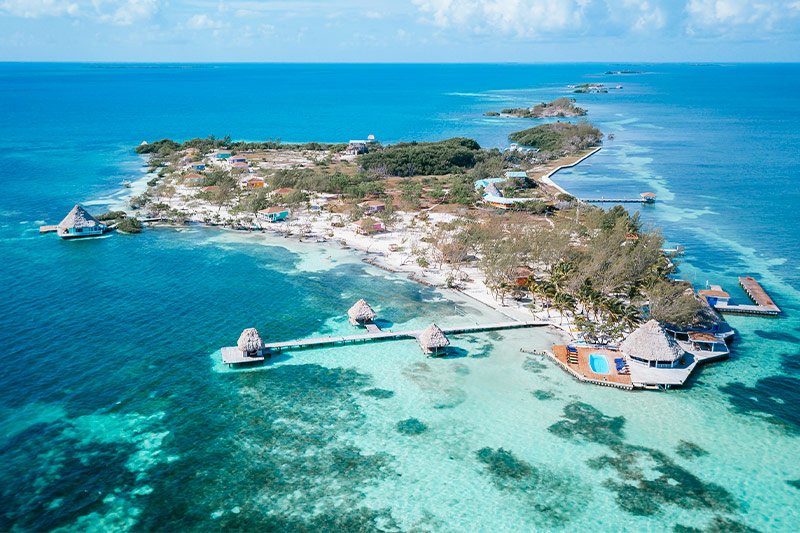 Unwrap this beautiful package for your honeymoon
Thanks to Coco Plum's pre-paid package, a picture-perfect honeymoon is a given and includes these essentials:
-A beautifully-furnished oceanfront cabana offering the ultimate in privacy
-Delicious Belizean-style meals prepared by Coco Plum's talented chefs
-A romantic candlelight dinner served on our overwater docks
-Unlimited free soft drinks, local beer and local mixed drinks made with Belize gin, rum and vodka
-Complimentary bottle of wine
-Boat transfers to and from the island on your arrival and departure
-Free use of kayaks, snorkel gear, stand up paddleboards and a small Hobie Cat.
When you've had enough beach time and you're ready to explore, all-inclusive packages include tours like snorkeling Belize's Barrier Reef, roaming the magnificent Maya Ruins of Xunantunich, zip-lining over a Belize rainforest and cave tubing down rivers or visiting the Belize Zoo.
The number of tours included in each all inclusive package depend upon length of your stay, so the longer you stick around to celebrate your new marriage, the more you will see. Want to know more? Of course, you do. One glance at the list of perks you two receive as a result of booking your honeymoon on this romantic Caribbean island will convince you there is no better place on earth to celebrate your blessed union. Honeymoon in late July or during August and you get to participate in the island's annual Lobster Fest. Not planning your honeymoon but looking for a romantic getaway? No problem, check out our Romance Package which includes the same perks as the Honeymoon Package!
1-800-763-7360