Making Valentine's Day a special occasion takes planning, a lot of love and a desire to leave strange traditions to other people while you stay on a private Caribbean island!
Charlotte Long collects weird Valentine's Day traditions for fun. She writes of bizarre ways to mark February 14th. In Japan, women give chocolates to their bosses and South Korean women eat black food to mourn having no love life! Shop for a Valentine's Day card in Germany and a huge number of them will feature pig art.
We don't know about you, but we'll save our chocolates for lovers not bosses and the only pigs we want to see are the ones cooked to perfection on a dreamy island resort in Belize where romance truly takes flight every Valentine's Day for those lucky enough to book a stay at Coco Plum Island Resort.
Can you come to the island this year? Sadly, Valentine's Day 2020 has been completely booked by couples who know to plan in advance if they hope to take this romantic adventure. Guests who have secured their 2020 trip reservations can purchase add-on tours and services—and it's not too early to reserve Valentine's Day 2021 on the island!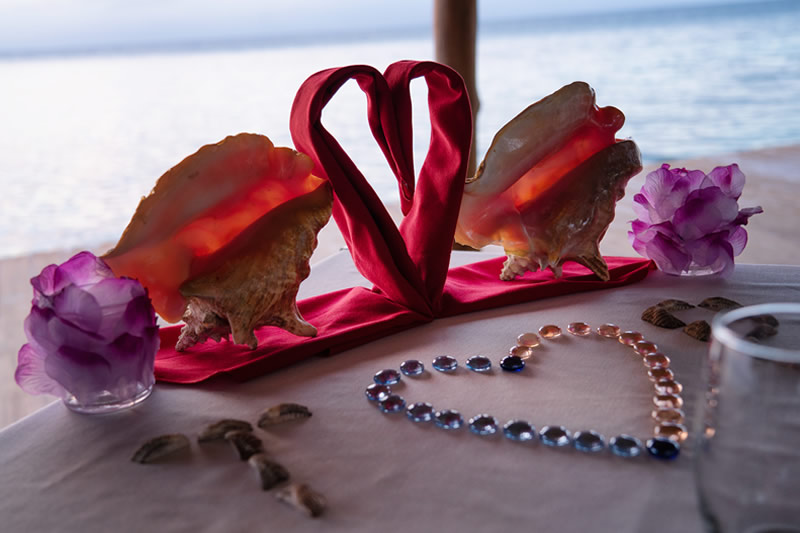 Your island your way
Coco Plum Resort is the quintessential island experience for lovers. When booked to capacity, only 42 guests share the island, staying in 18 beautifully-furnished, stand-alone cabanas that offer intimacy, privacy and atmosphere lovers need and want. Surrounded by lush vegetation and Caribbean Sea vistas, you and your love can stay sequestered for the entirety of your stay if that's your idea of a perfect Valentine's Day experience.
Leaving your digs doesn't necessarily mean you'll bump into other people. Lounge chairs, beach beds and hammocks invite you to cuddle for hours while listening to rhythmic waves washing up on the beach. Overhead, palm trees, cotton candy clouds, exotic birds and the sun bathe you in relaxation.
Leave your hammock to dine at Coco Palms Restaurant where the menu is eclectic and delicious. Further, kiss your stress goodbye thanks to Coco Plum's Belize all inclusive packages. Each contributes to your worry-free vacation since everything—including tours—is included with several packages you pick.
Gifts that keep giving
You're already in the arms of the person you adore, so why not make your Valentine's Day even more exciting at Coco Plum Resort by choosing a romantic add-on that comes as a complete surprise to your sweetheart? Your hosts are delighted to arrange sunset cruises, massages, private dinners, fishing tours and customized diving trips guaranteed to delight you both. Who doesn't love surprises?
But before you can spring this one on the love of your life, you must book your package at Coco Plum Island Resort and make flight arrangements to get the ball rolling. By the way, who says you must be on the island on February 14th? Cupid shines his quiver, love arrows and magical spell on couples year round, so why not consider every day in February Valentine's Day if you're fortunate enough to spend it on this private island?
1-800-763-7360