If you're like most folks living in this COVID-saturated world, there's not much to look back upon that is memorable — unless you count an impressive collection of masks, a new respect for hand washing, and mastery of the art of social distancing whenever others get too close for comfort.
You deserve a reward for getting through 2020 and does it get any better than a Caribbean getaway in October as the last vestiges of summer fade and winter is on the horizon? You need a big dose of Belize sunshine. The sun doesn't shine brighter or get any more welcoming than it does in this neighboring Central American nation where everyone speaks English. Coincidentally, Belize's international airport re-opens on October 1, 2020, so your timing is perfect.
October Weather in Belize
Belize in October is remarkable. Temperatures are warm, breezes are inviting and it's impossible not to be caught up in a tropical vibe that permeates everything Belize-related. Imagine yourself swimming in the Caribbean Sea, meeting some of the friendliest people on the planet, and choosing a destination that's so close, you can eat breakfast at home and lunch in Belize.
But you worry about whether you will feel as safe in Belize as you do at home. Your concerns are valid — which is why it's so important to pick the right Belize property for your sojourn. We'd like to suggest a remote, private island Belize resort designed to accommodate a small number of guests in a luxurious manner; a haven named Coco Plum Island Resort where the Belize Tourism Board has just proclaimed the island a "Gold Standard Hotel."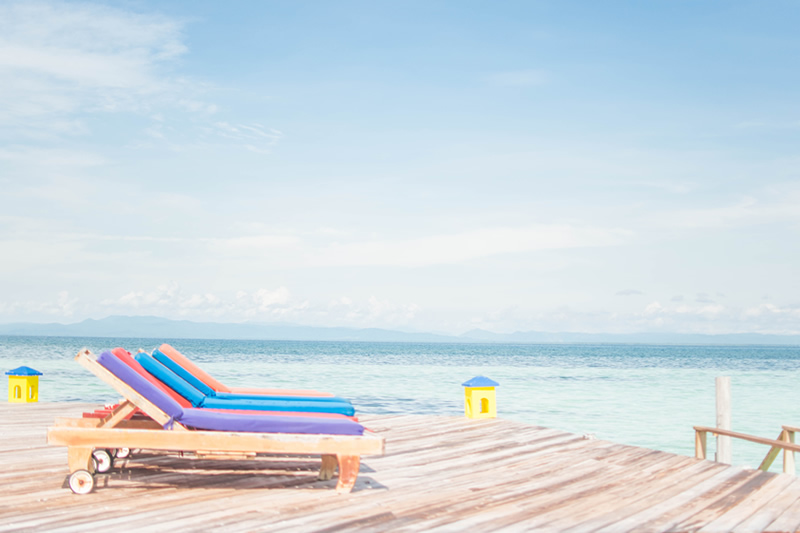 Belize Gold Standard Approved Hotel
Since not every property in Belize has been granted this seal of approval, Coco Plum is proud to shout the news from the rooftops — or from the dock! Island personnel followed a long list of protocols leading to Gold designation that include contactless booking & low-contact check-ins, hand sanitation stations, social distancing guidelines, temperature checks, and mask-wearing (not while eating, drinking, or swimming).
What can you do in Belize in October? A better question might be "what can't you do?" Among the adventures you receive access to when you stay on the island are swimming, sailing, snorkeling, diving, and seasonal delights like Belize's conch season when fishermen are permitted to harvest this delicious seafood. Coco Plum chefs prepare conch to perfection and if you stick around for Halloween, your hosts promise lots of treats.
Expect to be treated like royalty during your October stay. All inclusive Belize vacation packages at Coco Plum include luxury lodgings, all meals, and amenities plus an impressive list of onsite activities and tours are included. But you won't be the first guest arriving on the island committed to doing nothing but basking in the October sun and feeling grateful that you escaped the changing weather at home.
Dare we mention specials that you can take advantage of if you book early enough to secure a reservation? Okay. We just did. Visit the Coco Plum website for details on the Belize vacation deals — and if you can't come this October, relax. October 2021 in Belize will be just as beautiful and relaxing!
1-800-763-7360