There's no denying contemporary society's ongoing desire for value – especially when it comes to getting twice as much of anything – whether that bounty comes from a two-for-one deal, BOGO (buy one get one free) offer, or a bonus for making one choice over another. Can island vacations be twice as nice as other options?
If the island in question is Coco Plum Island Resort and you've been a guest there, you know the answer. Staying on Coco Plum Island, they say, is twice as nice because it feels like being removed from everything that adds stress to life.
If you've never visited, what are you waiting for? Discreetly placed oceanfront cabanas offer a degree of privacy and intimacy you may never have known during your lifetime, and since island all-inclusive packages take care of the entirety of your stay, you don't have to make a single decision for the duration of your vacation either.
The Coco Plum mystique
For many folks, all islands are the same; a parcel of land popping up within a body of water that separates it from nearby shores. But Coco Plum is unique. "I wish I could give Coco Plum a million stars instead of just five," one grateful guest enthused. Her sentiments are shared by so many other vacationers, the island was just awarded a 2022 "Best of the Best" Travelers' Choice award from TripAdvisor. What makes Coco Plum twice as nice as other Caribbean islands?
This is an adults-only paradise so no worries about noisy kids interrupting your tranquility or fun.
Everyone speaks English, so you won't have to make requests of staff twice.
Accommodations are impeccable and diverse.
Island cuisine is exceptional. Influenced by the culturally rich Belizean heritage.
Personal service is at the heart of the resort's operation. Friendliness is its soul.
All-inclusive packages eliminate work associated with scheduling downtime.
Small tours to big places overseen by helpful guides add pleasure to a stay.
Complimentary kayaks, stand-up paddleboards, and a Hobie cat are guest exclusives.
Coco Plum's Serenity Spa is heaven on Earth.
Sunsets are amazing and highly recommended by romantics.
A stay on Coco Plum may not be as expensive as you imagined!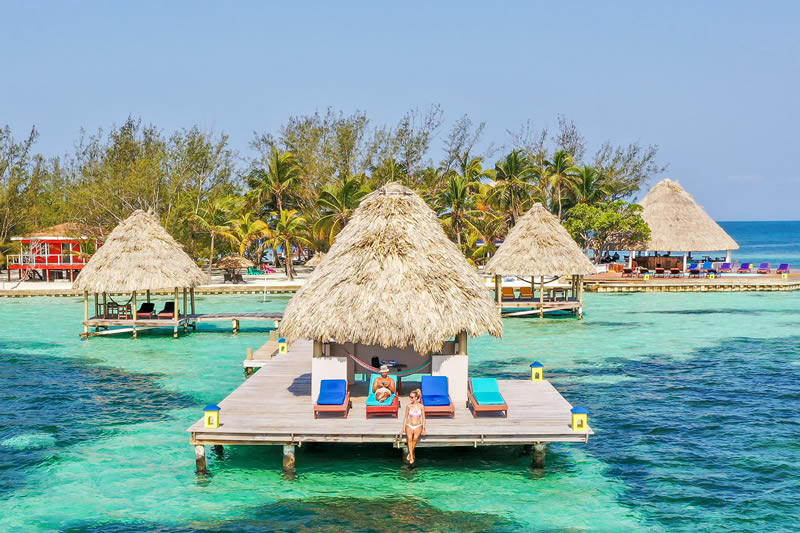 Your well-being improves thanks to a Coco Plum visit!
All it takes to diffuse stress levels is a 20-minute walk, say scientists who add that just four days away from noise and pressure are all the body needs to wind down completely. Stay on this lush island and the process could be faster. Coco Plum offers health and welfare benefits that make a sojourn so restorative it can greatly impact the way you see your world once you leave.
Coco Plum staffers know that your holiday can be a life-altering experience and they work hard to make sure that your time on the island delivers the ultimate respite. Twice as nice? For frequent guests, Coco Plum is five times as nice. Just ask the guest who wanted to give the island a million stars instead of limiting them to just five!