Popular Belize emcee and toastmaster Angel Nunez recalls fishing superstitions he was told as a child. These rituals included throwing baby's navel scars into the sea to ensure success as seamen, tossing small coins into the ocean on calm days to trigger breezes, and his father told him that by tying nine knots on a rope – and giving each knot the name of someone disagreeable – that ritual could prompt a breeze, too!
To be honest, fishing along the Belize coast is so amazing, you probably won't have to resort to flights of fancy during your stay. The right lodging, guides, and itinerary are all you need to bring home photos and bragging rights, and chances that you'll dine on your catch or bring home a trophy for mounting are excellent.
Stay on an island so you're closer to the fish!
By choosing Coco Plum Island Resort, the small, adults-only parcel of heaven that sits like a jewel in the Caribbean Sea, you'll not only be offered the quintessential island experience but you are guaranteed to get your fill of the sport you adore, no matter the season.
Coco Plum Resort specializes in a unique brand of laid-back luxury that fulfills the fantasy of every harried guest eager to relax and unplug. Private cabanas face the ocean, offering unparalleled privacy, and the all inclusive package simplify your stay by bundling accommodations, delicious meals, local transfers to the island on arrival and departure days, amenities, local alcoholic beverages, and select tours.
Why mention select tours since your desire begins and ends with as much fishing as time allows? Because when you check out what's available on the Coco Plum tour menu, there's a very good chance you may find one or more of these Belize adventures to be irresistible.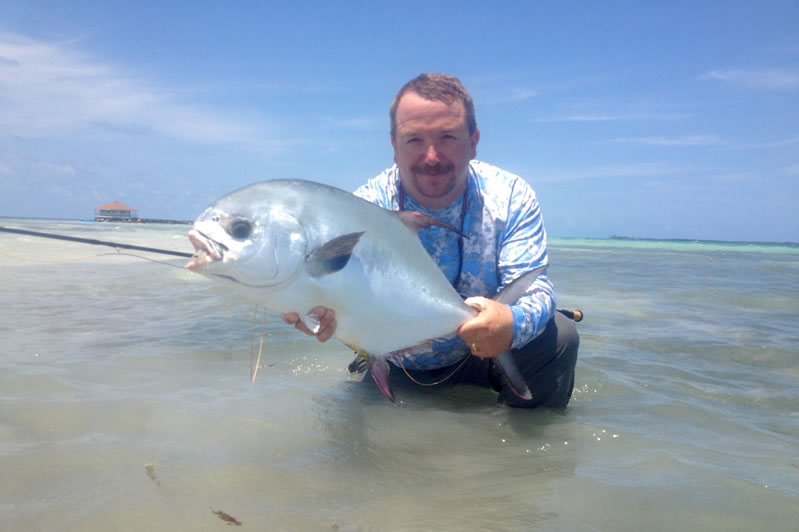 The ultimate fishing experience is yours
Because Coco Plum Island is so popular with guests who are happiest with rods and reels in hand, staff-designed fishing tours that are so comprehensive, returning guests always have several travel dates in mind in case the island is fully booked when they want to travel.
Tours are divided into special interest excursions that include deep-sea fishing, fly fishing, and troll/spin experiences. Coco Plum staff provisions escorted adventures with everything from expert guides and skiffs to packed lunches and beverages. Stick to flats on the island's periphery and there's no charge to go it alone if this happens to be your fishing style.
May, June, July, August, and early September are optimal times to fish in Belize waters, but other months won't disappoint. Time your vacation when specific fish are most prevalent and catch permit, bonefish, tarpon, snapper, king mackerel, barracuda, grouper, jacks, or wahoo! Whether guided or solo, bring your own gear and flies.
Don't want to take chances when it comes to luck? Emulate Nunez by bringing along your own fishing superstitions when you pack. Just in case there's no wind on the day you go out, throwing a few small coins into the ocean can't hurt!
1-800-763-7360