The menu looks exotic and you're up for new culinary adventures. Which of Belize's unique dishes will try on your Belize vacation?
To help you make sense of the next menu you open in Belize, we profile the 6 categories of cuisine you will find throughout the nation. But just because the names of dishes are the same, that doesn't mean the recipes are, too.
A mix of Mexican, Caribbean, African and Mayan culinary influences, Belize foods have their own personalities based on old recipes and new ways of preparing them.
Spend time at Coco Plum Island Resort where island chefs have elevated traditional dishes to new heights at Coco Palms Restaurant. Discover locally sourced and organic ingredients at our restaurant where each meal offers a unique gastronomic experience. Whether it is in-season tropical fruits or fresh-caught fish from the Caribbean Sea, our restaurant serves a potpourri of mouthwatering dishes that will appeal to your palate.
Each meal is a made-to-order chef's specialty and can be tailored to your specific preferences with whatever is readily available to us on the island. We proudly use locally-sourced produce from vendors throughout Belize wherever possible, ensuring that we only have the freshest ingredients while at the same time supporting local entrepreneurs in our country. Embrace Belizean cuisine with an open mind and we are positive you'll find meals at the Coco Palms Restaurant that will be a high point of your stay.
1. Local beers and tropical cocktails are natural dinner accompaniments in Belize, but you've never tasted anything like Belikin Beer, the nation's signature brew. When in-season, indulge in our Craboo or Mango infused signature cocktails that will certainly leave you wanting for more, so drink up, Belize style.
2. Starters. Sere, a Garifuna fish soup is a traditional treat, made with green plantain, coconut milk, and fresh whole fish and local spices. It's so hearty, a bowl can make a meal. Prefer a cooler starter? Order Belize ceviche featuring conch, octopus, shrimp and spicy marinades, though if yummy hudut is on the menu, this local dish will give you an opportunity to taste a true Garifuna delicacy.
3. Meats galore. Find these choices on Belize menus: beef, pork, chicken or fish. But why not dine on the wild side? Order gibnut (aka the queen's rat because it was prepared for HRH Elizabeth II), deer, iguana or hicattee that is grilled, stewed or fried to perfection? Meat pies, served as our bar snacks can't be beaten for quick, filling meals.
4. Sides make the meal. Chefs prepare plantain baked or fried and this home-grown veggie is the perfect accompaniment to main courses. Alternately, fry jack, a type of deep-fried pancake makes a nice side or try panades. It's likely you will find garnaches, a classic fried corn dish with beans, onions, and cheese on your plate, too.
5. Try an ethic combo that pairs Belizean rice and beans cooked in coconut milk with potato salad, baked plantain and coleslaw. Sample local tacos made with shredded meat, cabbage, onions and cilantro or cornmeal-stuffed tamales that taste nothing like Mexican versions. If slow-smoked cochinita pibil is on the menu, you must order this pork dish served fresh from its clay oven on our Taco nights.
6. Don't miss dessert! Americans who would rather eat anything but fruitcake regularly turn into passionate consumers of rum-based Belizean versions. Add to the dessert menu local Soursop ice cream, cassava pudding and nance and you will have sampled the best Belize has to offer.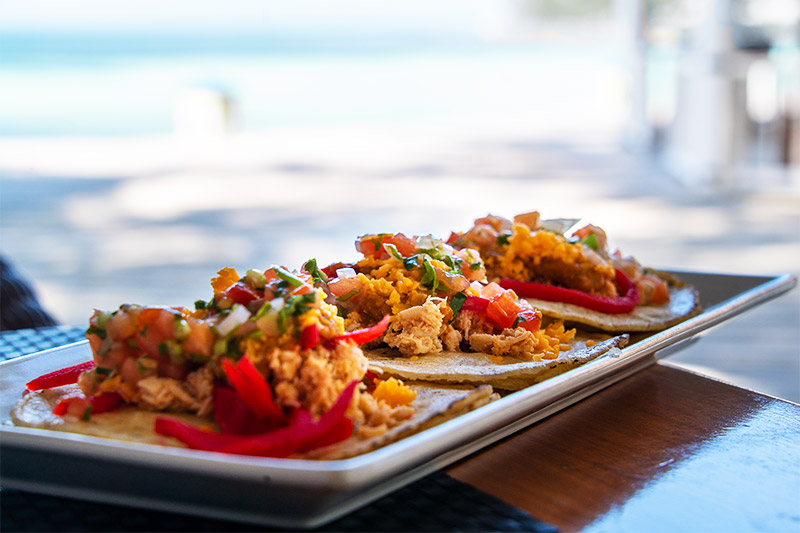 Ate too much? You can still conclude your meal with a sweet like coconut, sesame seed, wangla, fudge and cutubrute candies, especially if you enjoyed every bite of your meal on the terrace of Coco Palms Restaurant where chefs outdo themselves when it comes to flavor and variety.
Call for a reservation. Better yet, stay on the island so Coco Palms Restaurant is just steps from your lodging. We can help get you here, so bring a bib; you're going to need it!
1-800-763-7360