How do you feel about the validity of customer reviews when booking a vacation? If you're smart, you'll consider them, say the results of a Tripadvisor survey that considered feedback from 23,000 people across 12 markets. The results of this study reflect the wisdom of travelers, 70-percent of whom say that rely upon reviews to make final decisions about hotels, resorts, and attractions.
Because this research shows that "people trust people," you won't be surprised to learn that nearly 8 of 10 Tripadvisor users (nearly 80-percent) rely on reviews before reserving accommodations – a big factor for travelers discovering Coco Plum Island Resort, off the coast of Belize. Coco Plum guests have thus far posted 1,646 positive reviews!
Belize Vacation Reviews
Here's a sampling of recent comments, each guaranteed to send you in search of your passport:
-"How can I describe in words just how epically amazing and magical Coco Plum truly is? All I can do is offer you more of what 1500 other people have already said. In a word Coco Plum is Perfection."
-"Every step of the travel process was well executed and we truly felt that Coco Plum was there to take care of us and make sure the process was as seamless as it could be. We were constantly getting informative emails and updates from Coco Plum prior to our travel."
-"A weekend getaway worth remembering for a lifetime. The beginning of the journey until the conclusion of the adventure was mesmerizing. The food was on point. The staff was courteous, respectful, and welcoming. Am looking forward to my next trip."
-"The Coco Plum Resort property and staff were both well above our high expectations! Travel was easy, the food was amazing, and the cabanas are perfect. We are already planning our next trip and we will be bringing friends!"
-"Coco Plum Island Resort is our favorite place in Belize. Gorgeous scenery, amazing service, beautiful accommodations, fabulous food, easy to get to, and sweet island vibes. There are just too many personal touches to name them."
-"I spent the best 3 nights of this anxiety-filled epidemic on the island with my new husband. The food had me wanting to kidnap Ms. Jude and take her home with me."
-"Great place to stay! The food was delicious and so were the drinks! The staff treats you like family. Best experience I have had outside of the states. Will be returning. Can't say enough about this place."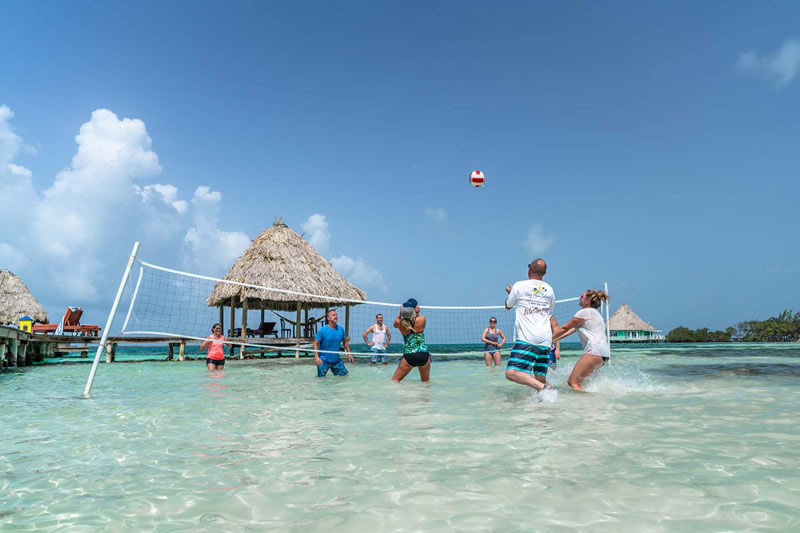 Coco Plum: The Best All Inclusive Private Island Resort in Belize
Why are guests raving about this island in the sun? Because it has always been a superior resort made safer and more accessible thanks to earning a Gold Standard designation from the Belize Tourism Board. This means Coco Plum Island Resort has put into place all of the safeguards guests demand: social distancing, mask-wearing, temperature checks, and world-class cleaning practices, to name just a few.
Add these assurances to a Belize private island resort that has a long history of treating guests like royalty, and it is easy to see why vacationers began flocking to the island the minute the nation's travel ban was lifted.
Trust your eyes. Trust your instincts. Most of all, trust the feedback from guests who have nothing to gain by lavishing Coco Plum with praise. How can you verify these kudos? Come visit and take advantage of Belize vacation deals guaranteed to make your stay even more fantastic!
1-800-763-7360