Thinking of eloping? You'll be following in the footsteps of a long line of romantics. The word "elope" first appeared in the 14th century as a rather benign term describing couples running off to tie the knot. By the 17th century, the definition has changed dramatically to: "To run away from her husband in the company of a paramour."
Scandalous? Maybe back then. Today, eloping is more about running away to avoid spending a fortune on a wedding ceremony and reception, and elopements are rarely kept secret these days – in fact, couples are inviting friends to come along on their grand adventures.
Where to elope? Las Vegas is too commercial. The courthouse? Hardly romantic. Having saved an average of $33,900 by skipping the circuses, elope to the intimacy and privacy of a tiny island off the Belize coast. Coco Plum Island Resort happens to be the quintessential elopement venue.
About Coco Plum Island Resort
What do lovers want most from a getaway? Solitude only found on a tropical island with only 18 private oceanfront cabanas strategically placed so couples enjoy blissful privacy. Each cabana faces the sea and is surrounded by greenery that enhances seclusion. The beach is footsteps away and at just 16-acres, quiet, romantic strolls will always land you two on the beach no matter which direction you take!
Named in 2021 by TripAdvisor Travelers as the #1 Hotel for Romance in Central America, couples seeking the most bang for their buck are delighted to learn that Coco Plum's Belize all inclusive packages are so packed with perks, eloping couples can focus on each other for the entirety of their stay instead of making a dent in their finances. Sound perfect? You bet.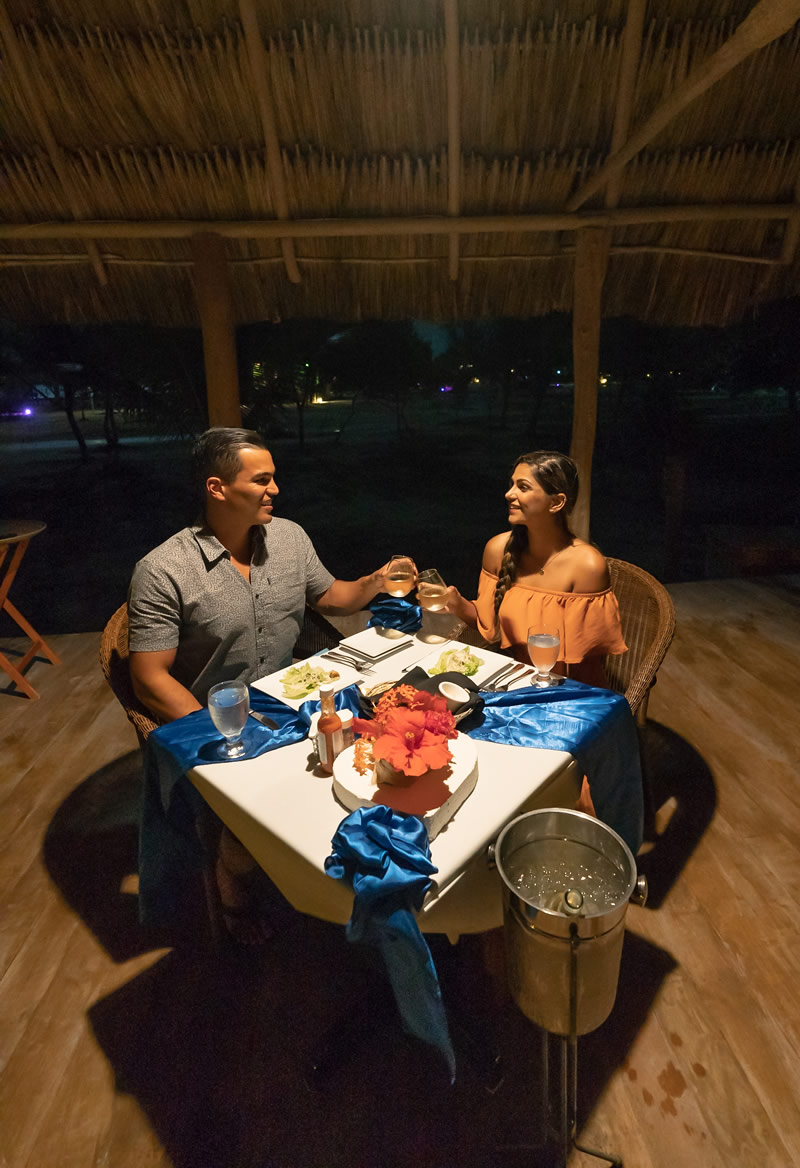 This Belize island resort was designed exclusively for couples
One of the commonalities eloping couples share is a desire to tie the knot expeditiously and get on with the honeymoon, and since the plane ride to Belize from southern U.S. ports is so short, couples aren't in the air long enough to get cold feet! Onsite amenities are bountiful both before and after vow taking.
Swim in the resort's pool, use complimentary stand-up paddleboards, kayaks, and pilot the Hobie Cat Wave. Stay as active as you like by indulging in snorkeling, scuba diving, fishing, and birding. Services at Coco Plum's onsite Serenity Spa offer the most relaxing experience of all, especially if you book the Couple's Massage.
Find bliss everywhere you go
Leave the island for tours that deliver the best of Belize, but if you've no desire to experience more adventure than you expect from alone time in your secluded cabana, you may want to dedicate your elopement time to toasting each other poolside with delicious cocktails and indulging your appetites at Coco Plum's award-winning Coco Palms restaurant.
You wouldn't be the first couple on the planet to declare Coco Plum Island Resort paradise, but given the small size of the island, as soon as you two decide to elope, you're wise to book your stay so staff can get to work on your wedding plans immediately and you two can get to work thinking about ways to delight each other.
1-800-763-7360