Belize in April is heaven. Staying at the luxurious Coco Plum Island Resort is equally divine, no matter how many days you stick around.
April 1: Marks the start of Belize's temperate weather cycle offering 85-degree days.
April 2: It's international produce day. April's National Agriculture Fair often hosts up to 40,000 visitors but it's the dishes served by Coco Plum's creative chefs that could turn you into a fruit and veggie fan.
April 3 is Find a Rainbow Day. In case a brief shower pops up on the island, stick around until to see that rainbow.
April 4: World Rat Day. Gibnut, a Belize delicacy, was served to Queen Elizabeth and nicknamed The Royal Rat. Try some.
April 5: On Road Map Day, leave the island long enough to take a driving tour of Belize, a nation so small, the east-west distance is only 62 miles wide.
April 6: It's New Beers Eve. Belikin beer is always on ice at Coco Plum's thatched-roof bar and restaurant.
April 7: On World Health Day restore your energy at the resort's overwater spa where therapeutic massages await. Revitalize your senses with sunset yoga overlooking the Caribbean Sea and Maya Mountains.
April 8: It's Draw a Bird Day. You don't have to be an artist to chill out at the Coco Plum pool with a sketch pad. Order a tropical cocktail for inspiration.
April 9: On Winston Churchill Day, remember the famous Brit. Until Belize gained its independence, it was once called British Honduras.
April 10: On Farm Animals Day, Visit Belize's Mennonite settlers who are likely responsible for delivering the milk for your coffee from their dairy farms.
April 11: Celebrate Pie Day by ordering extra desserts. Borrow one of the resort's kayaks, Hobie cat, stand-up paddle board or all three to work off those treats.
April 12: Celebrate Walk on Your Wild Side Day by diving with Whale Sharks, the largest non-mammalian creatures on Earth. They don't stick around Belize for long, but you might catch a glimpse them in April.
April 13: Make Lunch Count Day is best celebrated on a day tour sorted by Coco Plum's staff. Pick your destination and packed lunches will be prepared for your journey.
April 14: Culinary star Ms. Jude can celebrate Gardening Day with you at the resort kitchen, teaching you to prepare yummy Garifuna dishes with garden-fresh ingredients.
April 15: Take a Wild Guess Day calls for a celebration if you chose a Belize all inclusive during the start of low season where your dollar stretches like crazy.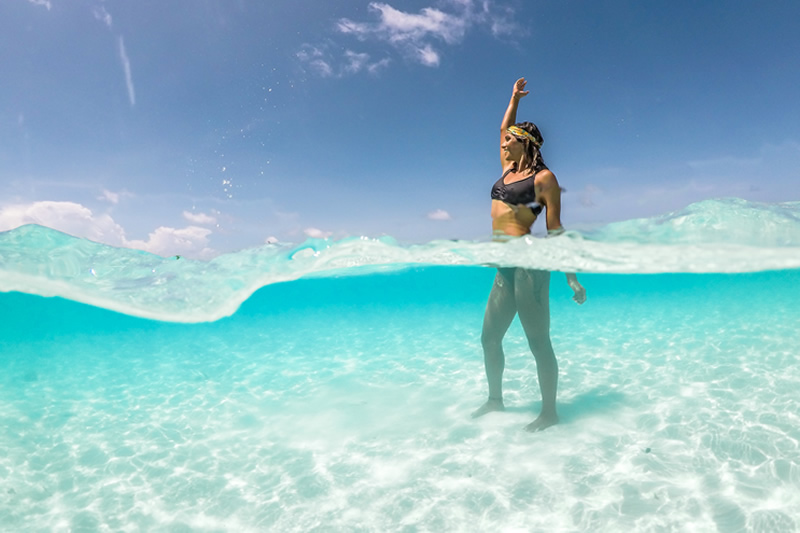 April 16: On Stress Awareness Day, go back to the spa. It's been 10 days since your first island massage, and one is never enough.
April 17: It's Bat Appreciation Day. Ask your host about a cave tour or jungle trek so you can spot these critters hanging around.
April 18: On Herbalist Day, take a rainforest tour. Over 25-percent of the world's pharmaceuticals come from Belize. Your tour guide can help you identify them.
April 19: On Good Friday, stay away from the ocean so you don't turn into a mermaid! This superstition has been around longer than most Belizeans.
April 20: Chocolate Covered Cashews Day is your excuse to indulge in Belize chocolates, cashew wine and delicacies produced by the nation's biggest crops. Don't deny yourself.
April 21: Easter is more than a sacred day; it's the date on which the Annual Holy Saturday Cross Country Cycling Classic is staged. Show up to cheer cyclists on.
April 22: Spend Earth Day exploring Belize's indigenous peoples. The nation is home to 900+ Maya ruins. April is an ideal month to visit as many of them as you can.
April 23: It's English Language Day and you're not spending your entire vacation staring at your translation app because everyone in Belize speaks English.
April 24: Because it's Pinhole Photography Day, you can drive your friends crazy by sending them snaps of sunsets shot from your luxury digs on the island.
April 25: You know what Mani-pedi Day means, right? Back to the spa.
April 26: Belize's Audubon Society has been a major presence since 1969, so spend this Audubon Day enjoying the nation's wildlife parks, refuges and sanctuaries.
April 27: It's Go Birding Day and Belize is the epicenter of Central America birding. Coco Plum staff can fix you up with a birding tour that will knock your socks off.
April 28 is Superhero Day. Test your mettle by tubing into a mysterious cave and saying "yes" to the famous Black Hole Drop.
April 29: Zipper Day doesn't have to be all about garment closures if you're in Belize. Take that zip line adventure. Flying over a jungle or rainforest canopy is awesome.
April 30: If crowded clubs aren't your thing, spend international Jazz Day by picking a tour from the Coco Plum menu that ends your April visit with a flourish.
1-800-763-7360