If you can think of a more fabulous experience than falling in love, bottle and sell it because you'll make a fortune! Falling in love triggers biological changes in your body that no lottery win can emulate. Even usually staid Business Insider editors described profound changes in the body and brain driven by a flood of dopamine and oxytocin. No wonder love has been compared to drug addiction!
It would be great to stay in this rarified state of pleasure and happiness but as time passes, bodies and minds return to "normal," which is why anyone who prioritizes keeping the flames of passion alive strives to experience them again. One of the most effective ways to do this is to plan a vacation at an adults-only resort. If that child-free destination also happens to be a beautiful Caribbean island, you've found nirvana.
Why Belize's Coco Plum Island Resort?
If you've ever had a romantic vacation ruined because you two were required to sit in airports, dealing with flight delays, and had issues getting to your destination, intimacy, and romance may be the last thing on your mind. A relatively short flight to Belize starts your sojourn off on the perfect note. Further, Coco Plum staffers are trained in the art of discretion, so they won't take offense if you snuggle into your tropical digs for the duration of your stay, calling upon them only when necessary.
Coco Plum's Belize all-inclusive packages make your stay as decision-free as it gets, and any concerns you may have about "neighbors" invading your cocoon of bliss will be quashed once you note the way the island's 18 cabanas are situated around the shoreline. You may not run into a single guest unless you take advantage of activities and tours or take a break from room service by dining at the Coco Palms al fresco restaurant where authentic Belizean dishes and the fully stocked bar never disappoint.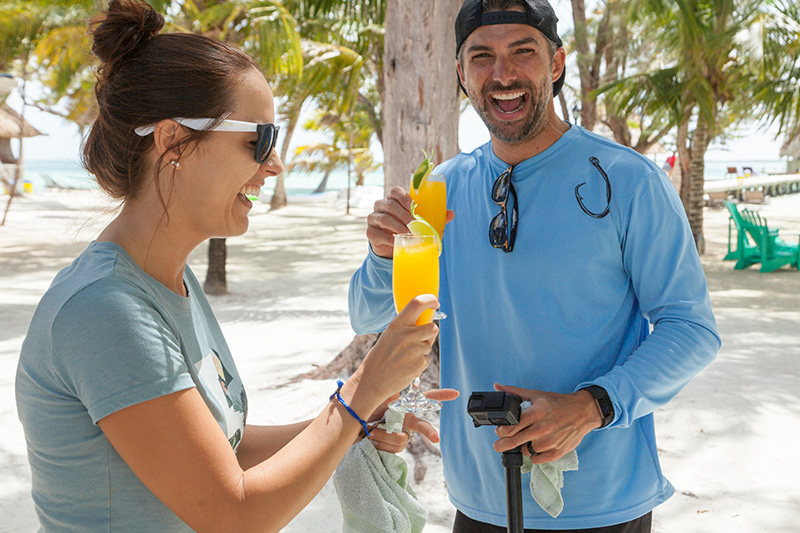 It gets better, eager lovers…
You could fall in love with the skilled masseuses and other staffers at the Serenity Spa where lush environs and the teak yoga deck offer infinite doses of pleasure. Spa time is especially sweet after indulging in amenities like the resort's pool, complimentary kayaks, stand-up paddle boards, and Hobie Cat. Fishing, scuba diving, snorkeling, and birding activities add plenty of entertainment when you leave your love nest.
Book soon for a future stay between May 30, 2023, and December 18, 2023, and a Belize vacation special could wind up on your 2023 calendar. If you're like many savvy couples who agree that saving money is downright sexy, you'll discover even more incentive to take advantage of this remote haven of privacy where rebooting intense feelings lights that flame and keeps it lit long after you reluctantly return home. You'll be over the moon that you said yes to each other—and to this adults-only Coco Plum Resort getaway.