There is no denying that 2020 has been a year you may wish to forget given quarantines, restrictions, and a long list of prohibitions that probably turned your life upside down. And while the world remains under the cloud of Covid-19, select numbers of nations have eased their travel restrictions as health statistics proved that some nations are safer than others. In the western hemisphere, Belize stands out from the crowd, which is why the airport was re-opened on October 1, 2020, so travelers can once again vacation in sunny Belize.
What prompted Belize's re-opening? An innovative "Tourism Safe Corridor" initiative that kicked in on October 19, 2020. In a nutshell, Prime Minister Dean Barrow and his government lifted sanctions prohibiting freedom of movement based on a litany of rules and regulations put into place to ensure the health and safety of visitors and Belizeans.
Included among these assurances are low contact registration, social distancing mandates, temperature checks, and unprecedented sanitizing methods that meet international health organization standards. Additionally, "travelers to Belize will no longer be required to apply for entry or quarantine upon arrival to the country once their PCR tests are negative," PM Barrow announced.
Go for the gold on this Belize island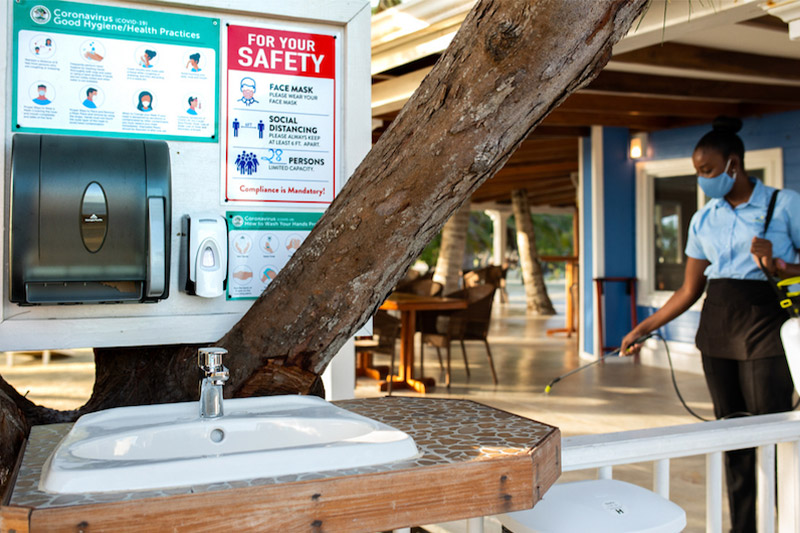 If you're feeling reassured about taking your first vacation trip since the pandemic hit, you'll want to know that select resorts, attractions, transportation systems, and tours have been declared Gold Standard Certified establishments, which means the safety and health of guests are priorities. One of the most popular resorts to have received this designation is Coco Plum Island Resort, a lush tropical island offering the ultimate in a safe getaway.
We booked our honeymoon for a stay from October 11 – October 18, 2020 after having to cancel at another resort due to closure due to COVID-19 and the early September hurricane. We had previously inquired about Coco Plum back in April but the island was booked for the week we wanted. We are so glad we checked in again with them because the island was available for our stay due to a cancelation.

Every step of the travel process was well executed and we truly felt that Coco Plum was there to take care of us and make sure the process was as seamless as it could be. We were constantly getting informative emails and updates from Coco Plum prior to our travel.

I can't say enough about the beauty of the island and the 5 star service the staff exemplified. We soon realized the staff was quickly becoming our family. The accommodations were exactly what we were seeking. We had the luxury of being isolated with limited other bookings on the island which allowed us to explore at our leisure and receive top notch service. -Tripadvisor Traveler
This adults-only haven may be small and intimate, but the island experience is packed with entertainments that include opportunities to dive, snorkel, swim, fish, or borrow a complimentary kayak, stand-up paddleboard or Hobie Cat to encircle this 16-acre Eden by water. Relaxation and sun, paired with tasty Belizean meals, are guaranteed to reconstitute your pre-Covid-19 sensibilities, whether you want to stay active or do nothing more than bask under the Belize sun. Even flights to Belize are relaxing since flight times from major southern U.S. cities are just a few hours.
Your time on the island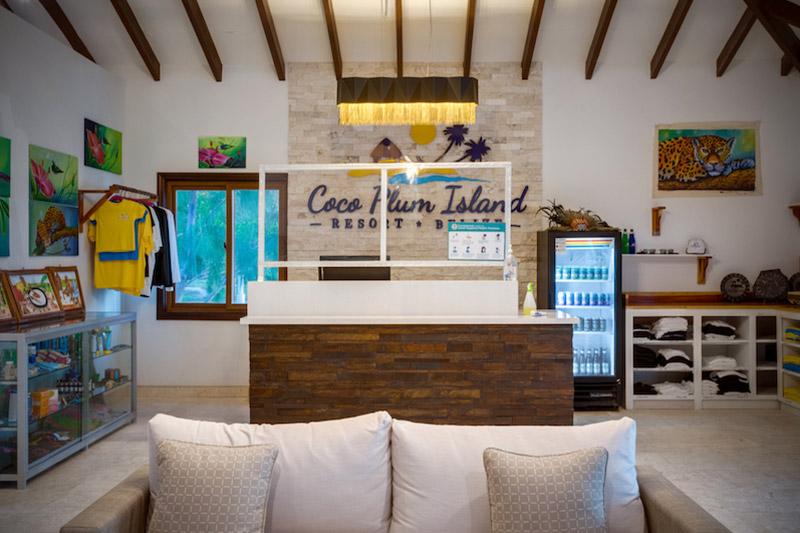 Having come through the trauma of readjusting your life to the virus, wait until you experience the freedom that comes with the quiet, solitude, and safety of this island. Since Coco Plum is only big enough to host small numbers of guests at any given time, enjoy a level of privacy and intimacy that is unprecedented. Lush accommodations located at the edge of the sea are designed for rest, relaxation, and tranquility. You may not want to leave your digs during your stay, but cultural and adventure tours included with the resort's Belize all inclusive packages could prove irresistible.
That stated, Coco Plum hosts are welcoming guests back with special Belize rates rarely found at this time of the year. These offers are time-limited and won't come along again any time soon. Review them and you may not need much convincing about the wisdom of booking time at this safe Gold Standard property that will allow you to re-discover how it feels to vacation at a time you need an escape most of all.
1-800-763-7360