Remember when online dating became the trendy way to meet a soulmate? Seems like a lifetime ago that these websites became part of our social scene, but these days, it's not just about finding love that drives romantics to start searching the Internet. According to a Washington Post magazine article, vaccinations have become match criteria, writes journalist By Leslie Gray Streeter.
Because society has no shortage of clever, innovative people, "Several dating apps, including Bumble, Tinder, Plenty of Fish, Hinge and BLK, are offering vaccination-related badges, designations, and measurements of their customers' comfort levels," she discovered. That kind of reassurance is priceless.
If you've found your match and crave a romantic vacation, how about an island that is so small and gorgeous you won't run into other guests unless you want to? Coco Plum Island Resort, just off Belize's coast, has no equal when it comes to ideal getaways. It's the ultimate social distancing experience!
Romance and COVID? They're not incompatible
Adjusting the way you live your life has changed dramatically and one of the most comfortable actions you can take is planning a lovers' getaway with someone you trust to an island that's as serious about protecting guest health and safety as it is about giving romantics a deliciously discreet holiday where privacy and intimacy are priorities.
Coco Plum accommodations, the onsite restaurant, and amenities are subject to stringent World Health Organization standards so you can fully relax on the island knowing you're being taken care of. You and your lover can devote time to relaxing, exploring, and having fun, but once you see the resort's extensive and varied tour menu, you may want to consider leaving your love nest at least once.
Guests preferring to focus on indoor adventures – but who still want to explore island amenities – will find plenty of diversions. Snorkel and scuba dive. Swim in the ocean and the resort's new pool. Borrow kayaks, paddleboards, and the Hobie cat to stay active. If you're having so much fun, you crave more, the resort's specialty tour page won't disappoint.
Fall in love with Coco Plum's Belize all inclusive packages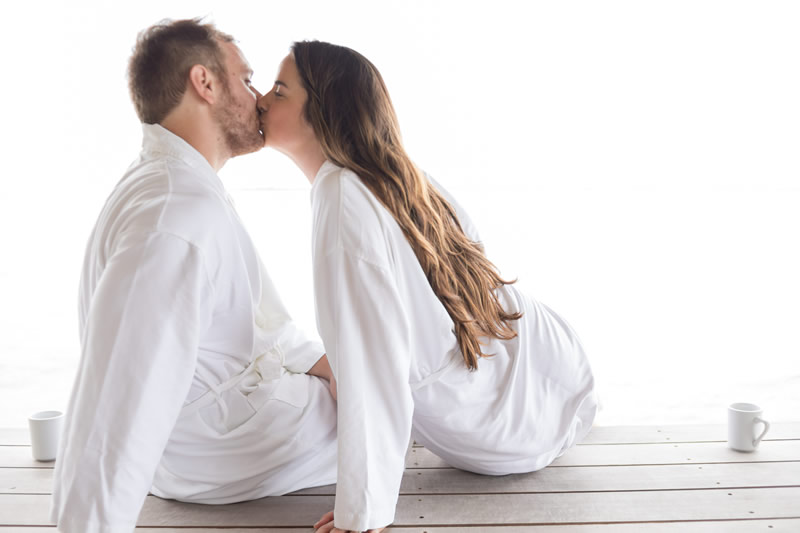 Everything you want and need is included in these bundles, and you get to set the standard for your stay, picking and choosing from options that determine your preferred private cabana, meals, mainland boat transfers, water sports, and much more.
Create your own Belize all inclusive vacation package by perusing options. One glance and you'll discover why lovers return to Coco Plum repeatedly. Packages mean you don't have to give a thought to anything but each other…
…which is why you owe it to yourselves to book a couples massage at the Coco Plum Serenity Spa for the ultimate sensuous experience during your stay. You'll be rejuvenated as aromatic oils and creams are applied to your bodies during this heavenly experience which can last for either 60 or 90-minutes.
Don't be surprised if this treatment in concert with plenty of cuddle time dials up the romance temperature between you two even higher and isn't that exactly what you had in mind when you sought the ultimate romantic getaway?
1-800-763-7360