By Andre Pitts
In March, I geared up to make a trip to the beautiful Coco Plum Island Resort and had no doubt that it would be a special one.
Yes, it would mark my fifth trip to this tropical heaven – and yes, I was visiting to celebrate the 3rd Anniversary of being with my girlfriend, Demi.
But beyond those two feats – I had secretly planned to propose to my girlfriend and the island was in on my big plans!
My girlfriend and I arrived in Dangriga Saturday afternoon, after a routine and breathless trip down Hummingbird Highway (we live right here in Belize, so we travel by road. I am sure American and European tourists are jealous of us for living right here in the Jewel; yes, I am boasting!). As scheduled, a boat was awaiting us for our transfer to the island resort.
My girlfriend – who was making her 3rd trip to the island – had the same excitement on her face as she did from her first trip. The abundance of fresh air being taken in from the open air boat was simply soul-soothing, providing nature's best medicine to recover from the hustle of working and living in a busy world.
For me – I was perhaps a little tenser than her, for several reasons. 1. I kept looking in my bag to see if the ring was safe, and 2. I kept panicking each time I felt the sea's mist, praying that it wasn't a sign of rain (silly me!).
As soon as we reached the island my tension disappeared as we were greeted by the Island Manager Alex, who had cold Mosquito Bites (a tropical, icy drink made with local rum and fruit) waiting for us! They took our bags – including the special cargo, the ring – and symbolically, all the weight from our shoulders was taken away, and we were left to enjoy P.A.R.A.D.I.S.E!!!!
Belize: The Most Romantic Getaway For A Proposal
As I have said, it was my fourth trip to the island, and I knew I would enjoy the same as always – but I was in for a treat. Paradise had gotten even BETTER since my previous trip, with the addition of new private palapas on the pier, upgraded rooms, and a BRAND NEW POOL RIGHT NEXT TO THE BAR (= HEAVEN + HEAVEN)!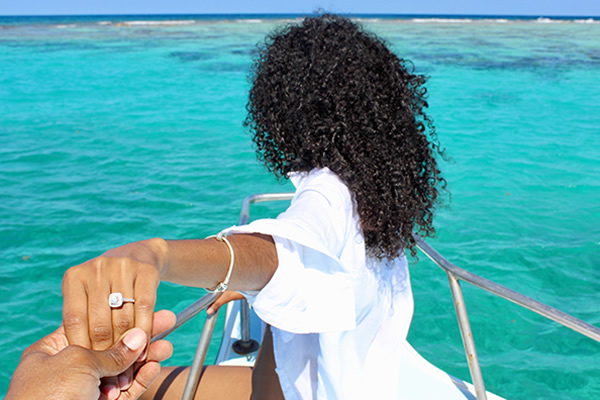 Coco Plum Makes The Perfect Setting For An Unforgettable Proposal
By 5pm, I noticed the sun getting ready to set, and so I had to struggle out of my hammock, slightly dizzy from all of the fresh, mintyyy mojitos, knowing that this engagement was about to go down! I had to make up plenty lame excuses to get my girlfriend to agree to leave her chillaxing in the sea to go to our room to shower, change and make it back in time to watch the sunset on the back pier. I am laughing now because she must truly love me to have not pressed me for a sensible explanation, lmao.
Fast-forward 18 minutes, with my girlfriend looking refreshed, myself looking tense (once again) and the pleasant effects of my mojitos fully subsiding, we were on the pier and I asked her to pose for a picture for me. I crept up behind her, took to my knees and…. It went down.
She said YES in front of a fricking BEAUTIFUL SUNSET and Coco Plum's photographer, who was in on it too, he captured BEAUTIFUL images for me! Other guests on the island – including Lori Murphy who is now our friend (hiiiii Lori!) – saw it and it was simply a beautiful moment!
After my girlfriend stopped crying, maybe 2 hours later, and after I got marriage advice from no less than 7 guests on the island, we enjoyed the MOST PERFECT candlelit, private dinner made special for us by the lovely Ms. Jude, Coco Plum's head chef.
It was all special and it was all perfect.
Even with all this said – I kid you not that we had another two special nights at Coco Plum Island, loaded with meeting new people, soaking up in the new pool, kayaking while holding onto a bucket of mojito from the thoughtful bartender (Franklin!), fishing off the pier and snorkeling in Belize's MOST BEAUTIFUL snorkeling sit near Tobacco Caye!
I really really really can't thank Coco Plum enough for helping me to make this moment as special as it was. I am nervous because I doubt that our eventual honeymoon can be more special than the engagement was, but I am comforted knowing that Coco Plum Island is exactly where we plan to spend our honeymoon when the time comes and that we can expect nothing short of a relaxing, memorable, picturesque, experience – all words that perfectly sum up the private island experience at Heaven on Earth – Coco Plum Island Resort.