Having come through the pandemic thus far with your sense of humor, your pioneering spirit, and your ability to make your life work under what has been the most drastic of situations, you're probably more grateful for friends and family than you have ever been in your lifetime.
From Zoom meet-ups to encouraging phone calls and cards, knowing that people you love stand ready to talk you through your worst moods is reason enough to think about planning a group trip to a private Belize island resort where reunions are not just fun but so relaxing, these bonding experiences bring people even closer together.
The right resort makes all the difference in the world
Coco Plum Island Resort is more than a little piece of land surrounded by the turquoise waters of the Caribbean Sea: it's a Belize haven and a sanctuary — one made all the more precious when you share the environment with those closest to you.
Now that the Belize airport has re-opened to tourists, concerns expressed by travelers eager for a respite include as many worries about health and safety as luxury accommodations, recreation, and the amenities and extras that make a holiday sublime.
Coco Plum has gone beyond international health authority recommendations by putting into practice protocols like social distancing parameters, temperature checks, cleaning and hygiene measures, and even contactless booking & low-contact check-ins. This attention to detail has earned the island resort "Gold Standard" recognition from the Belize Tourism Board, so guests can put their worries to rest.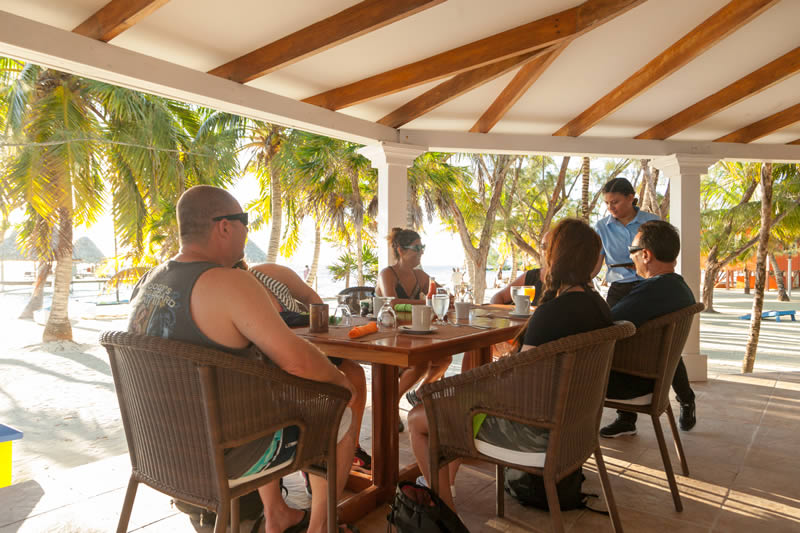 Make plans right now
When you broach the idea of a group sojourn on this small, lush island, mention this Gold designation and you're sure to get buy-in from everyone, but perhaps just the idea of renting an entire island seems too overwhelming. It's not. This one-of-a-kind getaway has attracted so many groups from all walks of life — families, friends, professional groups, and more — that full island rental isn't available until fall 2021! But not to worry, if your group doesn't need all 18 cabanas, ask about our group discount for 5 or more cabanas.
Given this fact, as well as the need to provide adequate time to plan your stay, you're wise to reserve 2021 dates now so you're not told, "Sorry, but we're completely booked until 2022!"
What can you and your group members expect from your stay besides tranquility and time with each other? According to Johansens.com, the travel publication known for reliable recommendations, Coco Plum promises an "exclusive island paradise getaway. Spread across 16 acres, this 18-cabana … sand-fringed nirvana offer[s] standalone, oceanfront cabanas with every modern comfort." Their recommendation says it all.
Seeing is Belizing…
… and your group members are going to be curious about this opportunity the moment you mention it, so be prepared to share exciting details that describe this amazing destination and everything your group can expect from this unique experience. Who deserves a phenomenal reunion opportunity more than you and the people you care most about?
If just the idea of spending time in paradise where staff caters to your every wish — daily meals including breakfast, lunch and dinner, unlimited local drinks, accommodations, local airfare, adventure tours, hotel, and sales taxes — sounds like a holiday that has no equal — why wouldn't you want to have an entire Caribbean Island all to yourselves to make exquisite memories?
1-800-763-7360