Kids say the darndest things, Maria thought while packing for her trip to Belize.
"If it's an all inclusive trip, why do you have to pack anything, Mom?" her curious youngster just asked!
Maria laughed. "The resort gives dad and I accommodations, meals, onsite amenities, tours, and local transport." She used the family computer to show her daughter where she and her dad would be staying: Coco Plum Island Resort.
Maria was eager to get on that plane for the adults-only getaway she and her husband planned as their post-Covid getaway. Relying on travel experts and friends, Maria included this list of items for the couple's long-awaited trip. Take her advice and feel free to add anything she missed!
1. Bring cash. You will want to be generous with your tips when you check out, rewarding the Coco Plum team members who strive to provide an unforgettable experience, as well as housekeeping for making sure your suite is impeccably maintained and hard-working tour guides get gratuities.
2. Download your favorite playlist for the in-room portable speaker if music is your constant must-have. Today's speakers are small but powerful, so do your resort neighbors a favor and keep the volume in check. You expect the same from other guests, right?
3. Throw an insulated cup into your bag so you stay hydrated when the sun shines down on your island getaway. Space-age insulated cups are awesome when it comes to keeping mojitos cool longer, too.
4. A waterproof nylon bag could become your favorite packable. Carry it on the plane and enlist it as your go-to carrier when shopping for gifts, a place to stow a wet swimsuit or when you take your laptop poolside.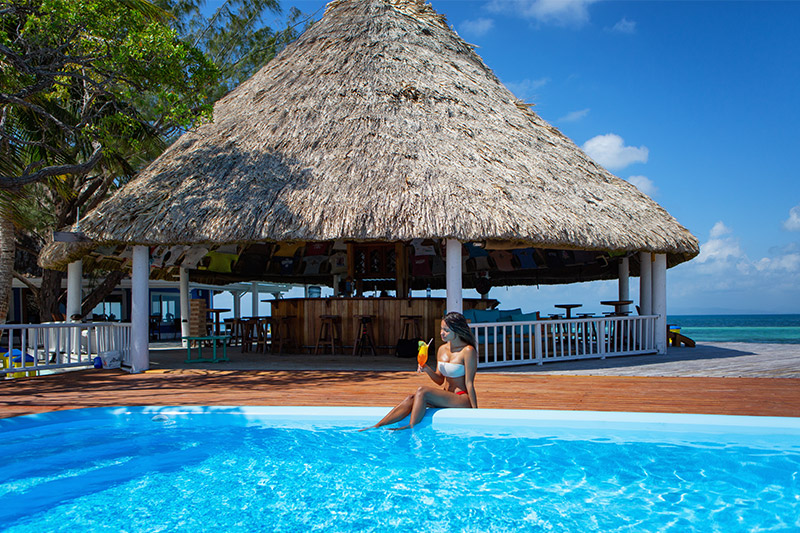 5. Hat and poncho. Belize weather is idyllic. When the sun shines, a hat keeps you cool. When refreshing rains feed jungles, forests, and gardens, don that poncho – though Coco Plum hosts always invite guests to dance in the rain.
6. Essentials like toiletries and meds are – well, essential. Sample size tubes, bottles, and tins make packing more manageable, and don't forget sunscreen, aloe, ibuprofen, bug spray, an anti-diarrheal and stomach soother in addition to the Band-Aids you may not need since you'll spend lots of time barefoot.
7. Bring along snacks only if you're on a specialized eating program because you'll find plenty of treats at the resort – especially when you hang out at the bar. Day tours include delicious, packed lunches. It's impossible to go hungry during your stay.
8. Reasonable shoes. If your itinerary includes sightseeing trips like Maya ruins, jungle hikes, and other adventures for which Belize is known – flip flops alone won't do it.
9. Clothing. Since Belize is a very casual country, you do not need any formal wear even when you dine at our restaurant and bar. As such, bring lots of light and breathable clothing including a sweater when the nights are cool.
10. Waterproof phone case. It's your lifeline and you are going to be on an island surrounded by water. Be kind to your device by making sure it returns from your all inclusive vacation as blissfully as you two do!
1-800-763-7360