My husband and I visited Coco Plum (CP) for the first time in 2016. This was also the first time we heard the island had, not one, but two honorary mayors. Their names wafted through the conversations of guests and staff alike, accompanied by tones of reverence, a bit of awe, and always delight. There's been an air of mystique surrounding them since we first heard of them. This dynamic duo has enjoyed the wonders of Coco Plum Island Resort 14 (yes, that's right, f-o-u-r-t-e-e-n) times. Can you imagine taking a vacation only to return to the island almost every year after?
On our third trip to CP in February we struck gold. Oh, for joy, Mr. and Mrs. Mayor were there too, and what fun we had! Their reputations had proceeded them, and they did not disappoint. They were fun, warm, vivacious, charming, and hospitable. Meeting the famed couple was a highlight of our trip. I sat down with them at the Overwater Villa to ask the mayors a few questions with CP blog readers in mind.
Meet Bonnie and Sam Ellerbee. They hail from the great state of Georgia and both have that wonderful southern accent as a result. Bonnie is a retired school teacher and principal of 33 years and Sam, also retired, wrapped up his career working as a Land and Legal Rights Advisor for Georgia Transmission. In addition to Belize, they have traveled to Alaska, Norway, South Africa, Ireland, Germany, Budapest, Scotland, England, US Virgin Islands, Aruba, Costa Rica, Jamaica, and have been on many Caribbean cruises.
Their first trip to Belize was in 2007. Sam had wanted to explore Belize for quite some time but traveling to the country from the US was difficult then. When a helicopter pilot friend of his told him new flights had just recently become available, Bonnie hopped online to do a search, and Coco Plum was the first resort to appear. Here's what they had to say about Coco Plum:
Tell me about the first time you came to Coco Plum Island. What did it look like then and what were your first impressions?
Bonnie: I remember saying to Sam 'There's no way this place is as pretty as it looks on the internet', but when we arrived it was not only as pretty as it was online, it was even better.
As far as what we saw … there were just 7 cabanas back then. The dock was long and straight with just one palapa. All the rest of the island was undeveloped. The dining and bar area were there but looked far different than they do currently. Bird island was three times as large as it is now. The water was just as beautiful then … that hasn't changed at all. As for greeting you, they didn't do quite as much then as they do these days, but they've always made you feel like royalty when you step off the boat.
Sam: My first memory was the waist high water that was so clear and clean, and of looking over the side of the boat at all the star fish.
Bonnie: Before the island was fully developed, they used to do bonfires at the end of the island. Those are some good memories too.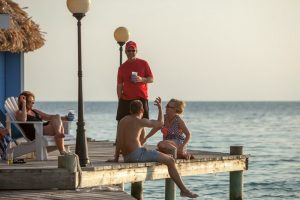 What keeps you coming back year after year?
Sam: The people.
Bonnie: We travel to a lot of other places, but this is really the only one we keep coming back to, and it really is the people.
Is it also the culture?
Sam: Yes, we have enjoyed going inland and attending some of the soccer games, visiting Placencia and Dangriga, and spending time with staff on their days off.
Bonnie: The staff treats you like family and they include you in some of the things that they do as a family.
Sam: In fact, on our refrigerator we have pictures of our Belizean Family along with the photos of our own family.
Bonnie: Speaking of the culture, one of first impressions was what I perceived as poverty when we went inland to explore the jungles and to do some of the excursions. But I don't see that poverty anymore, or rather, I don't see it as poverty. These people are, as a whole, very happy people. They do not have many material things or some of the financial advantages that many Americans have, but they have everything that is needed in life and they are happy people. They have their priorities right.
I love it! They live up to their slogan. You truly are only a stranger until you arrive.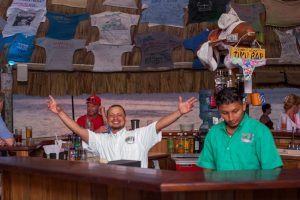 What are some of your favorite activities here?
Sam: I really enjoy the cave tubing … and the soccer matches when we've gone to the mainland. We've also enjoyed the starfish and hermit crab races over the years!
Bonnie: Meeting other island guests. We've met some wonderful people here … people I'll never forget. I enjoy the snorkeling too. I love being in the water.
What advice can you offer to CP Blog readers coming here for the first time?
Bonnie: Explore! Don't sit at the bar all day. Go out and visit the neighboring islands. Snorkel, take pictures, collect shells, go kayaking, and paddle boarding and see what's here. If you're lucky, like I was, you'll get to swim with a manatee.
Sam: Enjoy the water! Even if you don't swim, the water is so warm and shallow that you can walk to the other island to the south and explore it. Grab a fishing pole and fish off the dock. Bring some great books and RELAX.
Finally, to wrap this up, here's what Bas and Michelle Zabaneh, owners of Coco Plum Island Resort, had to say about Coco Plum's honorary mayors:
"Over the years, the Ellerbee's have truly become family. When we first started Coco Plum with only three cabanas it was so easy to get to know each and every guest. As we've grown, we take such pleasure in meeting a few of our travelers. The Ellerbee's are a true testament to what Coco Plum is all about – arriving as strangers and leaving as family."
One last bit of advice from me … do be sure to enjoy the other guests on the island. Take a minute and introduce yourself. You never know what adventures you'll have together, and you might just make a friend for life.
Blessings fellow travelers,
~ Kris
Call or email our Reservations office today!
1-800-763-7360
[email protected]