If you were asked to design a 21st century tropical paradise located on a private island, what would you include in your master plan? Perpetually warm sun? A sense of safety and security? How about a resort that caters to the hopes, dreams and aspirations of guests? Happily, you don't have to design this destination because it already exists off the coast of Central America!
The Excitement Is Palpable
Our newest sister property, Manta Island Resort, may only occupy 12 acres surrounded by the cooling waters of the Caribbean Sea, but upon arrival, guests say they feel like they've landed in paradise. Since only nine cabanas were built within the confines of the resort, visitors not only receive the keys to travel magazine-worthy digs designed with luxury in mind, but the amount of personal service they can expect is extraordinary.
"Exceeded all expectations: This will be the place you'll start hearing about on all the travel platforms, all I can say is WOW! It is gorgeous along with a crew that bends over backward to make sure you have everything you need for a wonderful relaxing vacation. I can't say enough about the staff…Again THANK YOU FOR A WONDERFUL TIME WE WILL BE BACK!!" – Tripadvisor Traveler
Everything Is Included!​
Manta Island Resort takes the worry out of planning, giving you more time to enjoy the stunning beauty of Belize. The resort's All Inclusive Package combines everything discriminating guests require for a spectacular stay. Included in the package is a private oceanfront cabana, gourmet meals and snacks, boat transfers from the mainland on arrival and departure days, unlimited local beverages, a group snorkeling tour, and unlimited water sports activities. And your Manta Island stay gives you access to Glover's Reef, a partially-submerged atoll off the southern coast of Belize that represents the outermost boundary of the Belize Barrier Reef, a remarkable natural wonder where you're invited to swim, snorkel from the island, pilot a Hobie cat and go island hopping just like celebrities do.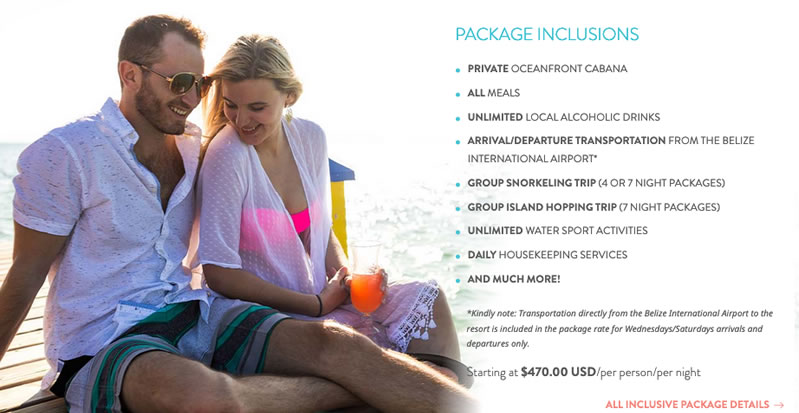 We know that not every guest wants to stick to a rigid schedule, which is why we help visitors customize their sojourn by making available package Add-ons and à la carte perks. Manta Island's white sandy beaches provide a perfect location for sunbathing, beach-combing, or doing whatever you enjoy. Luxuriate in the island's pool while enjoying a Mosquito Bite. Which do you prefer, the cocktail or the mocktail version? This is truly the island getaway that guests would invent were they given the opportunity to do so!
The Best Of Both Worlds
Manta Island Resort belongs to the prestigious Coco Plum Island Family of resorts, which also includes Belizean Dreams Resort and Laru Beya Resort, each unique among resort properties in Belize for their luxe environs, world-class reputations, commitment to excellence, and a plethora of awards from prestigious international travel authorities.
Belize bucket lists are frequently packed with a variety of items from beach to jungle adventure tours. Travelers often wonder: "When in Belize, how do I do it all?" Manta Island Sister Resort Stay Add-on was created with exactly this in mind. Choose two resort locations for one unBelizeable vacation. By splitting your holiday between sister properties, you can create an unforgettable experience. Spend half your stay at Manta Island Resort and half at one of the sister properties. Reservation Specialists from any of the four resorts will help you craft the vacation of your dreams.
Standard-setting Covid Safety Measures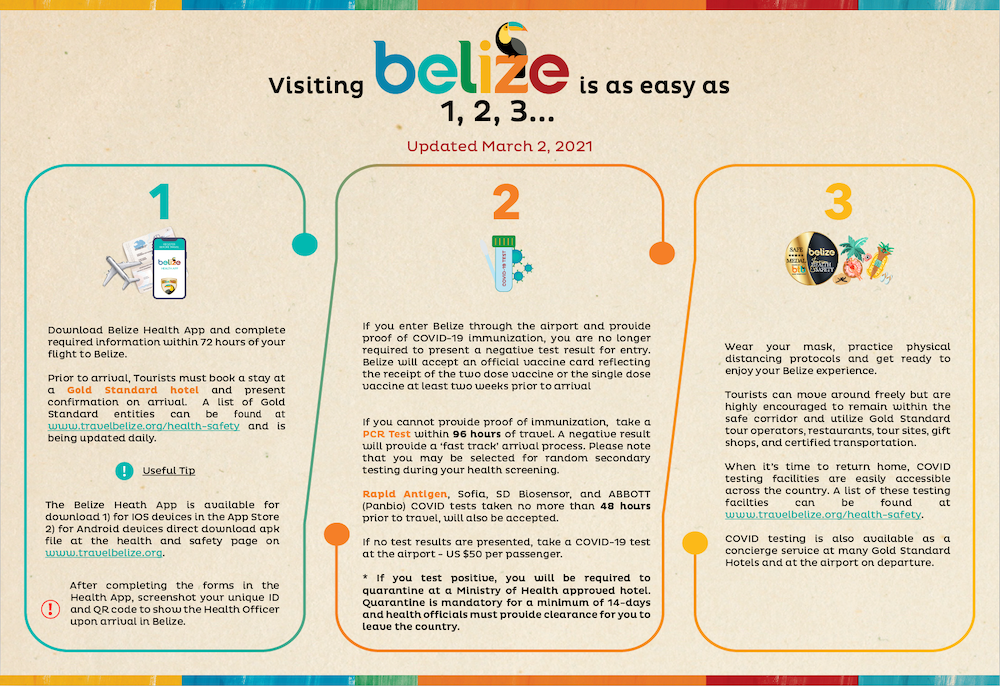 When the Belize tourism industry adopted guest welfare and safety measures in 2020, resorts were asked to take Herculean measures to maintain the nation's low virus numbers and keep visitors safe. A Gold Standard was established for every property and the international airport put into practice their own thorough testing measures for arrivals.
As the nation slowly reopened to tourists, that rating literally became the gold standard for properties and consumers eager to escape to a safe, lush resort. With the opening of Manta Island Resort under these stringent practices, even a protocol for testing guests before they re-enter the U.S. has been put into place, so no detail is left to chance before, during, and after a guest's stay. Manta Island's COVID info page outlines current measures.
How To Book A Stay At Manta Island
If you're craving utter seclusion and perfect peace, in a location off limits to everyone but the resort team and a few other guests, a private island is the only place to go. Email Manta's Reservation Specialist for a vacation quote or better yet, place a toll free call (1-800-408-8224) between 8am and 5pm on weekdays to go over your booking details. In the meantime, discover for yourself, the magic that is Manta.
Stay in touch by following Manta Island Resort on social media sites like Instagram, Facebook, Youtube, and Pinterest.