Chances are if you and your significant other have been reading about Coco Plum, you've heard of some of our amazing bartenders and their tropical concoctions. And for those of you who are more experienced Coco Bummers, you know what its like to be CRAVING an exotic local drink! Today we'd like to share our recipe for the infamous "mosquito bite."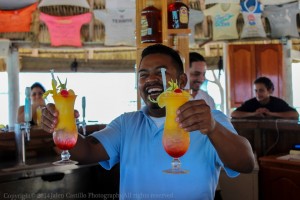 On arrival at Coco Plum, you will be welcomed with the first of many tropical drinks – the mosquito bite. After your voyage to Belize nothing beats the savory taste of a cold, tropical drink decorated with an umbrella and lime. For some of you this might become your favorite drink throughout your stay and luckily, the mosquito bite is included as part of our all inclusive packages. Most drinks that are made with local rum are included in the all inclusive packages (list of drinks not included here). Check out the recipe below so you can try it yourself!
Ingredients:
Grenadine
Brandy (1-2 ounces)
Mango Squash mix (can substitute for tropical juice mix)
Coconut Rum (2 ounces)
Follow these Steps: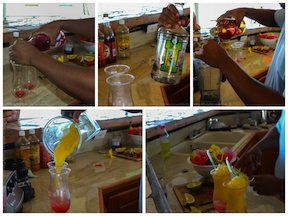 Line the bottom of your glass with grenadine & add plenty of ice
Pour coconut rum
Meanwhile, blend brandy and mango squash to get a smoothie-like consistency
Pour the blended drink into your glass
ENJOY!!!
Although you may not be able to enjoy a mosquito bite amidst the sandy shores of Coco Plum at the moment, we hope this recipe inspires you to take a trip soon and taste it for yourself. Feel free to share your experiences making the mosquito bite at home and add any helpful hints! What else were some of your favorite drinks at Coco Plum?
Caribbean Regards,
Coco Plum Bloggers