If you spent the past few years relying on movies, TV, and magazines to get your Caribbean Island fix, knowing that an ease in travel restrictions finally reintroduced regularly scheduled flights into Belize. The return was slow but steady, beginning in 2021 and finally reaching pre-pandemic levels with an increase in direct flights that made getting to Belize a short, sweet ride to paradise.
Whether you live in a major metro area or you're not too far from one, direct flights to Belize from Calgary, Chicago, Dallas, Denver, Ft. Lauderdale, Houston, Miami, Los Angeles, and Toronto are all up and running and if you can't get a deal directly from your favorite carrier, aggregators and consolidators will be happy to fix you up so you can formally end your travel exile and fly south where you belong.
Airlines flying to Belize
Air Canada has instituted flights to Belize from Toronto.
American Airlines offers daily flights from Miami and Dallas.
Alaska Airlines departs from Los Angeles and Seattle on regular weekly schedules.
Avianca Airlines connects San Salvador, El Salvador with Belize.
Copa Airlines can get you to Belize from Panama City.
Delta Airlines has regularly scheduled flights from Atlanta and Los Angeles.
Frontier Airlines offers direct service to Orlando and Denver.
Maya Island Air is your best travel resource offering 11 in-country Belize stops.
Southwest Airlines has service from Houston, Ft. Lauderdale, or Denver.
Sun Country covers the Minneapolis-St. Paul metro area.
Tropic Airlines services hot spots like Cancun, Merida, Roatan, San Pedro Sula, and Flores.
United Airlines flies to Belize from Houston and Newark.
WestJet Airlines is your carrier if you live in Calgary or Toronto.
Are these routes and cities set in stone?
No way. Keeping up with new points of departure is a fascinating game best played by making friends with the growing number of consolidators and aggregators keeping tabs on flights into Belize's International Airport.
If going directly to your favorite carrier's website doesn't deliver the pricing you seek, turn your attention to resources like Priceline, Kayak, Google Flights, Expedia, Orbitz, Hotwire, FlightNetwork, Fareness, CheapTickets, CheapOAir, and TripAdvisor. There are more of these helpful businesses floating about cyberspace, but that should get your search for the best Belize plane fares started.
Want to learn more about these resources? Check out this Frommer's website article. It should prove informative if you want to learn more about search site histories.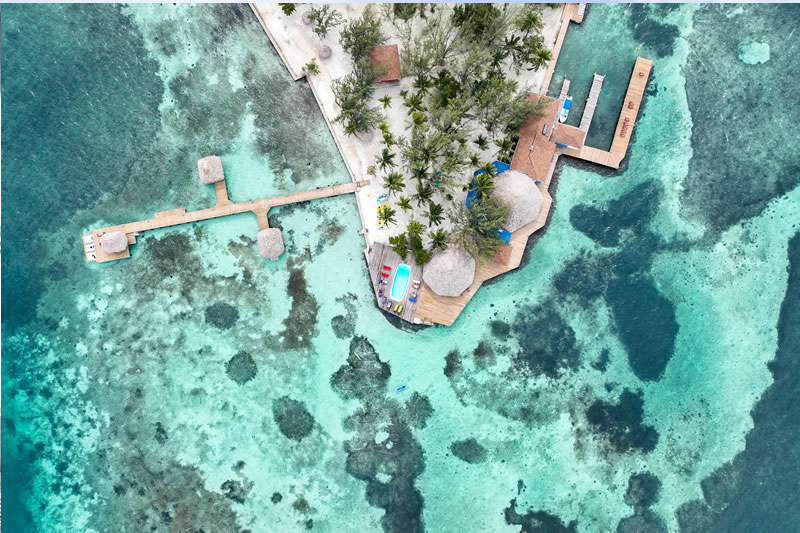 You made it! Where to stay
Consider it a reward for having applied due diligence to your search for the best airfare to Belize: An island vacation that you can afford since you've gotten such a great airfare deal.
Book a stay at Coco Plum Island Resort where Belize all inclusive packages take the worry out of planning – after all, your airline search is work enough. Visit the island's website for a taste of what you can expect during your sojourn.
This adults-only island resort is the antidote to a world that is anything but calm and tranquil at this point, but you can find nirvana during your stay once you find the perfect flight.
Beach beds. Hammocks. Lounge chairs on the island's languid beach are your rewards on this small island offering big health and welfare benefits. You won't want to leave. But your return flight is already booked, so we recommend choosing a future date for a return holiday!
1-800-763-7360