At this holy time of year, will you stay home and dye Easter eggs or vacation on a lush private Belize island that's so small, guest capacity is just 42 visitors?
Sound too good to be true? Not according to those who have given up on mainland resorts and crave the intimacy, relaxation and luxury that only an island with a small, dedicated staff offers. At Coco Plum Island Resort, an adults-only destination, you set your watch on island time and do absolutely nothing—or fill your days with seasonal activities that are faith-based and fun.
At Coco Plum, Belize choose from 18 stand-alone private cabanas just steps from the beach and Caribbean Sea. In fact, the exterior of each one looks as though it had been colored by the Easter bunny. Inside, beautiful furnishings and appointments make your hideaway the perfect, intimate respite from all of life's cares.
When you're not enjoying your posh digs, book adventure tours like bird watching expeditions, snorkeling and diving the great barrier reef. Add jungle and rainforest treks plus caves and above-ground Maya sites to your list, but at this time of year, you won't want to miss any of these four occasions.
1. Celebrate your deep faith by witnessing the pageantry and solemnity of a traditional Easter experience at Benque Viejo Del Carmen. This celebration is legendary and includes a passion play, stations of the cross procession that travels over beautifully colored chalk carpet art, and music suited to the occasion played by local musicians.
2. The annual Cross Country Cycling Classic is held on Holy Saturday. This amateur race gives you an opportunity to observe or participate in the early-morning kick-off that takes avid riders back and forth between Belize City and San Ignacio Town. Bring your bike if you don't mind boxing it and paying a steep fee to your airline to bring it along in the cargo hold.
3. Prefer to be a race observer rather than a participant? Get thee to Burrell Boom for holiday horse races at Castleton Race Track held on Easter Monday. You can still make church on Sunday and that cycling competition on Saturday. Your Coco Plum host will be happy to make arrangements to get you to one or all of these events for an applicable fee.
4. Easter eggs are festive and fun—-but your appetite for ethnic cuisine surpasses eggs! That's why indulging in Belize cuisine is mandatory. From a beach picnic prepared by Coco Plum Island staff to restaurant "hopping" that gives you a taste of the nation's favorite foods, indulge in traditional Belize Easter fare that includes fish (if you don't eat meat on Easter), Garifuna Sere soup, hot cross buns and sweet potato puddings. Yum!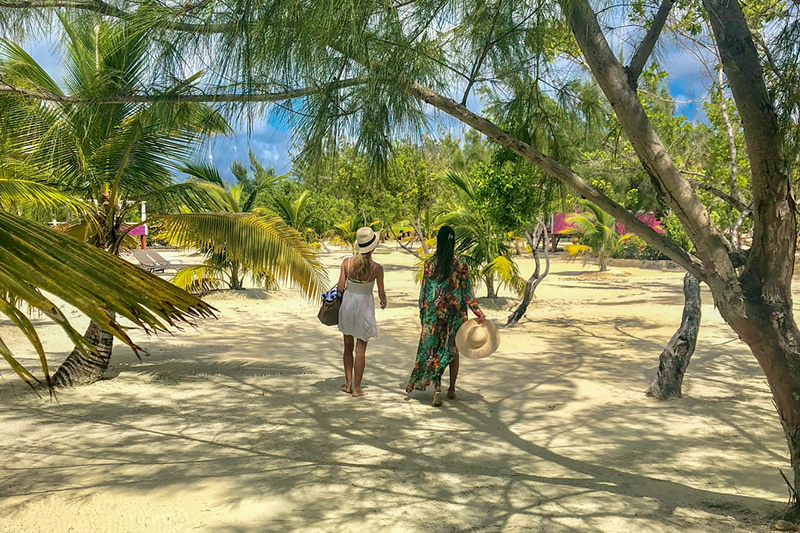 For the perfect relaxation experience, staying on the island and enjoying your own private celebration may be your idea of heaven. Remember: this is your getaway. Want to extend your celebration to your wallet? Book an all inclusive so you pay just one price for everything during your stay on the island; accommodations, food and transport.
Coco Plum's all inclusive Belize package menu gives you so many options you have trouble choosing just one, which is why we recommend the one that makes you feel most thankful for your ability to get away and relax during the holiest season of the year.
1-800-763-7360