Had enough? You're not alone. Quarantines, isolation and one too many Zoom sessions are beginning to take a toll on your spirits and your hopes, but the crew at Belize's Coco Plum Island Resort wants you to know that they feel your pain. That's why the resort has implemented revolutionary flexible booking and rescheduling policies, so even if you can't visit now, you'll have something to look forward by taking advantage of the resort's hottest deals.
While you wait for Belize's international airport to reopen, Coco Plum deals are unprecedented, and while you needn't start packing, you will feel motivated once you see how much money you save when you are ready to visit this lush island paradise. Here are the facts:
You only need a 25-percent deposit on your accommodation to reserve your digs
You qualify for a free rescheduling policy if COVID-related circumstances prevent you from coming
Book your stay for dates between now and December 18, 2020 to qualify for these perks
Make arrangements directly with the resort's reservation team to avoid third-party fees
Normal cancellation policies still apply. Be sure to review them on our policies page.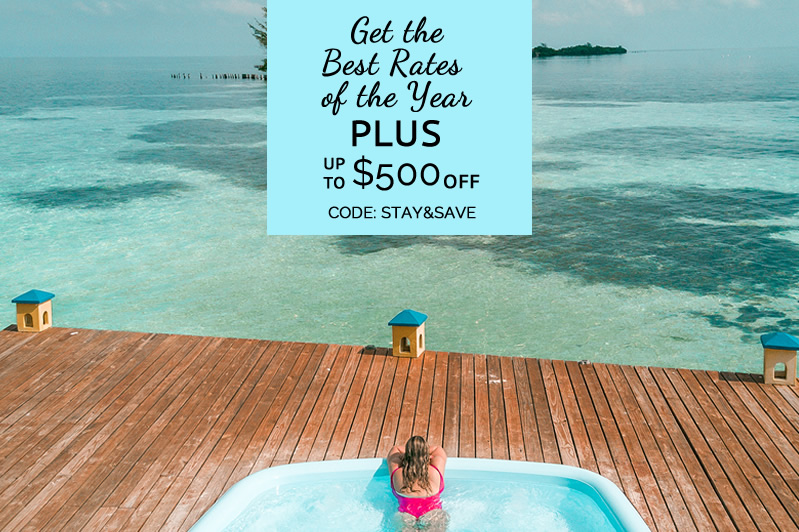 There's more, so keep reading
Having considered those amazing new policies, you might think that Coco Plum Island staff has run out of gifts, but you would be wrong. Take advantage of specials that reward you for taking longer holidays (and who isn't ready for longer getaways?). Visit this Belize vacation page and claim your $500 discount.
Want more savings because you're serious about extending your escape to paradise? Peruse this list of discounts on select all inclusive packages (certain restrictions apply) that is sure to please both you and your wallet:
Stay 4 nights – Save $200
Stay 5 nights – Save $250
Stay 6 nights – Save $300
Stay 7 nights – Save $350
Stay 8 nights – Save $400
Stay 9 nights – Save $450
Stay 10 nights – Save $500
Stay 11 – 13 nights – Contact us for deals on 11 -13 nights
While these rates aren't applicable to the Island Rental Package or Overwater Villa Package (both packages already include discounts), all specials extend between Fall 2020 and December 18, 2021, so you can plan in advance. Keep these restrictions in mind so you're not disappointed:
Only one STAY & SAVEWEB discount can be applied to the Inland + Island Package
The island's diving package does not include unlimited local alcoholic beverages
You must stay a minimum of 4 nights to qualify for these exceptional rates
Discounts can't be combined and double occupancy is required, so grab a friend!
Why book directly with our staff? First, they're friendly; they know you've been living in untenable circumstances and want to help. When you book directly, you'll learn about other surprises that may await you. Wash away your worries? Yes, please. Our crew specializes in washing worries away, so don't pass on these amazing opportunities.
1-800-763-7360