Everything about 2020 tried your patience and resolve, so why wouldn't you want to end this year by treating yourself to the most unique Christmas vacation of all? Coco Plum Island Resort on Coco Plum Caye is a romantic, adults-only destination that surpasses any 'Christmas in the tropics' fantasy you can conjure up.
Skeptical? Don't be. "I wish I could give Coco Plum a million stars instead of just five," wrote one couple who called the island heaven on earth. And given the holiness of the Christmas season, giving yourself the gift of time in paradise seems an ideal present when gratitude and good health are also "reasons for the season."
Put your concerns to rest
Worried that you can't justify an island Christmas due to travel restrictions or health concerns? Put those fears to rest at Coco Plum. The island is tiny so guest numbers are limited, Coco Plum was awarded Gold Standard status by the Belize Tourism Board after meeting stringent health and safety practices (e.g., social distancing; temperature checks; extraordinary cleaning protocols and more), and Belize's airport re-opened to tourists on October 1, 2020.
What will it take to ensure places for you and your favorite travel companion in time for this December 25th holiday on Coco Plum Island? Reservations — at the resort and via your favorite airline — for starters. Once you've secured your bookings, start planning your Belize holiday vacation in the sun.
Whether you intend to learn for yourself why Coco Plum was named the 2020 #1 hotel for romance in the world by Tripadvisor or you just feel the urge to hum Christmas carols from the vantage point of a hammock while contemplating the Caribbean Sea, you will fast discover that this is the most unique holiday trip you've ever taken and isn't that exactly why you want to come?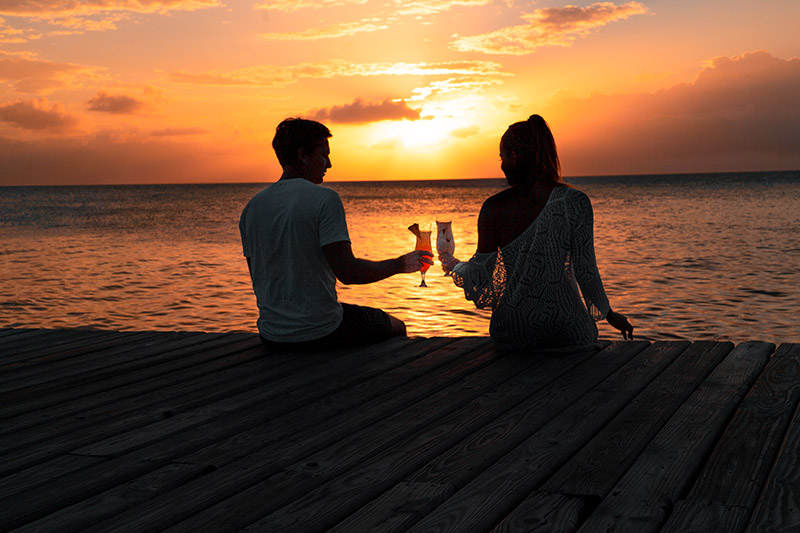 16 acres of paradise where intimacy and privacy are celebrated
This 16-acre resort, located just 9 miles off the Belize coast, is filled with the pleasures you expect from so small an island: Lush vegetation and tropical flowers, amenities that include posh accommodations, gourmet meals, and a selection of tours that show off Belize's remarkable attractions and treasures.
Your choices may include Maya ruins, snorkeling Belize's Barrier Reef, kayaking, canoeing, scuba diving, jungle and forest adventures or experiencing Belize's vast wildlife populations that include endangered manatees and jaguars, howler monkeys, and rare bird species.
Pick a Belize all inclusive package for access to several benefits at a single rate, but the biggest Christmas gifts of all are yours if you take advantage of the resort's December specials designed to fit all traveler's budgets.
If you can think of a single reason to say no to this spectacular island Christmas invitation once you consider the value you receive in an atmosphere of luxury and relaxation, we would love to hear it. Coco Plum's environment is gorgeous, the weather is perfect, hospitality is exceptional and this island is truly the place to find Peace on Earth!
1-800-763-7360