Whether your preference is reef, deep-sea or flat fishing, you can specialize or immerse yourself in all three if you've enough time and patience. Where is the best place to stay when you come down to Belize for your fishing adventure? 
On an island, of course. What fishing fanatic doesn't appreciate being surrounded by the ocean and close enough to the Belize Barrier Reef to claim bragging rights? 
Fish your heart out at Coco Plum Island Resort, an award-winning sanctuary that puts mainland resorts to shame. Learn more about this paradise by browsing the resort's website and then choose your favorite month to visit. 
January: Seas are calm and conducive to catching bonefish and tarpon. This could be the month you snag snook and wahoo if you're among the fortunate.
February: Grouper, wahoo, and snook remain top catches throughout the month and you could find yourself on flats that are overrun with fish. This isn't the month to come to Belize for kingfish or mahi-mahi, however.
March: If your lifelong goal is to pursue a permit until you've caught your share, this is your month. St. Patrick's Day fishermen could enjoy the luck of the Irish by snagging a tarpon weighing up to 90 pounds. 
April: During April, migration in and around the reef is in full swing, thus permit, sailfish, and bonito are bigger than usual. Tone your arm muscles so you're ready for them.
May: Reef and flats fishing takes center stage in May as summer looms and all manner of bonefish, permit, sailfish, and tarpon abound off the coast awaiting your bait. 
June: The elusive mahi-mahi you sought in February shows up during the month of June. Catch tarpon at both flats and reef sites and celebrate the fact that bonefish season is in full swing and will remain so until October. 
July: Dream of catching a 100-pound tarpon? It may be a low season for tourists but July is the high season for bonefish and permit. It's also Lobsterfest season, so expect Coco Plum's menu to be filled with dishes you don't have to catch.
August: Calm, warm waters boost the size of tarpon and Blue Marlin sailfish throughout this month. August is the best tarpon time too since record-holding catches harken back to this month and September.
September: Fat tarpon remains abundant, as do hefty bonefish and permits. September could be the month you catch an elusive sailfish if you're patient. 
October: Permits, tarpon, and bonefish dominate the fishing scene, as do large schools of jack crevalle and snook if you stick to the flats.
November: Give thanks for oversize tarpon in abundance on flats in addition to bonefish and jack crevalle, though in the eyes of some fans, wahoo rules as winter approaches. 
December: December is Valhalla for fishermen who want to land barracuda, bonefish, jack crevalle, ladyfish, snook, tarpon, and wahoo, all gifts from the sea.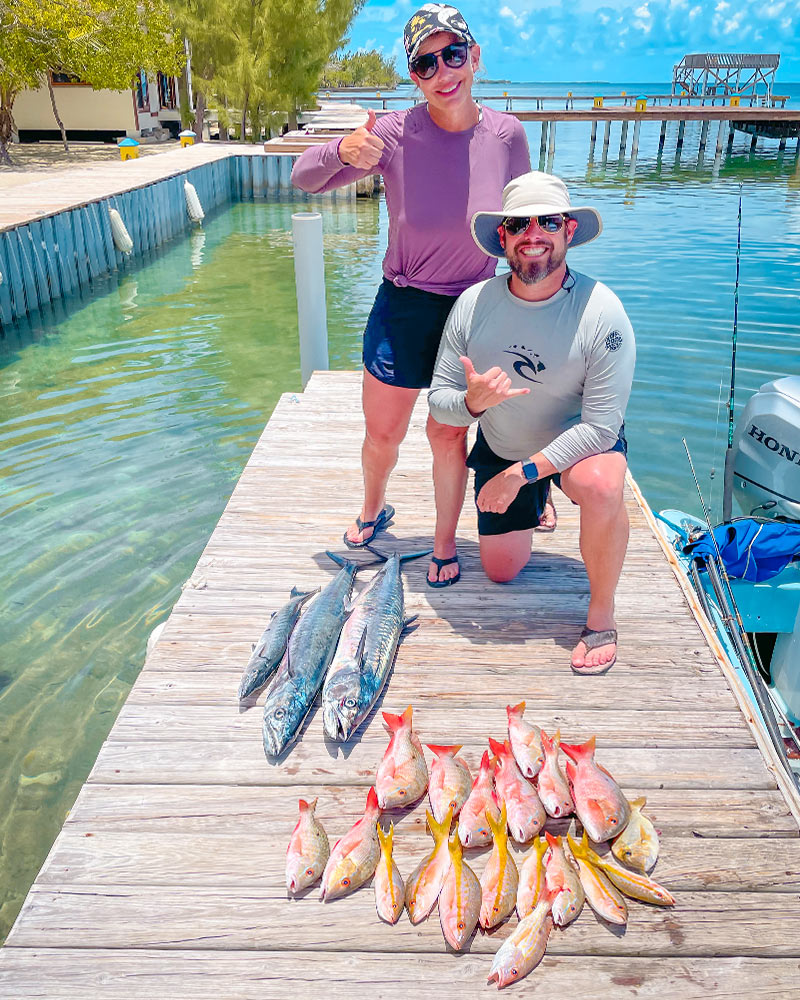 What's the secret to fishing success? Guides who know their way around Belize's fishing scene and can get you to the motherlode of what's biting without wasting your time. By staying at Coco Plum Island Resort, you'll double your time and pleasure by choosing from the resort's all-inclusive fishing tours.
Everything you need—from the moment you arrive in Belize until your last day on the water—is included, but for dedicated fishermen, expert guides who know the fish and their proclivities are the primary reason they choose Coco Plum Island Resort over other properties. Whether your goal is landing one of those mega-tarpons or you'd like to see how it feels to hand your catch over to Coco Plum chefs and have it land on your dinner plate, Coco Plum Island Resort won't disappoint, no matter which month you choose!