It's not every day that someone suggests fishing as a conduit to romance, but if you believe the saying – that "couples that fish together, stay together"– you may conclude that a couples fishing expedition is exactly what the romance doctor ordered for both of you.
Think about it. Sail into crystal blue waters of the Caribbean Sea where there's not a soul around to disturb your reverie. Where to take the ideal couples fishing getaway? Belize, of course. And if you launch your sea-going adventure from a small, private, adults-only island, you can let your imaginations run wild. Find all of this at one magical location: Coco Plum Island Resort where passion is always on the resort's menu.
Your island in the sun
Whether friends call you the fishmeister or you're a newbie who can barely cut bait, your Coco Plum fishing holiday gets off to an awesome start the moment you reach Coco Plum Island, the tiny kingdom designed for privacy, intimacy, and luxury. You'll be escorted to your private cabana where views of the sea and elegant, tropical furnishings crafted of Belize mahoganies ensure the privacy you two need and want.
You'll love the fact that that the Belize fishing package you choose includes meals prepared by the Coco Plum chef, local alcoholic drinks, and island amenities like kayaks, snorkel gear, stand up paddleboards and a Hobie Cat are yours for the asking, so when you're not fishing, there's plenty to do, including massages and yoga.
Nothing fishy about this itinerary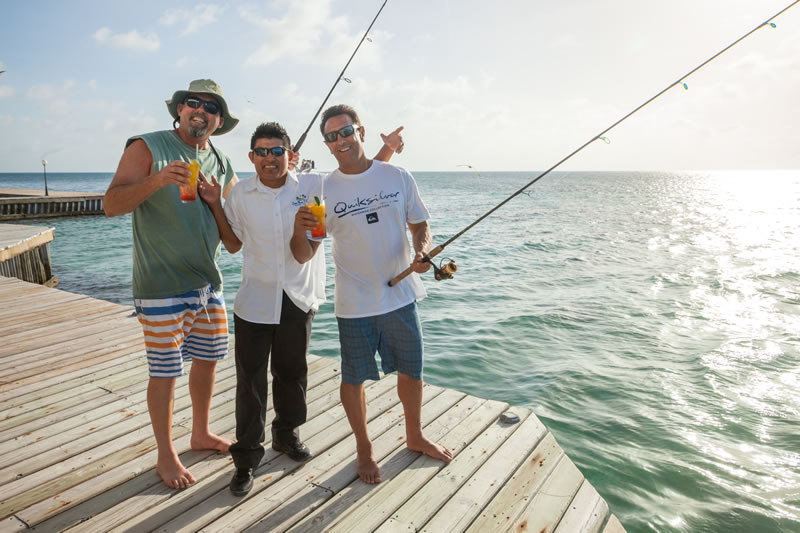 Couples choosing a Coco Plum fishing package say that once they get out onto the water ready to accomplish their objectives, they discover that it's not just the catch that makes their experience so successful. Time on the water gives couples opportunities to focus on each other amid turquoise waters that soothe and relax even the most up-tight guests. Since a skilled guide, the boat, fuel for each full day, and box lunches are included with this package, the most complicated decision you two will make is agreeing on a daily departure time for each outing.
What can you expect from your expeditions? The thrill of fly-fishing in areas off Belize. Head to the Belize Barrier Reef in search of mackerel, barracuda, grouper, and larger snapper. Set a more ambitious goal by targeting tarpon or wahoo at sea. Alternately, fly-, spin fish, or wade in off the island to try your luck. A better idea would be to try all of these options!
By the time each day's adventure ends, you will have learned so much more about yourselves and each other, you'll wonder why you never thought of a fishing trip before now. Plan ahead. Make this a celebratory journey that commemorates your honeymoon, anniversary, or another important occasion. There's never a time fishing isn't an idyllic way to spend time together – no matter which one of you lands the bigger fish during your stay!
1-800-763-7360