You want a unique vacation experience. In fact, you'll need one soon as the world spins out of control. How about spending some kid-free time decompressing at the best Belize all inclusive adults only resort where peace and tranquility is always the order of the day?
Conde Nast Traveler (CNT) magazine is a top read for consumer travelers because journalists and editors understand that people who travel are as unique as the nations they visit. Whether you hide the fact that kids aren't your thing—or you wear your dislike of them like a badge of honor—you can relate to the CNT article written by Hanya Yanagihara entitled, "One (Very) Cranky Editor's Reason for Avoiding Your Kids."
Yanagihara minces no words, extolling the benefits of what she refers to as The Anti-Family Vacation. Are you nodding your head while reading her words: "I don't like children. I don't like listening to them, I don't like talking to them, I don't like hearing about them. Give me an adult complaining about his taxes, fidelity issues, mortgage, or job any day over a child prattling on about her toys…"? Wow. I guess we know where she stands!
You don't have to fight the crowds during Belize all inclusive vacations!
Belize's tourism industry recognizes the fact that cookie-cutter resorts aren't always successful when they try to be all things to all people, so why would you want to book a vacation knowing that it's family-friendly? Adults on quests for privacy, intimacy, luxury, and bliss don't have to wait long after their arrival to find that it doesn't get any better than Coco Plum Caye, where kids are off-limits.
Find paradise and peace amid the island's natural wonders where beach beds, lounge chairs and hammocks tethered to swaying palm trees invite you to leave behind every care in the world. Since no more than 42 guests can be accommodated at Coco Plum Island Resort, you are going to find out how it feels to vacation in a world without crowds. Tucked away in your beautifully-appointed, stand-alone cabana with some of the most romantic views of the Caribbean Sea awaiting your eyes each morning, all things are possible at this best Adults Only All Inclusive Resort in Belize.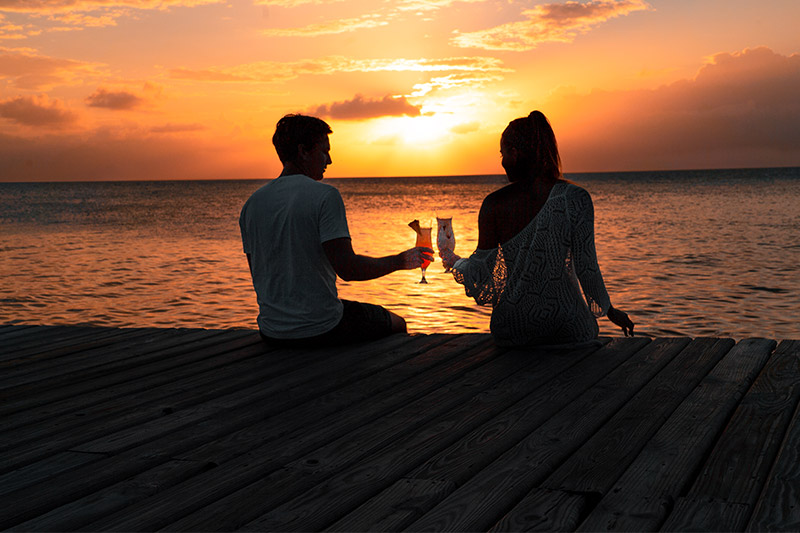 Coco Plum redefines Belize island resorts
Some Caribbean destinations promise you the world, but when it comes to the things you want to see, do and experience, extra charges materialize from thin air. You needn't worry about that here. Your cabana, gourmet meals, unlimited local alcoholic beverages, incidentals and all of the sun you desire are included in when you book a package.
Add that to the total absence of island guests under the age of 18 and you may have to pinch yourself to make sure everything is real as you experience the best of Belize all inclusive vacations. Worried that there won't be enough variety in your experience to compel your visit? Browse this Coco Plum website page and you'll be convinced of the veracity of our promise.
Whether you come alone, with a friend, a lover or a family member, you'll be welcomed into this best all inclusive adults only resort in Belize with open arms, plenty of lobster on the menu and a lush cabana designed to banish the outside world.
Family friendly Sister Resorts
Looking to travel as a family? We are proud to introduce our family-friendly, all inclusive sister resorts, Belizean Dreams, Laru Beyu and Manta Island Resort located in the cayes of Belize.  Find more details on these resorts here.
1-800-763-7360