Drum roll please. Introducing the newest addition to the Coco Plum family, our baby sister property, Manta Island Resort. Situated on 12 lush acres, this blue eyed-baby is located on Glover's Reef, a breathtaking marine reserve and world heritage site off the southern coast of Belize. Our baby is more than a private island; she's a sanctuary you hoped for but thought didn't exist—designed to surpass your expectations.
Experience The Magic That Is Manta Island, Belize
We are tickled pink to share this news because you know what they say about babies—cute, sweet and a new bundle of joy to love—feel free to open your hearts to a vacation on our newest island gem!
Sugar, spice and everything nice. We've brought the Coco Plum dedication to curating once-in-a-lifetime vacation experiences and top-notch service to Manta Island Resort!
Unique People Deserve Unique Locations
Our new baby sister being favorably located at the southernmost point of Glover's Reef Atoll—an oval ring of coral approximately 54 miles in circumference smack in the middle of the Caribbean Sea—means you get the rare opportunity to vacation at:
One of only four atolls in the entire Western Hemisphere,
One of just seven protected areas along the reef,
A UNESCO proclaimed World Heritage site.
We know right about now you're probably asking yourself: Is it even possible to have all this wonder in one unique vacation destination?
Yes, all this and more is absolutely possible, a Manta Island vacation is certainly one for the books!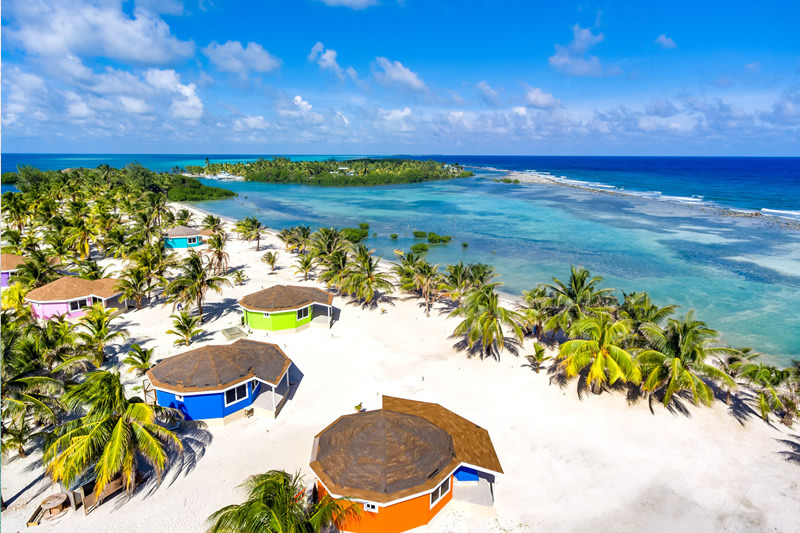 A Vacation Stay Designed Your Way
Manta Island Resort takes the worry out of planning, giving you and your family more time to enjoy the stunning beauty of Belize. Indulge in all inclusive package amenities that have exactly what you need for an unforgettable vacation experience. You can even add a sprinkle of adventure, romance or scuba diving with add-ons and à la carte perks, offering customization to enhance your stay.
Seclusion With Modern Comforts
Imagine 9 perfectly positioned oceanfront cabanas, each with a view of the Caribbean Sea from your plush king-sized bed. Enjoy the blissful experience of waking up from a heavenly night's sleep to step just a few feet from your cabana door, onto the sugar white beaches of Manta Island. Bask in complete island isolation 36 miles off the coast of Belize while enjoying all the modern comforts of home such as WiFi, a bluetooth speaker and even a mini-fridge stocked with water, sodas, and juice.
In fact, these cabanas are comparable to Coco Plum's premium suite style cabanas with space for a futon to be added. All cabanas boast en suite bathrooms, and for the days you rather stay inside and unwind, each is equipped with blackout curtains and indoor seating just perfect for room service. The added outdoor seating area on the veranda allows you and your loved ones to take in the fresh Caribbean breeze during the day and the star-filled sky at night. These cabanas don't miss a beat.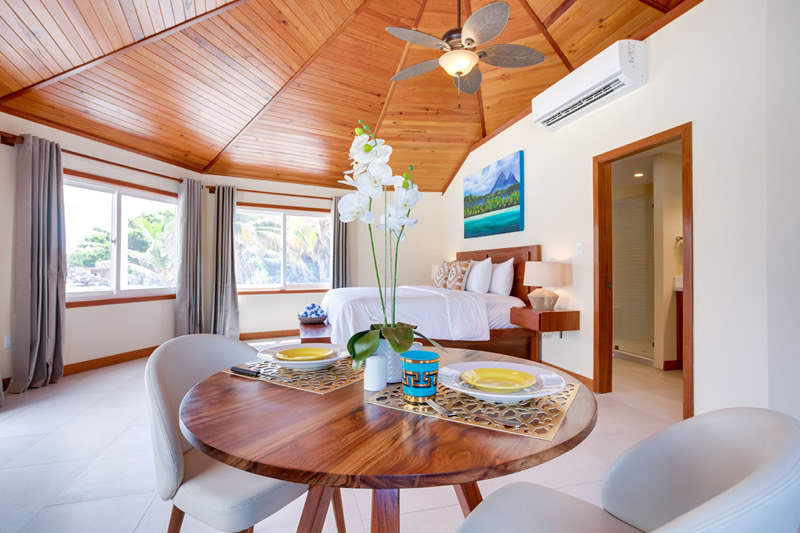 Food, Fun And Sun
Bring your swimsuit and appetite. No bibs required on this holiday!
Whether guests prefer traditional island-style cooking like blackened fish or authentic curry, or are craving comfort food like a juicy burger or Caribbean jerk chicken after a day of soaking up the sun on the beach or on a marine tour, the highly-trained chefs at The Black Coral Restaurant and Bar ensure diners enjoy the best meals. Chefs take their inspiration from traditional Maya, Mestizo, and Garifuna fare while catering to guest's dietary needs or restrictions. Of course, with each hearty meal you can have a tropical drink or fresh juice in hand, setting the stage perfectly for each vacationer's culinary dreams.
How To Book A Stay At Manta Island
Give the new love of our lives a warm welcome today. Email Manta's Reservation Specialist for a vacation quote or better yet, place a toll free call (1-800-408-8224) between 8am and 5pm on weekdays to go over your booking details. In the meantime, discover for yourself, the magic that is Manta.
Stay in touch by following Manta Island Resort on social media sites like Instagram, Facebook, Youtube, and Pinterest