Blogger Annette White became so enamored with travel and the term bucket list, she named her website Bucket List Journey and spends her days coming up with ways her readers can turn their dreams into adventures. According to Annette, people with travel aspirations already have bucket lists; they just haven't taken time to write things down because they're usually too busy traveling!
If asked right now to come up with your own bucket list, would it include frolicking with nurse sharks, visiting the world's only protected jaguar preserve or climbing the ancient Mayan Ruins of Xunantunich, also known as Maiden of the Rock? We see you nodding your head yes. Looks like you're primed for a Belize all inclusive vacation just as soon as you're ready to travel.
Make the experience a memorable one by staying on Coco Plum Island Resort, a small island that makes big promises in terms of service, luxury and fun. You may not be the first guest to remain so relaxed that you won't have the energy to cross off the wishes on your bucket list.
Why stay on a Belize private island?
If you've always believed that private islands are the domains of celebrities, you'll be happy to read that Coco Plum Island Resort, just off the Belize coast, hosts a maximum of 42 guests from all walks of life at any given time. Escape crowds to enjoy island living at a resort that has completely re-defined its dedication to guest safety: this resort was already a model for social distancing since it's comprised of just 16-acres. Additionally, newly-implemented cleaning and sanitizing practices have been put into place to increase health and safety.
This adults-only Belize private island offers larger parties opportunities to distance themselves from each other thanks to the way the island's 18 private oceanfront cabanas are arranged along the periphery of the seashore. Each hideaway is surrounded by greenery for added privacy, yet each offers awe-inspiring views of the Caribbean Sea at no additional charge! Tranquility. Privacy. Bliss. And you don't have to have to put up with kids to check this heavenly spot off your bucket list.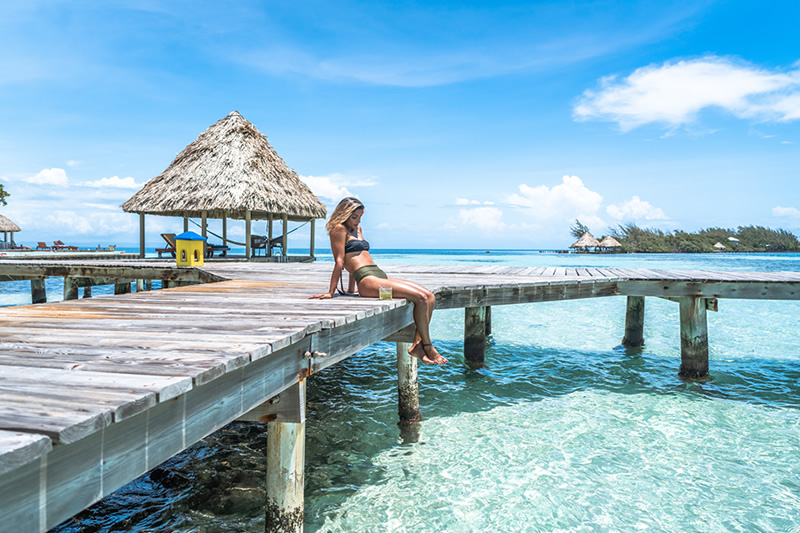 Belize all inclusive benefits make your stay even better
Given all of this luxury plus the list of tours that come with individual packages at this Belize private island, get a great taste of what it's like to be a celebrity where everything you need and want is included in your vacation. This includes fine dining you expect from high end Belize vacations.
The Coco Palms private island restaurant serves Caribbean-inspired foods with both indoor and outdoor, dining environments that add to the flavor of every mouth-watering menu item prepared by the resort's culinary team. Here's the best news of all: just because you're getting everything celebs get when they arrive with their minions, you won't spend a fortune to get the pampering you deserve at this Belize all inclusive resort.
Local alcoholic beverages introduce you to tastes you've only imagined and every guest can borrow resort kayaks, snorkel gear, stand up paddle boards or a small Hobie Cat when they're not off on adventures and tours that come with each package. Bucket list? Make that a champagne bucket list as you experience the ultimate in Belize vacations. We can't wait to toast your good health the moment you arrive on the island!
1-800-763-7360