For travelers who are able to go wherever they like on earth, why do some of them keep returning to the same place? University of North Carolina social scientists dug into the topic and were surprised by the same four shared responses interviewees gave for coming back repeatedly:
Their chances of having a bad experience are lower
They find kindred spirits
They develop emotional attachments
Despite repeat visits, with each, they find more to love about their favorite place!
The Belize island travelers can't get enough of
Want to stay at a private island resort that has a fan base equal to a celebrity's? It even been named one of Travel + Leisure's 15 Best All-inclusive Honeymoon Resorts In the World. Coco Plum Island Resort is an 18-acre paradise hosting a small number of oceanfront cabanas, each strategically placed to offer guests privacy and clean & comfortable décor.
An adults-only sanctuary, at Coco Plum, peace, and tranquility reign. Despite its size, guests enjoy a wealth of amenities and activities. The onsite spa is so irresistible, that guests return there frequently, too.
Coco Palms Restaurant offers indoor and outdoor gourmet dining in an environment that's sublime, and all this largesse culminates in a the of Belize all inclusive vacation packages that eliminates the need to do anything more than relax knowing that every detail of your stay has been taken care of. No wonder guests return so often!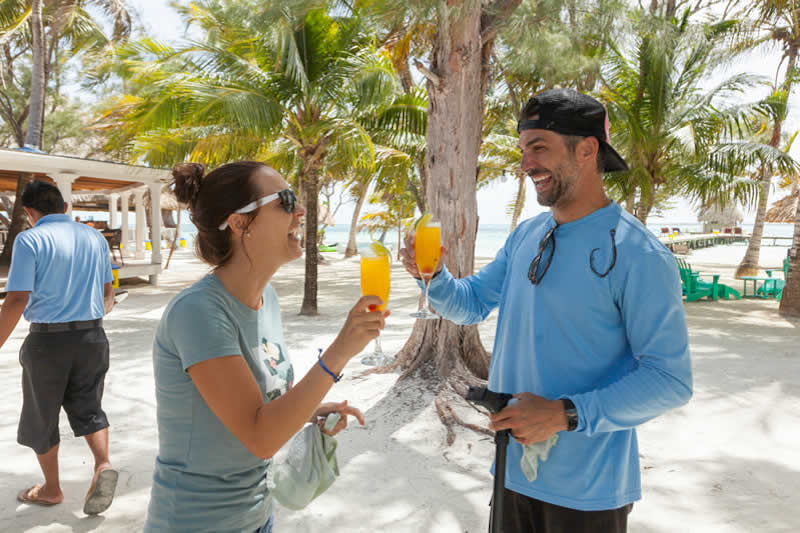 Too good to be true?
When frequent guests arrive at this private island Belize resort, they are welcomed like friends, so it's no wonder 2,036 guest reviews on the Tripadvisor website were considered when awarding Coco Plum Best of the Best for 2022. What did guests say about their time on the island? Plenty!
"The staff was fantastic. They all knew and referred to us by name. The views – and isolation – were incredible."
 "Coco Plum remains our favorite place in the world. The second time was even better than the first, and I'm sure the third will be even better than the second."
 "The second time was even better than the first. We stay in touch with friends we made there. Coco Plum has this special way about it where making lifelong friends in a week seems easy – almost expected."
 "Believe the hype. Coco Plum is everything you read and MORE. Our expectations were high, and we were blown away every day. The Staff: The heart and soul of Coco Plum!"
 "Honestly, what more can I say? This resort was an absolute dream. Stop waiting and just book it! The food? Amazing!"
"My wife and I never go to a place twice let alone 5 times and yet that's exactly what we've done at Coco Plum"
"This was our 8th visit to Coco Plum. We did an island/island trip heading to Manta [Island Resort] first then moved to CCP. Every time we step on the island I am amazed how beautiful it is."
Make it your repeat go-to destination, too!
If you're on the cusp of saying yes to a Coco Plum Island Resort holiday–but need a little more incentive–take advantage of the Coco Plum Reward Program offering so many benefits, you are likely to be overwhelmed by them all. Imagine being rewarded for returning to a place you can't get enough of. You'll join the fan club, too!
1-800-763-7360